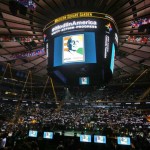 The coming months will be one of the most critical periods in India-U.S. relations.  A combination of ministerial meetings, a visit to the U.S. by Prime Minister Narendra Modi, and two global summits, will tell us whether or not the recent uptick in India-U.S. relations is real and sustainable, or just another blip on the screen.  Senior leaders from both countries will need to show substantive progress on the promises that were made by President Barack Obama and Prime Minister Modi over the last year.
The first major event is the India-U.S. Strategic and Commercial Dialogue, which will take place on September 21-22 in Washington D.C. This is the first time that the U.S. and India will hold such a dialogue. It will feature Vice President Joe Biden, Secretary of State John Kerry, Secretary of Commerce Penny Pritzker and, from the Indian side, External Affairs Minister Sushma Swaraj, Commerce and Industry Minister Nirmala Sitharaman, and Power, Coal and New and Renewable Energy Minister Piyush Goyal.
These meetings will lay the ground work for the set of congregations and events that will follow, which include the meeting between Obama and Modi, the UN General Assembly (UNGA) on September 28 and adoption of the Sustainable Development Goals (SDGs), and Modi's visit to Silicon Valley.
In January 2015, the White House released a list of 106 areas where the U.S. and India promised to cooperate.  Of those, only about 10 got substantive traction at that time.  At this ministerial, the leaders must determine which areas of cooperation are showing promise, and which must be discarded.  The decisions they make will directly set the agenda for the Obama-Modi meeting, and for the speeches that Modi will give at later events.
In New York on September 25, Modi will address the UNGA and India will adopt the SDGs.  A commitment to achieve these goals will have an impact on India's budgets and priorities.  It will impact what Indian companies spend on corporate social responsibility.  And it will also commit USAID and American companies to focus on certain areas in India and worldwide.
On September 26-27, Modi will visit the economically dynamic Silicon Valley.  He will meet with industry heads such as Satya Nadella, Mark Zuckerberg, Sundar Pichai, Elon Musk, and others.  And he will speak to 20,000 Indian Americans.
The Silicon Valley visit will generate two important takeaways. One, it will test whether Modi really understands technology.  Facebook, Google and others already have a big presence in India.  Modi doesn't need to recruit them.  He needs their help to bring a culture of innovation and entrepreneurship to India—to help India understand the concept of disruptive innovation, and to invest in R&D to reap that innovation in India.
Modi must also use his speech to mobilise the diaspora to give back to India.  So far, the impact of the diaspora has been hyped.  This will be Modi's last chance to transform the support he has of Indian Americans into an actionable agenda.  One such proposal is the India Investment Initiative, launched by USAID and the Calvert Foundation, which is raising debt capital from Indian Americans for social enterprise in India.
On September 28, Modi will meet with Obama.  The official discussion will focus on big topics, like the Iran nuclear deal, global security issues, the civilian nuclear deal, and climate change.  The agenda for this meeting will be determined by the progress of the Strategic Dialogue.  And the decisions made during the meeting will determine the course of India-U.S. relations for the remainder of Obama's term.
And lastly, the two nations hope to announce agreements at the UN Climate Change Summit in Paris in December 2015.   Like the SDGs, the climate change agreement locks both nations into behaviours and expenditures for the long-term, which can place them on a common path forward.
There is a sense of urgency to these meetings. Obama, entering the last year of his presidency, would like to see progress with India—in the form of economic integration and the completion of the India-U.S. Civilian Nuclear Agreement. He would like these to be a part of his legacy.  For Modi, the urgency comes from maintaining his credibility as a leader who "gets things done."
Both leaders must spend the next 15 months focused on real deliverables. For Modi and India, that means U.S. investment in manufacturing, creating a "Silicon Swadesh," and using development funds from American companies for Modi's priority areas of clean water, health, and sanitation.  For Obama and the U.S., it means gaining India's agreement on climate change and better access to Indian markets.
For that to happen, the first deliverable of these meetings will be a point person in each government, who has executive access and is solely focused on the bilateral relationship.  On the U.S. side, this person must rethink U.S. engagement and make it more focused on social enterprise, scalability, and innovation.  For India, it means someone who can put out fires as they arise for Americans in India, and for Indians coming to America.  Without highly-focused, results-oriented team leaders, many of the dreams of the India-U.S. relationship with remain just dreams.
Nish Acharya is a Visiting Fellow, India-U.S. Studies at Gateway House: Indian Council on Global Relations. He currently leads the Indian Diaspora Investment Initiative with the Calvert Foundation, is a Senior Fellow with the Center for American Progress, and a columnist for Forbes Media.  Nish previously served in the Obama administration, where he was appointed by President Obama as the director of innovation and entrepreneurship and senior advisor to the secretary of commerce.
This article was exclusively written for Gateway House: Indian Council on Global Relations. You can read more exclusive content here.
For interview requests with the author, or for permission to republish, please contact outreach@gatewayhouse.in.
© Copyright 2015 Gateway House: Indian Council on Global Relations. All rights reserved. Any unauthorized copying or reproduction is strictly prohibited