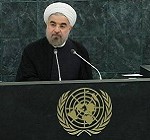 Observers of the relationship between the U.S. and Iran have just lived through one of those rare weeks when the coloured glass in the kaleidoscope shifts and the outlook changes.  It has been a momentous week, possibly a historic week.
It culminated in U.S. President Barack Obama telephoning Iranian President Hassan Rouhani as the latter was driving to the airport from downtown Manhattan to fly home. Shortly after, President Obama gave the American people an account of what passed between the two presidents in the first contact at that level since 1979.
The two of them discussed ongoing efforts to reach an agreement over Iran's nuclear programme. President Obama reiterated to President Rouhani that, while there will surely be important obstacles to moving forward and success is by no means guaranteed, he believes that a comprehensive solution can be reached.
President Obama went on to tell the U.S. public of his belief that there is a basis for resolving the long-running nuclear dispute.  Iran's supreme leader has issued a fatwa against the development of nuclear weapons. President Rouhani has indicated that Iran will never develop nuclear weapons. The U.S. President has made clear that the U.S. respects the right of the Iranian people to access peaceful nuclear energy provided Iran meets its non-proliferation obligations.
The ground for this conversation was prepared on September 26, when the foreign ministers of Iran and the U.S. met in the margins of the UN General Assembly. The two Ministers agreed that talks between Iran and the P5+1 would resume in Geneva on October 15, and that the parties would strive to reach a settlement of the nuclear dispute within six months, or a year at the most. They also discussed in broad terms what a final settlement would look like and the steps needed to get to it – including a first step designed to address immediate concerns about the proliferation potential of Iran's nuclear activities.
In recent days, both the U.S. and Iran have intimated that they seek a broad improvement in relations, but that they will initially concentrate their efforts on resolving their nuclear differences. This is wise.  Although the U.S. has long been unhappy about Iranian support for groups such as Hezbollah – which are seen as a terrorist threat by Israel – and, more recently, by Iranian support for President Assad in Syria's civil war, and although Iran's human rights record is seen in the West as leaving much to be desired, it is the nuclear issue that has the potential to lead to a conflict that could have momentous humanitarian and economic consequences.
Moreover, for many years there has been concern in the U.S. that Iran, though an original party to the Nuclear Non-Proliferation Treaty (NPT), may be intent on acquiring nuclear weapons. U.S. intelligence believes that Iran abandoned the quest for nuclear weapons in 2003, but in the Congress and parts of the U.S. administration, suspicion of nuclear weapons intent lives on. So it is imperative for the U.S. to obtain from Iran's leaders demonstrations that they have no interest in producing the highly enriched uranium (HEU) or the plutonium that fuel nuclear devices.
What explains the dramatic developments of recent days? Several factors may have contributed:
Some very deft diplomatic foot-work and stroke-play by President Rouhani and his highly accomplished Foreign Minister, Mohammad Javad Zarif.
The power of personal contact: exposure to the Iranian President and Minister over several days may have led senior members of the US administration to believe that they can afford to take a political gamble.
The constructive position of Iran following the use of chemical weapons in Syria on 21 August.
A realisation within the US administration that, in the absence of a diplomatic settlement, Congressional pressure for an assault on Iran will grow.
President Rouhani needs the early easing of the oil and financial sanctions that are crippling the Iranian economy.
What are some of the obstacles to which President Obama referred?
Negotiators will have their work cut out to reconcile the continuing production of low enriched uranium for Iran's nuclear power reactor at Bushehr with denying Iran the capacity to "break-out" (i.e. succeed in making, unimpeded, enough HEU for one weapon).  A tension that has long existed, between Iranian enjoyment of its NPT rights and Western demands for non-proliferation assurances going beyond what is envisaged in the NPT, persists.
The Prime Minister of Israel will bend every sinew and go to all manner of lengths, including falsehoods, to put President Obama under pressure to break off negotiations. He fears that the resolution of this dispute will deny him means to distract attention from his reluctance to make peace with the Palestinians and from Israeli possession of nuclear and chemical weapons, and that it could affect Israel's special relationship with the U.S. and freedom of action in West Asia. He has unique influence in Washington, thanks to the hold on Congress of pro-Israel lobbies.
It may be that President Obama, in so quickly informing the American people of the new course he has set, hopes that public opinion will act as a restraint on Congress, as it did a month ago when the use of force against Syria was under consideration.  Time will tell.
In any case, for now hope is permissible, hope that a further conflict in the Persian Gulf can be avoided, hope that sanctions which have penalised Western and Asian consumers and businesses will be lifted, and hope that a historic reconciliation between the U.S. and Iran will be a force for stability in South West Asia.
The stakes are such that the process deserves all the support it can get from third parties such as India. The U.S. and Iran will need encouragement to persist, when obstacles appear insuperable, and to ride out the storms that will blow in from Israel and from Arab states that share Israel's antipathy to an improvement in U.S./Iranian relations.
Ambassador Peter Jenkins is a former British diplomat who worked on the Iranian nuclear issue when ambassador to the International Atomic Energy Agency in Vienna (2001-06).
This article was exclusively written for Gateway House: Indian Council on Global Relations. You can read more exclusive content here.
For interview requests with the author, or for permission to republish, please contact outreach@gatewayhouse.in.
© Copyright 2013 Gateway House: Indian Council on Global Relations. All rights reserved. Any unauthorized copying or reproduction is strictly prohibited.