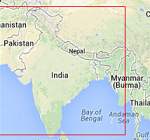 Foreign policy issues have only infrequently affected elections and changes of government in India. This time too, a change in government at the Centre is more likely to leave in place continuity than a significant change in course, because of the broad cross-party consensus when it comes to issues of national interests. In this interview Neelam Deo, Director, Gateway House. explains why foreign policy has only occasionally been a key factor in the national elections. She also talks about what should be the key foreign policy priorities for the next government that is sworn in.
Q.  India shares a land border with China, Pakistan and Bangladesh, and all the states bordering these nations have suffered because of wars and endured prolonged Army presence.  Yet foreign policy has never really been a major factor in the national elections.
There was one occasion when a foreign policy event played a decisive part, and that was in the 1971 national elections when Indira Gandhi won a sweeping victory. It should be recalled that there was countrywide sympathy and support for the ten million refugees who had crossed into India, as well as sympathy for the tens of thousands who were victims of the Pakistan Army's atrocities in today's Bangladesh. It is an interesting coincidence that some of the perpetrators of those atrocities are on trial in Dhaka today.
Barring that exceptional moment in the history of India and South Asia, our external policy has not had a decisive impact on the elections. Naturally the effect of relations with neighbors differs in the case of each border state. Those that border China are quite sparsely populated, remote and poorly connected by road and air. For them the ups and downs in the relationship with China do matter, and that includes issues like border trade. But these concerns have not had any visible consequences. In the case of West Bengal and Punjab, which border Bangladesh and Pakistan respectively, their concerns have been represented by the state governments and addressed by the Centre, but only implicitly.
However in the case of Sri Lanka, the broad sympathy for disenfranchised Sri Lankan Tamils has, over the years, impacted local politics in Tamil Nadu, as well as the stance taken by parties from that state in Parliament. This was seen most recently in the role they played in influencing India's vote in the UN Human Rights Commission on war crimes in Sri Lanka.
Q. What foreign policy issues should be brought up in the electoral debate?
I think peace and constructive relations with neighbours is an important issue, particularly for people and governments in the states that border on foreign countries. For instance, the Sri Lankan issue is one that politicians in Tamil Nadu focus on a great deal. However voters are not consciously concerned because it does not impact their daily lives in recognisable ways. People should focus on trade issues – particularly cross border trade, between neighbouring states and neighbouring districts. In addition, cultural issues matter and these should be given more importance by the voters, state governments, as well as their members of Parliament.
Q. What should be the first foreign policy initiative of the new government?
Relationships with neighbours should be the most important part of India's foreign policy outreach. The new government should try to be specific on the kind of relationship that it would want to do develop with each neighbour. However, a little bit of this will also depend on the government in each country. In Bangladesh, Sheikh Hasina has made several constructive moves and India should respond in a much more positive way. Another example is Sri Lanka where the relationship will be temporarily damaged as we vote with the U.S. on the UNHRC resolution. In case that happens, it will be difficult for a new government to immediately lift that relationship to a higher level. Since Pakistan is a very high profile issue it is bound to be the top priority for the new government.
Given the presence of so many unknown factors, I think the most important thing the new government can do is to say that while we seek good relations with every country, and we will work hard towards that objective, the most important focus will be the relationships that we can build with our neighbours.
Neelam Deo is Co-founder and Director, Gateway House: Indian Council on Global Relations; She has been the Indian Ambassador to Denmark and Ivory Coast; and former Consul General in New York.
This article was exclusively written for Gateway House: Indian Council on Global Relations. You can read more exclusive content here.
For interview requests with the author, or for permission to republish, please contact outreach@gatewayhouse.in.
© Copyright 2014 Gateway House: Indian Council on Global Relations. All rights reserved. Any unauthorized copying or reproduction is strictly prohibited