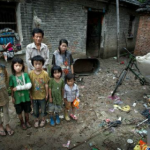 On November 1-2 a conference on poverty reduction, 'International Forum on Reform and Opening Up and Poverty Reduction in China', was held in Beijing as part of the Chinese government's elaborate celebrations to mark 40 years since Deng Xiaoping (1904-97) opened up the economy. In that time, over 700 million people have been lifted out of acute poverty into the middle class in China. That is an achievement worth recognising and reviewing. And the Forums organisers, the China Development Bank, the National Institute for Global Strategy of the Chinese Academy of Social Sciences (CASS) and the International Poverty Reduction Centre in Beijing, did just that.
In a display of its clout with international financial institutions, the opening ceremony had a message from the secretary general of the United Nations, followed by a keynote address by Jim Yong Kim, president of the World Bank Group. Other notable speakers at the opening included Jin Liqun, president of the Asian Infrastructure Investment Bank, and K.V. Kamath, President of the New Development Bank (NDB).
I had the opportunity to participate in one of the Forum's sessions which focused on the Chinese experience of poverty reduction as well as the efforts underway in other developing countries.
My panel had the clunky and somewhat mystifying title, "Poverty Reduction in the New Era: China's Poverty Reduction Concepts and Innovative Practices".  Almost all the invited panelists were from Africa and Asia, with no representation from the developed countries – perhaps because they have not endured abysmal poverty for decades now. The invitees, me included, expressed admiration for the Chinese achievement, unprecedented in human history, through the early focus on reforms in agriculture, education and health.
The Chinese participants attributed their country's achievements to the wisdom of the Chinese Communist Party, particularly the current president Xi Jinping. They explained the government's current strategy of "precision targeting", which involves drilling down to identify the counties, and even individuals, remaining in poverty, and working on their upliftment. This strategy is expected to enable China to achieve the Sustainable Development Goal – the total eradication of poverty by 2020 –  ten years ahead of schedule.
Since most of the remaining 30 million poor are in remote minority provinces, such as Xinjiang and Tibet, the Chinese experts explained the need to "change mindsets", and "change geographies" along with vocational training. This sounded uncannily like the explanations the Chinese government is offering to counter widespread media reports of the incarceration of very large numbers of Uyghurs in vocational and reskilling camps in Xinjiang.
I spoke of how the Indian government's role in poverty eradication has been critical in bringing down the Below the Poverty Line (BPL) population to less than 20% in 2018. But over time other stakeholders from civil society, corporations and religious organisations and Non-Resident Indians (NRIs) supplemented the government programmes in diverse areas including health, education, empowerment of women and employment generation.
Thus, while successive governments brought in legislation, conferring "rights" to food, education, housing and clean water, the instruments of intervention have evolved in collaboration with diverse players, and latterly, through the application of new technologies for improved distribution systems.
The Mid-day Meal Scheme is a prime example of collaborative efforts. First launched in Tamil Nadu in the 1970s by then chief minister M.G. Ramachandran as a political freebie, it successfully improved the health and education outcomes of children, especially girls. It also helped reduce the rate of population growth by raising the age at which girls were married and went on to have fewer children.
This idea has since been taken countrywide: NRIs from the IT sector who made good in the U.S. adopted it under the rubric of the Akshay Patra scheme. They first worked on improving the targeting and delivery processes. Then they expanded the coverage to around two million children by working with local institutions in 12 of India's 29 States.
Another example is the transformation of one of the oldest poverty reduction measures undertaken in India – the Public Distribution System – by which successive governments tried to provide poor families food grains at highly subsidised rates. Unfortunately, only a fraction of the benefits did actually reach the deserving poor, with malnutrition remaining stubbornly high, especially among women and children. After a prolonged debate on the provision of benefits in kind (food) versus direct benefit transfer (money), the current government is using fintech to bring together the opening of bank accounts (Jan Dhan) for all with a Unique Identification number (Aadhaar) and transfer of financial benefits through mobile phones (JAM).
The government has increasingly involved Corporate India in poverty reduction, calling upon over 5,000 large firms to spend 3% of net profits on philanthropic projects, principally in the health, education and skilling areas. The Corporate Social Responsibility Act, which was passed in 2013, has helped formalise and scale up the welfare schemes that many companies were already engaged in.
Similarly, in the education sector, religious organisations play a significant role and often receive some financial support from the government. This applies equally to schools run by representatives of all the religions practised in India.
Other foreign experts at the Forum spoke about their own governments' efforts to reduce levels of poverty. Speakers from war-torn countries emphasised the inescapable need for peace to enable attending to poverty reduction.
An African expert spoke of the new phenomenon of "premature deindustrialisation" due to the pressure to open up under-developed economies to trade, which allowed in a flood of consumer goods. He explained that by destroying small-scale local manufacturing, this also curtailed employment opportunities. The substitution of basic consumer goods with cheap imports was pushing back into poverty families which only a few years ago had managed to climb out of it through heroic individual efforts.
Many speakers emphasised the urgent need to generate employment. Developing countries find themselves with large, rapidly growing young populations. They have more education than their parents, are unwilling to work in agriculture and are unable to find employment in urban occupations. This is a recipe for social unrest.
While the pace of poverty reduction in India has been relatively slow it has been a more broad-based process, involving the government and numerous stakeholders.
Neelam Deo is Director, Gateway House.
This blog was exclusively written for Gateway House: Indian Council on Global Relations. You can read more exclusive content here.
For interview requests with the author, or for permission to republish, please contact outreach@gatewayhouse.in
© Copyright 2018 Gateway House: Indian Council on Global Relations. All rights reserved. Any unauthorized copying or reproduction is strictly prohibited.