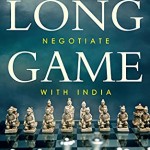 In 2014, the year Narendra Modi was first sworn in as India's Prime Minister, he prepared a grand welcome for China's President Xi Jinping in his home state, Gujarat. However, even as the two leaders sat together convivially on a jhoola or traditional swing at Ahmedabad's newly developed Sabarmati Riverfront park, followed by a private dinner where 150 Gujarati delicacies were served, more than 200 People's Liberation Army troops intruded into Chumar in eastern Ladakh.
If such contradictory signals should puzzle the observer, Gokhale's book helps make sense of them as he closely and carefully picks apart the Chinese style of diplomacy – a style that has been remarkably consistent since Zhou Enlai's time even if in recent times it has acquired a certain "wolf warrior" edge.
One of the lessons is that the personalised style of diplomacy does not work with them. According to Gokhale, the Chinese diplomatic style has always been theatrical, in which case "wolf warrior" signalling would only constitute a shift in the theatrical register, one that is meant to intimidate – or at least to convey an impression of China's enhanced power – to the other side. It would be erroneous  to mistake it for a display of authentic emotion.
Gokhale was recently Foreign Secretary of India, has been Indian Ambassador to China, and is one of India's premier sinologists. In this book, he marries scholarship on India-China relations with personal experience of negotiating with the Chinese. He makes a compelling case for how the lack of diplomatic experience of newly independent India's leaders enabled the Chinese Communist leadership to outmatch and outmanoeuvre them in the early years, despite the latter playing a relatively weak hand.
As Gokhale points out, China was never fully colonised and the Chinese state had an unbroken record of dealing with foreign powers. Specifically, Mao Zedong and Zhou Enlai had experience negotiating with the Japanese, the Soviets and the Americans since the 1930s. Independent India's leaders, by contrast, had dealt only with the British, who were quite different from the Chinese Communists. Sardar Patel had nevertheless presciently warned, "even though we regard ourselves as friends of China, the Chinese do not regard us as their friends".
Thus, India was among the first countries to ditch the Kuomintang and officially recognize the People's Republic of China in 1950; Mao Zedong was invited to be the chief guest at India's first ever Republic Day celebration in January 1951. Given that he had just overthrown China's internationally recognised government through military means, such recognition was by no means inevitable or called for. But New Delhi continued to back the People's Republic of China (PRC)'s cause enthusiastically across international fora when the latter was a pariah while its own political stock was high, as Gokhale points out, without receiving any quid pro quo from Beijing.
One might argue that this fundamental asymmetry has remained a pattern in India-China relations since. Thus, while New Delhi walks on eggshells when it comes to issues concerning China such as Taiwan or Tibet, Beijing has no qualms helping Pakistan attain strategic parity with India. A quote in Gokhale's book from Ye Hailin, a Chinese commentator writing on India-China relations in 2018, is indicative of the current state of asymmetry in the relationship: "China can obstruct India's demands without paying nearly any price, or even need not give a special response".
Now that China is so powerfully entrenched in the global order, and India helped put it there, it is only strong stewardship from the U.S. that has helped New Delhi overcome the diplomatic hurdles posed by Beijing on some occasions. Gokhale compellingly narrates the inside stories of a few of those occasions in this book.
Indeed, the retelling of one of those occasions sounds like a veritable replay of the parable of the hare and tortoise. When India conducted nuclear tests in 1998, China thought it had inveigled America into building an international coalition that would isolate India and consign it to the nuclear doghouse. But India succeeded in getting sanctions lifted, and ultimately a nuclear agreement with America as well as a 'clean' waiver from the Nuclear Suppliers Group. A certain over-confidence and hubris had crept into Beijing's India diplomacy by then, which enabled the latter to surprise it – the story is well told here.
An omission in the book is Gokhale's version of what transpired when Beijing offered an east-west swap that would have potentially settled the border issue broadly along the lines of the present LAC – an offer made by Zhou in 1960 and apparently renewed by Deng Xiaoping in 1980. New Delhi never took it up. Were these missed opportunities? Perhaps Beijing would have shifted the goalposts once New Delhi expressed interest. Nevertheless, it was well worth exploring how serious Beijing was.
At this point of time, unfortunately, prospects for such a settlement look dim – with Beijing having entered its "wolf warrior" phase and the power gap with New Delhi having grown substantially.
But that's a historical quibble, and Gokhale's intention is not to write a primer on India-China relations. Rather, as he leads us through specific situations where India dealt with China ranging from recognition of the PRC through negotiations over Tibet and Sikkim, the aftermath of India's nuclear tests and the U.S.-India nuclear deal, to getting Masood Azhar designated as a terrorist by the UN, he carefully deconstructs the elements of Beijing's hardball diplomatic style and identifies its strengths and vulnerabilities in a manner that's useful not just for Indian diplomats and strategists, but for anybody negotiating with the Chinese. Moreover, he can sum up Beijing's approach to diplomacy in pithy and memorable ways. Sample the following: "The Chinese want to be seen as the beautiful swan gliding on the placid surface of a lake in sylvan surroundings. Below the surface, their feet are churning away and roiling the waters for the other creatures … but this remains unseen."
The Long Game is instructive and a must-read for anyone interested in China policy. The Chinese may not be "inscrutable" but their diplomacy is deliberately designed to look that way. This book lifts the veil and provides the reader a demystified view from the inside.
Gokhale, Vijay, The Long Game: How The Chinese Negotiate With India. Penguin Random House India (Gurugram), 2021.
Swagato Ganguly is Consulting Editor, The Times of India and Research Affiliate, Lakshmi Mittal South Asia Institute, Harvard University.
This review was exclusively written for Gateway House: Indian Council on Global Relations. You can read more exclusive content here.
For interview requests with the author, or for permission to republish, please contact outreach@gatewayhouse.in.
© Copyright 2021 Gateway House: Indian Council on Global Relations. All rights reserved. Any unauthorized copying or reproduction is strictly prohibited.