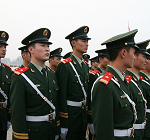 Hong Kong's Cheng Ming magazine noted the appearance of a lengthy Dec 10, 2010 article on the on-line version of Qui Shi, an influential Chinese Communist Party monthly, the subject of which was only very briefly mentioned in the media. The nearly 4,500-word article is significant and has obvious implications for Sino-US relations and particularly the region over the next few years.
'Qiu Shi', or 'Seeking Truth' is the authoritative magazine of the Chinese Communist Party (CCP) Central Committee (CC) and provides important insights into the thinking of, at the least, an influential group of senior Party cadres. The magazine's website has hosted articles by high ranking Party cadres, including Provincial Party Secretaries and Vice Premiers, in the recent past. The article, 'How China deals with the US strategy to contain China', authored by Xu Yunhong, was posted and stayed up for over two months – a clear indication of official approval. While the biographic or career details of author Xu Yunhong are not yet known, it could be the pseudonym of a fairly high ranking Party leader.
The appearance of the article was deliberately timed. It appeared just before Chinese President Hu Jintao began his state visit to the US in January 2011. Its appearance also coincided with important Chinese visits in the Asian region, such as Chinese Premier Wen Jiabao's visit to Delhi (Dec 15-17, 2010). It had been written, but not yet posted, when Hu Jintao travelled to Japan to meet Japanese Prime Minister Naoto Kan on the sidelines of the APEC meeting in November.
The policy advocated in this article will certainly impact India and Japan – indeed, some aspects of such a policy are already discernible and being felt.
Author Xu Yunhong notes that since the financial crisis, the US has been following a policy which has become increasingly aggressive in its effort to contain China. It lists six strategies that the US has adopted and thereafter recommends seven counter-measures for China. Among the counter-measures, China's economic strength is accorded importance.
Some of the article's assessments of the strategies adopted by the US concern the region. While discussing 'Military Exercises and Simulated Warfare', for example, the article states that the 'U.S. frequently prevails upon South Korea, Japan, Vietnam, and other countries that neighbour China for joint military exercises. Its purpose is very clear: to encircle China militarily'. To reinforce its argument about 'Creating an Anti-China Alliance', it quotes a Russian newspaper, Nezavisimaya Gazeta, of October 27, 2010, which asserts that the Pentagon is spending considerable sums to fashion a front to contain China. It claims that the anti-China alliance includes China's trading partners, with the objective of forming a united anti-China front based on contentious issues such as the unresolved territorial disputes in the South China Sea and the fixed Renimbi currency exchange rate. The Russian paper concluded that in 'November 2010, when Obama visits Japan, Indonesia, India, and South Korea, "China" will certainly be an important topic of discussion.'
A number of the counter-measures advocated are robust and specific to the region. There is an unequivocal suggestion that some of China's neighbours are not without blame. The article speaks of 'attacking a nearby enemy' and states: 'What is especially unbearable is how the U.S. blatantly encourages China's neighboring countries to go against China. We cannot completely blame the U.S., as flies do not stare at seamless eggs. Countries like Japan, India, Vietnam, Australia, the Philippines, Indonesia, and Korea are trying to join the anti-China group because they either had a war or another conflict of interest with China. They are attempting to gain benefits by using the U.S., and these are the countries that surround China'. The article asserts that throughout its history 'new China' (since 1949) has never gained peace by giving in but only through war.
The comment that 'safeguarding national interests is never achieved by mere negotiations, but by war', is pertinent in the case of countries like India and Japan, which have unresolved border disputes with China.
The writer Xu Yunhong adds that 'China must adhere to a basic strategic principle: We will not attack unless we are attacked; if we are attacked, we will certainly counter-attack. We must send a clear signal to our neighboring countries that we don't fear war, and we are prepared at any time to go to war to safeguard our national interests'.
The 'signal' Xu Yunhong refers to will probably take the form of an unyielding and tough posture in on-going negotiations and other issues of national importance.
The article alludes also to China's economic strength and high volumes of trade which could be used as an instrument of policy to create dependence and avoid military conflict. It observes that 'China's neighboring countries need China's international trade more than China needs them, with the vast majority of China's trade deficit caused by these countries. Therefore, they, but not China, will suffer greater damage by antagonizing China'.
Using trade as a weapon is a Chinese tactic, witnessed most recently when China prohibited the export of vital rare earth shipments to Japan as a punitive measure in retaliation for Japan's imprisonment of the captain of a Chinese fishing vessel that had intruded into disputed territorial waters. China subjected Japan to protracted pressure before relenting – only after Japan had yielded to Beijing's demands.
India has seen similar instances of China exerting pressure. These include the more recent case of Beijing actively canvassing business applications of Chinese telecommunications entities ZTE and Huawei, both associated with China's military establishment.
Chinese Premier Wen Jiabao's visit to India in December saw the beginnings of a Chinese effort to create dependency on China's economy. Beijing had carefully choreographed the Premier's visit to India to emphasise the economic and trade aspect of the relationship. A slew of agreements totaling $ 16 billion were signed, but virtually all represented the sale of low-cost products by Chinese companies to Indian business houses. The financial agreements signed pave the way for the entry of large Chinese banks into India to facilitate easy credit terms. Missing was any mention of Chinese investments, advanced-technology sales or purchase agreements by Chinese companies, revealing that the sharply skewed trade imbalance of US$ 19 billion is set to widen further. The effort is an evident attempt to create pockets of pro-China business lobbies within India in order to apply pressure on the Government to dilute national interests in lieu of personal profit.
The views in the Qiu Shi article are supported by writings elsewhere in China's official media. Official military literature in China is also more strident on issues concerning territorial sovereignty. China has simultaneously adopted a more robust foreign policy, including singling out India, Japan and Vietnam for particular critical mention.
In short, the Qiu Shi article has put Asia on notice. Be warned: the next few years will see Beijing adopt a far tougher posture in the region.
To counteract the increasing regional apprehension about China's capabilities and intentions, it is necessary for these countries to view developments through a strategic prism. They should, in the first instance, quickly initiate discussions to create a mechanism for ensuring the security of the maritime commons. Such an arrangement would logically include the countries of the region, India and China. The US, which China recently reiterated is an Asia-Pacific power, could participate along with Australia and Russia so as to make it an enduring arrangement.
Next, the countries need to diversify their export markets and destination of their capital investment flows to countries which offer a stable investment climate. This should be accompanied by the shifting of manufacturing enterprises. India is one alternative to China, being large enough and with an accommodative environment and youthful labour force. China-focused manufacturing nations like Japan could profitably search for new sources of supply of scarce natural resources like rare earths and minerals – of which again India has adequate reserves. Such measures would inhibit any unacceptable ambitions that China might have.
Jayadeva Ranade is a former Additional Secretary, Cabinet Secretariat, Government of India, and a security and intelligence expert. He is a seasoned China analyst, with over 25 years experience in the field.
This article was exclusively written for Gateway House: Indian Council on Global Relations. You can read more exclusive content here.
For interview requests with the author, or for permission to republish, please contact outreach@gatewayhouse.in.
© Copyright 2011 Gateway House: Indian Council on Global Relations. All rights reserved. Any unauthorized copying or reproduction is strictly prohibited.