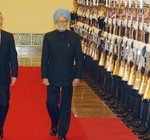 This year marks the 60th anniversary of diplomatic relations between India and the People's Republic of China (PRC). In this relatively short time-frame, India-China relations have seen innumerable ups and downs and as a consequence, bilateral stability has not been achieved despite repeated rhetoric from the leadership. On Dec 15, Chinese Prime Minister Wen Jiabao will arrive in India on an official three day visit.
The last official visit from China was in November 2006 when the Chinese President Hu Jintao visited India. The timing of Wen Jiabao's visit is significant: he is the third such high-profile head of state to visit India in two months, following in the wake of the US President Obama and French President Nicolas Sarkozy. Unlike them, however, his visit is unlikely to generate much optimism and euphoria; instead it will be watched with a cautious perspective by the establishment.
For this time, the Chinese Premier is coming from a position of greater strength than ever before. China is a powerful global player, and the world is a different place from the summer of 2005 when Wen last visited. First, following the global recession, China has emerged much stronger economically. Second, in the recently concluded Economic Cooperation Framework Agreement (ECFA), China believes that by conceding some economic ground it has gained substantial political mileage against Taiwan.[1] Third and most importantly, China has overtaken Japan to become the world's second largest economy at US $ 5.5 trillion. According to the recent economic data, China and India have shown the largest growth –and also have the largest growth potential that can spur the sluggish global economy.[2]
In these changed circumstances, India and China need to approach the bilateral  relationship through the prism of the complex interdependence framework, whereby economics takes priority over politics, and an on-going effort is made to develop an equitable and sustained engagement that will survive the inevitable short term challenges. Only cooperation and trust will help build the India-China relationship in the long run.
The India-China relationship is complex and multilayered. It operates in three spheres: global, regional and bilateral. It is more favourable in the global sphere because the alliance is based in areas where mutual interests overlap – climate change, for example. Regionally there is a serious perception gap on issues like the prospects for Iran, Afghanistan, terrorism and role of Pakistan and so on. This is due to the lack of serious, comprehensive dialogue as also because of the extensive US role in shaping these issues. Bilaterally, the relationship appears contradictory.
MUTUAL GLOBAL INTEREST
Globally, India and China have similar, if not the same, view on issues of mutual interest, like climate change, trade and WTO. They have also been cooperating quite effectively in the interest-based multilateral blocs that are the highlight of contemporary international relations. The BRIC grouping on trade, comprising Brazil, Russia, India and China, is one example where both countries are looking for better access to markets in the developed world and fighting the rising protectionism there. The BASIC group, comprising Brazil, South Africa, India and China that works on climate change with the main agenda of carbon emissions for the large developing countries, is another area where Indian and Chinese interests overlap.[3] Even if such groups do not translate into alliances, they allow India and China to stand together in international fora, continue their dialogue and understand mutual policies and constraints. Therefore, beyond their global significance, such groupings allow for bilateral discussions on the sidelines, away from the media glare and pressure for immediate solutions. For that reason, their significance in trust-building cannot be underestimated.
But are the two countries rivals or partners? Globally, strategic thinkers believe India-China relations is the development to watch in today's international relations. This trend has transmitted itself to Indian thinkers on strategy and foreign relations, who in turn view the relationship in black-and-white terms – foreign policy initiatives by India are perceived to be the result of China's rise or China-as-a-threat. Thus, the Obama visit to New Delhi was seen as a way to check China.[4] Most dangerously, China is increasingly becoming a factor in the assessment of India-Pakistan relations – perhaps an unfortunate development, particularly due to China's economic engagements like the building of the southern Pakistani port of Gwadar which has strategic utility in the extreme event of war with India.
This has led to the hyphenation of India and China in a way that has not helped the trust deficit between the two countries.[5] It also underestimates the multitude of Indian foreign policy interests, thereby projecting India as an immature player in international relations. For the China specialists in New Delhi, this kind of analysis of India-China relations – China is India's most important neighbour – is an unsettling factor. It diminishes the focus on cooperation and overestimates the negative impacts of China'a rise. This fact was most clearly stated by Indian Foreign Secretary Nirupama Rao on Dec 3 when she said,
"… neither of us have the luxury of seeing each other in antagonistic terms. The view that India and China are rivals is an over-generalisation as well as oversimplification of a complex relationship which encompasses so many diverse issues… The proposition of competition and rivalry should not be exaggerated in a manner that it overshadows our genuine attempts to manage and transact a rationally determined relationship between India and China".[6] 
UNDER-ACHIEVING BILATERALS
Clearly India-China bilateral relations are no where near achieving their full potential. There are Multiple reasons for this. Historically, a perception gap was created when the paramount leadership in the two countries viewed the Asian order through different prisms, which were, in turn, products of their different experience in fighting colonialism and feudalism and different political systems. Indian Prime Minister Jawaharlal Nehru's internationalist worldview whereby he trusted the role and utility of the United Nations and its principles like non-aggression, prompted him to promote non-alignment as a strategy. This contrasted markedly from Chairman Mao Tse-Tung's world view which saw non-alignment as a surrogate of US-led capitalist imperialism. Consequently he saw himself as the leader of the new Asia from the revolutionary perspective, and he accepted the role of war as a strategy as in case of the Korean War.
Perception gaps that exist now are the consequence of China's military defeat of India in 1962, which, following a substantial psychological impact, has had a long-term influence on India's strategic perception of China.[7] The resultant security dilemma dominates mutual perceptions. There are several other issues of contention from the past which include the unresolved boundary and territory issues, the status of Tibetans in India – an ideological challenge for the one-party rule in China – the China-Pakistan nuclear and military cooperation and, in the recent past, China's frenzied economic engagement in India's neighbourhood which is viewed as Chinese encirclement or the 'string of pearls strategy'.[8]
THE SECURITY DILEMMA
As large and developing countries, both India and China face insecure regional environments. India faces threats from Pakistan where state-sponsored terrorists are in perpetual militant action against India. For China, the question of Taiwan is close to its heart – but different political systems create a systemic mismatch in their dialogue. That leaves China uncertain about the strategic direction Taiwan will take. Both are trying to secure their boundaries and their people in an insecure and unsure regional environment, and both view each other's security strategies as creating insecurity for the other even if no one wants to threaten or attack the other.[9] Only when both discuss mutual insecurities can cooperative efforts for security can be undertaken. As large and rising powers, it is timely that these two countries make serious effort to erase their security dilemma.
India, like China in the recent past, now says it expects other countries to show sensitivity towards its core national interests. The recent decision of India to attend the Nobel Peace Prize ceremony where jailed pro-Democracy Chinese activist Liu Xiaobo was awarded the coveted prize was India displaying reciprocity for China's decision to issue stapled, paper visas to Kashmiris but then denying the General commanding India's northern region a visa to visit China. By demonstrating assertive behaviour and independence of policy on issues closer to China's heart, India has shown a resolve in reciprocating China's prick-points like stapled visas for Kashmiris. Clearly, India is trying to show China that it means business.
PARTNERING IN INNOVATION
This year, India-China bilateral trade will cross US$ 60 billion. While it is small compared to China's trade with the US or the EU, this trade has seen a massive increase from the small figure of US$ 4.8 billion IN 2002. Even greater potential exists. On the other hand, both countries are competitors in areas like global energy resources and investments across continents like in Africa, energy prices are being driven by the Sino-India competition.
Innovation can be an area where India and China can develop partnerships – an area so far unexplored. The Chinese leadership has a clear agenda of making China the innovation hub of the world.[10] India's private sector can participate in this strategy, to bilateral benefit. This can be expanded to include another potential area of cooperation for both countries – directing their huge Foreign Direct Investment outflows to each other. Innovation and joint research and development can help focus such FDI, for instance in the development of renewable energy sources and energy efficiency technologies, a major requirement for both energy-starved nations.
In the recent past, China's assertive posturing on its core interests has undone much goodwill in its neighbourhood; certainly it has done little to reassure India about Chinese intentions. Observers of the Chinese foreign policy say that the People's Liberation Army (PLA) continues to have a huge influence over foreign policy-making in China, especially with regard to neighbours like Taiwan, the South China Sea, Vietnam, Burma and South Asia, while the economic elite cliques in Shanghai dominate other  parts of foreign policy like trade and exchange rates. Wen Jiabao, the face of China's soft power, represents the Shanghai Consensus.
If India is able to convince China of long term mutual benefits, then the economic aspect of the relationship could become the determinant of the bilateral relationship, perhaps helping to make the People's Army a secondary factor in determining China's India policy. During Wen's  upcoming visit, India must convey its desire to shrink and resolve the security issues between the two countries, and that it sees China as a long-term and equal partner. The growing US presence in Asia through alliances with other democratic countries in the region makes the Chinese leadership insecure. India's policy makers are surely aware of this. Their task now is to convince the Chinese leadership of India's willingness to engage China positively and in the long term – on the promise that China will not create security problems for India, like respecting existing territories and borders till a mutually acceptable permanent solution is agreed upon. If this message is conveyed – and believed – then the upcoming Wen Jiabao visit will strengthen the foundations of India-China bilateral relations.
The assertion by Prime Minister Manmohan Singh, that there is enough space for both India and China to grow without threatening each other, should assuage some of China's insecurities.
This could be a strong historic moment for India-China relations – and for Asia. Anecdotal evidence from the past indicates that had Nehru invited him during his 1954 visit to China,[11] Mao Tse-tung would have been a willing visitor to India. That may have altered the India-China and Asian landscape. Wen Jiabao is coming for sure; perhaps his visit will become that long overdue game-changer for the two nations.
Avinash Godbole is Researcher at the IDSA, New Delhi and Doctoral Candidate at JNU. Views expressed here are personal.
This article was exclusively written for Gateway House: Indian Council on Global Relations. You can read more exclusive content here.
For interview requests with the author, or for permission to republish, please contact outreach@gatewayhouse.in.
© Copyright 2010 Gateway House: Indian Council on Global Relations. All rights reserved. Any unauthorized copying or reproduction is strictly prohibited.
References
[1] The simplest aim of ECFA is to reduce tariff and commercial barriers between PRC and Taiwan. The listed items give benefit of about US$ 13.8 billion to Taiwan and accelerate its economic growth by 1.7 percent while mainland would to the tune of US$ 2.86 billion with marginal economic benefit. However, With the ECFA, the Taiwanese economy will get further integrated with the mainland in due course of time. This is because ECFA provides them to trade with china more effectively. Thus, it means that it will be that much more difficult for Taiwan to 'get away' from the mainland. Economy has been a cause of concern for Taiwan for some time and this helps boost the economy but it also questions the political freedom which Taiwan has with being less integrated with the mainland. For more details see, Gunjan Singh, ECFA and the Changing China Taiwan Relations, 2 July 2010, available at http://www.ipcs.org/article/china/ecfa-and-the-changing-china-taiwan-relations-3177.html
[2] For China See People's Daily Online, "China to become Dominant Force in Global Economic Growth", 13 December 2010, available at  http://english.peopledaily.com.cn/90001/90776/90883/7229681.html. For India see, Economic Times, New Delhi "Economic growth rate above expectations, may reach 9 pc: PMEAC", 12 December 2010, available at http://economictimes.indiatimes.com/news/economy/indicators/Economic-growth-rate-above-expectations-may-reach-9-pc-PMEAC/articleshow/7086610.cms