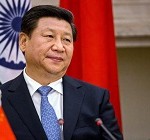 Any notion that the visit of Chinese President Xi Jinping to India in September might prompt a return to the short-lived heyday of "Hindi-Chini bhai bhai" of the 1950s, was never realistic. Since the 1962 war, there is too much scar tissue in the bilateral relationship to allow a genuine brotherly alliance to develop. Recent geopolitical shifts might have provided a window of opportunity for Xi and Prime Minister Modi, a chance not seen since 1996 during the Jiang Zemin and Narasimha Rao administrations. However it seems that this moment too may have passed..
There has always been a strand in Chinese strategic thinking which questions whether it has its South Asian alliances right. This was most obviously demonstrated in the remarkable speech by President Jiang Zemin delivered in Islamabad in 1996. After a number of standard paragraphs about the "profound friendship" between China and Pakistan, Jiang then turned to talk about the importance of "South Asia" to Beijing and then, to an increasingly appalled audience, began praising the "the multi-dimensional exchanges and cooperation between China and the various South Asian countries"[i]. The name of India never passed his lips but it was clear to all that China intended to rebalance its Indian and Pakistani relationship.
There were a number of reasons behind China's desire for a recalibration in 1996.
One was economic. As Jiang said in his speech, the "economic factor is gaining an increasingly important role". Under the reforms of Narasimha Rao's government, India was pulling ahead of Pakistan economically. London and Washington too saw the same signs and started talking of "de-hyphenating" India and Pakistan, no longer dealing with them as equivalents.
The second reason was Pakistan's perceived unreliability on the question of Islamist extremism. There were genuine concerns in China about whether Pakistan was doing enough to disrupt separatist activities in its Uyghur province. In retrospect it seems extraordinary that, as early as 1996, China was worried about Uyghur separatists and Islamists receiving training in Pakistan and Afghanistan.
There was a third reason too; a reputational concern. Was it right that China, as an emerging world power, should have a series of alliances with peripheral South Asian countries like Pakistan, Burma, Bangladesh, Nepal and Sri Lanka (all with questionable records on governance) instead of the big democracy and emerging  economic power  at the centre of the Subcontinent?
Of course Jiang Zemin's talk of rebalancing never materialised. Events intervened in the form of a series of Indian nuclear tests in 1998 accompanied by official rhetoric that India needed the bomb because of the threat from China (rather than Pakistan). The India-Pakistan Kargil war followed soon after. These events added to the layers of scar tissue.
Fast forward to 2014 and logic suggests that Xi would be  attracted by a similar rebalancing , just as Jiang had been  18 years before.
From a Chinese perspective Pakistan looks a much less stable country in 2014 than it was in 1996. Indeed, Xi's own visit there had to be cancelled due to political unrest in Islamabad. Furthermore, the Islamist threat is much greater now than it was a decade ago, as are  ties between Pakistani extremist groups and the Uyghurs. The horrific knife attack in Kunming in March this year led to 33 deaths, coming just a few months after a suicide attack in Tiananmen Square.  From a Beijing viewpoint, the relationship with Islamabad is not delivering sufficient counter-terrorist success.
But there was also a new reason for Xi wanting better relations with New Delhi. The depth and personal warmth shared by Modi and Japanese Prime Minister Shinzo Abe is  a matter of considerable concern for Beijing. Xi knew that Modi, as Chief Minister of Gujarat, had visited China three times  and Tokyo only once. Chinese investment in Gujarat has outpaced that of Japan's. However Modi's visit to Tokyo in early September looked like the start of a major new alliance and Modi returned with investment promises amounting to $35 billion. This led to hurried statements from Chinese officials that Xi would come with proposals of up to a $100 billion, although the actual figure was much smaller. There was a genuine fear that India under Modi could gradually slip into a strategic alliance with Japan which could then bind it closer to the United States, and to an eventual strategy of encirclement.
Perhaps predictably it was the territorial dispute which undermined the Xi Jinping visit. Given Xi's consolidation of power over the entire Chinese system since assuming office , including over the People's Liberation Army (PLA), it was careless, to say the least,  on the part of the Chinese President that violations along the Line of Actual Control (LAC) were allowed to take place during his visit – thereby effectively undermining an important diplomatic visit. The Indian security establishment, after ten years of a dovish Prime Minister, were not slow to point out to Prime Minister Modi that these incursions were part of an established Chinese pattern of behaviour. Meanwhile  there were  concerns in India  that Beijing's involvement in key infrastructure projects could bring significant security risks.
Perhaps there will be  other opportunities to repair the effects of a disappointing visit but any chance which may have existed for regional rebalancing for China, has surely been missed for now.
Since the Xi-Modi meeting in New Delhi there has already been a slew of announcements of cooperation between China and Pakistan, a Pakistan China Economic Corridor, and veiled suggestions that Pakistan could buy some of China's new generation stealth aircraft . While both parties assess a disappointing visit, Islamabad, at least, will be relieved  because they remember the shock of the 1996 speech better than anyone.
Tim Wilsey is a Visiting Senior Research Fellow at King's College, London and a former senior British diplomat.
This article was exclusively written for Gateway House: Indian Council on Global Relations. You can read more exclusive content here.
For interview requests with the author, or for permission to republish, please contact outreach@gatewayhouse.in.
© Copyright 2014 Gateway House: Indian Council on Global Relations. All rights reserved. Any unauthorized copying or reproduction is strictly prohibited
References
[i] "Carrying Forward Generations of Friendly and Good-Neighborly Relations and Enseavoring Towards a Better Tomorrow for All." Chinese Ministry of Foreign Affairs. November 15, 2000. Accessed December 5, 2014. http://wcm.fmprc.gov.cn/pub/eng/wjb/zzjg/yzs/gjlb/2757/2758/t16111.htm.