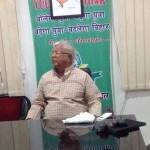 Bihar is intense. With legislative elections in full swing, the state is in the heat of campaigning and showcasing itself. The country's top politicians from PM Narendra Modi to the scrappy Mr. Asaduddin Owaisi and even the Shiv Sena from Maharashtra (contesting 148 seats) are touring the state, asking for votes and pushing their agendas.
Bihar is a state rising from abject poverty. This transformation is impressive and on full display especially in rural areas which comprise 90% of the state. Pucca roads and homes in villages have appeared, and they are clean, children are in school. The poverty reduction is evident, but conspicuously absent is industry. It is this next step that the BJP is aiming at, promising the jobs after the roti, kapda, makan, sadak, pani, bijli and shiksha have been delivered.
Is Bihar ready for this next step? Has it arrived at this inflexion point or does it need another 5 years of Nitish Kumar to get there?
There are 16 Rajya Sabha seats for the BJP riding on a win in Bihar, which will in turn help PM Modi achieve his national goals and promises made to India in 2014.
So all eyes are on Bihar. For the first time, not just the national media but also the regional media from the south and west of India are present.
Gateway House's Manjeet Kripalani is on a five-day trip to North Bihar to observe the penultimate days of the election campaigning. She will send a daily diary, in pictures or words, while traversing Bihar, its progress and its aspirations. And why Bihar is so important to India.
The confident CM Nitish Kumar
Muzaffarpur
Muzaffarpur has political status in Bihar. The Muzaffarpur jail is named after freedom fighter Khudiram Bose, who was hung by the British. In 1971, after Sarvodaya workers were threatened by Naxalites, Jayaprakash Narayan moved to Musahari block in the city to work towards eliminating poverty and unemployment. George Fernandes won the Samata Party seat from Muzaffarpur in 1977 – a trade union leader with no caste calculations at all.
Sheohar
Day 2
After many years, Bihar seems to be experiencing a new confidence. Ten years of Nitish Kumar's development has made life better for most people – certainly safer, more educated and more positive. Better roads have meant more container traffickers – they are visible everywhere. What remains to be seen are tractors. In North Bihar, we saw maybe one tractor a day. More tractors in Bihar will be a sign of true independence.
There is still a long way to go for that day to arrive. The election so far looks like a close contest. Nitish Kumar is clean and admired, but people remember the dark days of Lalu Prasad Yadav's reign, and worry that his presence in the coalition will compromise Nitish's past achievements.
Day 3
Bhishanpur
This election has taken election slogans to a new level. From roti-kapada-makan, to bijli-sadak-pani, to shiksha-vigyan-vikas, and now, in this election, padhaee-kamaee-davaee (higher education, employment, health). This Modi emphasises, stepping into the space beyond the development and education success of the Nitish Kumar government, to opportunity for the small entrepreneur like the tea-stall owner, newspaper vendor, who are the backbone of India's services economy, and the BJP vote.
Although the Congress Party leaders are largely absent in Bihar, the frequent references to the Congress by the BJP leaders in these elections – even PM Modi – ensures the Congress a presence in every public debate and discussion.
Day 4
We are in Darbhanga, the home of the great lineage of Darbhanga maharajas, who were among the richest landlords in India, and were both visionary and philanthropic.
The palace is now a college, so we make do with the alternate best available palace – the A.P. Palace. Everyone stays here, including the politicians during their campaigns, and the marketing managers and salesmen for the white goods that are now increasingly visible in Bihar.
The railroad used to go all the way to the door of the Palace, say local experts. The Darbhangas even had their own airport and airline – Darbhanga Aviation, with four planes, mostly Dakotas. One was given to the Indian Air Force during the India-China war.
The existing infrastructure of Darbhanga was built by the royals, and since the death of the last Maharaja Kameshwar Singh, nothing further has been developed.
Mohammad Walid Nadaf is 30, and works as a driver in Saudi Arabia. He has also worked in Nepal and Bangladesh, but never, he says has he seen worse conditions than his own village. He doesn't want to leave it, but has to earn money. There are no jobs, electricity is stolen or too expensive to install by a private player, it costs lakhs to get a job – how absurd is that, he asks. The boys in this village have lost their mind and their confidence.
There are sugar mills in the area, set up years ago by the Maharaja of Darbhanga, why can't they be revived to help the people?
It is too hard to explain modern economics to the distressed young man – that markets, labour and capital are now all global, and the sugar mills of Darbhanga cannot be revived because the global economics of sugar don't allow it.
But the Nitish Kumar government is skittish about acquiring land for industry; it's too political, the land is too fertile. And after all, Nitish Kumar is a socialist, the old Lohia-ites who don't believe in business and industry and hence will not encourage the transfer of land from the poor farmer to the 'rich' industrialist.
So Mohammad will have to wait till the new dawn comes and perhaps this election will bring it to his home.
Manjeet Kripalani is co-founder and Executive Director, Gateway House: Indian Council on Global Relations.
This blog was exclusively written for Gateway House: Indian Council on Global Relations. You can read more exclusive content here.
For interview requests with the author, or for permission to republish, please contact outreach@gatewayhouse.in.
© Copyright 2015 Gateway House: Indian Council on Global Relations. All rights reserved. Any unauthorized copying or reproduction is strictly prohibited.