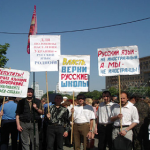 On October 20, 2022, Oleksiy Danilov, the secretary of the National Security and Defense Council of Ukraine made [1]the latest in a series of provocative statements by Ukrainian officials against the Russian language. Appearing on a talk show in the western Ukrainian city of Lviv, Danilov said, "The Russian language must disappear from our territory altogether, as an element of hostile propaganda and brainwashing of our population." Batting for English and Ukrainian, he added, "Look: we don't need anything from them, let them stay away from us, let them go to their swamps and croak in their Russian language."
Primarily aimed at Russia, such comments from a senior government official would have undoubtedly caused despair among the ethnic Russian population in the country. Ukraine's first and only census[2], conducted in 2001, revealed that the country had 8.3 million ethnic Russians, making up about 17% of the country's population. With the bloody Russia-Ukraine conflict now in its ninth month, there are no reliable numbers of how many people choose to identify as ethnic Russians in the country.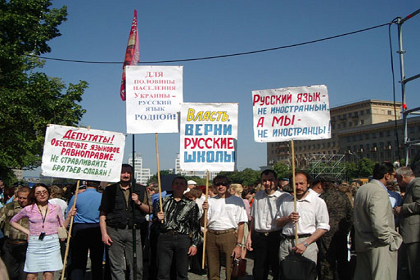 Source: Gennadiy Makarov/Wikimedia Commons
(From left to right, their placards say: "[City] Councillors! Ensure language equality. Don't forsake your fellow Slavs!" "For half of the population of Ukraine – Russian is a native language!" "Authorities – bring back the Russian [language] schools!" "Russian language [is] not foreign! And we [are] not foreigners!")
In a survey conducted in 2012 in Ukraine by Rating Group, a Ukrainian NGO, 42% of those polled said they considered Russian their native language. This number has since fallen [3]to 20% according to a Rating Group April 2022 survey, which also says 33% consider themselves bilingual speakers. Just 51% said they used only Ukrainian at home –up from 44% in 2012. For most of the rest, it is a habit to use Russian and Ukrainian inter-changeably since the former has continued to dominate the media and cultural space in Ukraine since 1991. Despite strong efforts from the Ukrainian government, English does not have strength in the country. The 2021 EF English Proficiency Index placed Ukraine in 30th position[4] out of 35 surveyed countries in Europe.
There is also irony here: Ukrainian President Volodymyr Zelensky grew up a native Russian speaker in Kryvyi Rih in central Ukraine and won the 2019 presidential elections on a platform of making peace with Russia.
That's not surprising. Prior to the breakup of the Soviet Union in 1992, Russian was the official language of the Soviet Union, and almost all Ukrainians had a professional or near-native speaker's capacity in it. Since then, language has been the basis of a nationalist movement in the country.
Article 10 of the Ukraine 1996 Constitution states, "Ukrainian is the state language of Ukraine, and the state shall ensure comprehensive development and functioning of the Ukrainian language in all spheres of community life, free development, use, and protection of Russian and other languages of national minorities shall be guaranteed." At the time of the framing of the Ukrainian constitution, Russian was the prevailing language in government, public offices and even business and cultural activities.
The relegation of Russian to a secondary placein the public arena was a long-drawn-out process, often carried out at lower levels. Resentment against this was one of the factors that led to the victory of pro-Kremlin Viktor Yanukovych in the 2010 presidential elections. Two years after he became President Yanukovych signed a law [5]that allowed cities and regions in the country to pass legislation that would give official status to Russian and other minority languages if 10% or more of the population spoke the language. This law was widely decried by Ukrainian nationalists, and largely existed only on paper until Yanukovych was ousted in a 2014 coup, which the present regime in Kyiv called the "Revolution of Dignity."
After the coup, the Ukrainian authorities became more aggressive in their approach against the Russian language, and attempted to repeal the 2012 act, but this was challenged in court. Finally, in 2018 the Ukrainian Constitutional Court repealed the act. A few months earlier, Kyiv passed a law on education which mandated the use of Ukrainian as the sole language of instruction in all state-funded secondary schools. Although the intended target was the Russian language, the law affected about 400,000 children who were educated in their native languages, which also included Romanian, Hungarian, Polish, Bulgarian and Slovak. This law was criticized by Russia, Romania and Hungary, and the Parliamentary Assembly of the Council of Europe (PACE)[6], which called it a "major impediment to the teaching of national minorities' mother tongues."
Language, nationality and belonging have always been contentious issues in Ukraine as a young country. Crimea, which was transferred [7]to Ukraine from Russia when both were part of the Soviet Union in 1954, largely remained an ethnic Russian and Russian-speaking bastion until it came back under Moscow's rule in 2014, under what Russia calls reunification and Ukraine calls annexation. Discrimination against Russian speakers in the Donbass was also the main catalyst for the Donestk and Lugansk republics breaking away from Ukraine in 2014.
At least until February 2022, Russian remained the main language of business in the Ukrainian capital Kyiv, as well as the main lingua in the streets. Other cities such as the Black Sea port of Odessa and Kharkiv are almost entirely Russian-speaking. Odessa even witnessed riots between pro-Russian and pro-Ukrainian residents in May 2014 and an infamous incident where 46 pro-Russian activists were killed when a Molotov cocktail was hurled at the city's Trade Unions House. The Black Sea port remains a polarised city with locals complaining of what they term as "Lvov expansion," an attempt to turn the city into a Ukrainian-speaking city by relocating people from western Ukrainian cities like Lviv (Lvov in Russian).
Members of the older generation, even those belonging to ethnic Ukrainian backgrounds often refuse to speak Ukrainian. This may not necessarily be seen as a sign of support for Russia but could also be a way of standing up for the language they grew up speaking.
The future of the Russian language in a country where it was universally spoken until very recently, hangs in the balance. Its survival will depend on how the current conflict ends and how the native tongue of Tolstoy and Pushkin becomes depoliticized in a land that is so important for Russian literature and culture.
Ajay Kamalakaran is a writer with a special interest in Russia and the former Soviet Union.
This article was exclusively written for Gateway House: Indian Council on Global Relations. You can read more exclusive content here
For permission to republish, please contact outreach@gatewayhouse.in  
©Copyright 2022 Gateway House: Indian Council on Global Relations. All rights reserved. Any unauthorised copying or reproduction is strictly prohibited. 
References
[1]Remark made on a Ukrainian television program called Big Lviv Talks. https://twitter.com/OleksiyDanilov/status/1583322279362318336
[2] Ukrainian census, 2001. http://2001.ukrcensus.gov.ua/eng/results/general/nationality/
[3] Latest survey by Rating Group. https://ratinggroup.ua/en/research/ukraine/language_issue_in_ukraine_march_19th_2022.html
[4]EF English Proficiency Index  https://www.ef.com/wwen/epi/regions/europe/ukraine/
[5] Law on the principles of language politics. https://zakon.rada.gov.ua/laws/show/5029-17
[6]Resolution 2189 of the Parliamentary Assembly of the Council of Europe http://assembly.coe.int/nw/xml/XRef/Xref-XML2HTML-EN.asp?fileid=24218&lang=en
[7] Russian Archive documents relating to the transfer of Crimea https://krym.rusarchives.ru/dokumenty/protokol-zasedaniya-prezidiuma-verhovnogo-soveta-sssr-ob-utverzhdenii-proekta-ukaza