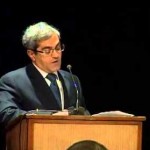 The Road to Antalya and Istanbul Summits
Transformation of the Global Development and Humanitarian Agenda
Remarks by
H.E. Dr. Burak Akçapar
Ambassador of Turkey to India
T20 Meeting, Mumbai, 19 October 2015
---
Honurable Minister,
Honourable Governor of the RBI,
Excellencies,
Distinguished participants,
Ladies and gentlemen,
It is indeed an honour to address the Mumbai meeting of the Think 20. The forum serves as an ideas bank and offers an essential input to the debates on policy issues taken up by the G20. As such it is a challenge to address such august audience whose lives are devoted to thinking. I thank TEPAV and the Gateway House for organizing this important meeting.
Turkey and India, as two emerging stars, have been putting their collective energy into taking their relations to new levels. It gives me enormous pleasure and pride to note that the relationship is at a unique height. From tourism to political contacts the relationship has attained a positive momentum to complement deep rooted friendship. There are however urgent steps that are needed in order to fulfil the promise of the relationship. In particular, we urgently need a new civil aviation agreement to connect our peoples, businessmen and women directly and more effectively. We also need an economic partnership agreement. And, we are eagerly awaiting the long delayed visit of the Honourable Prime Minister of India. We should also be creating new joint visions and actions to contribute to the global agenda.
Both bilaterally and globally this is an era in which our thinking caps are again much needed. The world is undergoing a transformation.
Such periods need transformative agendas.
2015 and 2016 have emerged as transformative years for the global agenda to leave no one behind in terms of the three interdependent main pillars of the United Nations, namely peace and security and development and human rights which celebrates its 70th anniversary.
In September 2015, the Millennium Development Goals were replaced by the Sustainable Development Goals and the Agenda 2030. Thus, the "2030 Agenda for Sustainable Development", builds upon the achievements of the Millennium Development Goals and seeks to address their unfinished business. The 2030 Agenda and its SDGs go beyond the MDGs. Alongside poverty eradication, food security and nutrition, health and education, the new Agenda sets out a wide range of economic, social and environmental objectives. The 17 Goals and 169 Targets, which are universal, people centered and planet sensitive, set a delicate balance between economic, social and environmental pillars of sustainable development. The 2030 Agenda also aims to provide for necessary "Means of Implementation". These means are complemented by the "Addis Ababa Action Agenda" which was adopted at the Third Conference on Financing for Development on 16 July 2015.  The outcome of the Paris Conference of Parties (or COP 21) to the UN Convention on Climate Change (UNFCCC) on climate change in December again this year will add yet another ring to the chain by defining climate finance. The Agenda 2030, Addis Ababa Action Agenda and the Paris Conference document on climate change will establish the framework of the global development agenda for the next 15 years. In between the 12th session of the Conference of the Parties to the United Nations Convention to Combat Desertification (UNCCD) is being held on 12-23 October 2015 in Ankara.
This will be followed by the G20 Summit in Antalya which is the culmination point of the Turkish Presidency of the G20 and some 100 meetings that were organized in this context.
The 10th WTO Ministerial Conference will be held in Nairobi, Kenya from the 15th -18th December, 2015. A positive outcome in this Conference will shape the global trade and investment framework in the post 2015 development agenda. It will provide the necessary impetus to enhance trade and investment.
The transformation of the global agenda will be complete on 23-24 May 2016 with the first ever World Humanitarian Summit to be held in Istanbul. This Summit will bring together governments, humanitarian organizations, people affected by humanitarian crises and new partners including the private sector to propose solutions to our most pressing challenges and set an agenda to keep humanitarian action fit for the future.
Together, these milestones provide a transformative agenda for the world to follow in the coming decade and a half to address the enduring objective of building an international order in which no one is left behind. This endeavour requires the participation and engagement of every actor, including the individuals, the civil society, states and the multilateral fora.
Particular focus will be on the G20 group of nations, individually or collectively, in helping fund facilitate this transformation.
When G20 Leaders met first time in 2008, they set their main objective as "achieving strong, sustainable and balanced growth".
They also noted that G20 plays key role in achieving this objective as the "premier platform for international economic cooperation".
In the seven years since the onset of the global financial crisis, global growth continues to be moderate. It has been around 3-3.5 percent range over the past five years.
Global growth is also uneven. In advanced economies, it is on average around 2.5 percent while it differs signficantly from country to country.
In emerging economies, growth has been decelerating from around 6 percent to 4.5-5 percent.
While the low income developing countries continue to demonstrate a strong growth performance, as they integrate more to the global economy, they have become more open to the risks caused by developments in global economy.
As the G20 Presidency Turkey added "inclusive growth" to the G20 goal of achieving strong, sustainable and balanced growth.
But this process needs better coordination and a more inclusive approach. One of the most important contributions of the G20 to the global development efforts is the platform it provides for macroeconomic coordination in a bid to lift growth, employment and bring stability to the markets.
Inclusiveness is not just a moral responsibility, in our global economy it is enlighthened self interest.
As the President of this year's G20, Turkey has highlighted three I's. These have been implementation, investment and inclusiveness.
On implementation, our aim is to ensure that G20 walks the talk. Confidence is the best and most effective way of attracting investments and sustaining economic growth.
If fully implemented, the G20 growth strategies adopted last year, will lift the G20's GDP by 2.1 per cent by 2018.
This means more than 2 trillion US Dollars would be added to the global economy, which will create millions of jobs and raise non-G20 GDP by over 0.5 per cent.
This additional growth is much needed given that global growth continues to fall short of expectations.
This year we developed a robust framework to hold ourselves accountable for our growth strategies, including detailed implementation schedules.
On investment, our priority is to take action for closing the global infrastructure gap. It is crucial as investment plays a very important role in driving growth and creating better jobs.
It is estimated that 70 trillion Dollars of investment is needed for the next 15 years to close the global infrastructure gap.
In Addis Ababa Action Agenda, it is highlighted that developing countries need around 1.5 trillion Dollars of investment annually to pursue their sustainable development efforts.
Therefore, investment is crucial for developed and developing countries alike.
In this context, we have prepared country specific investment strategies to improve the investment ecosystem, foster efficient infrastructure investment and support financing opportunities for SMEs
This will help us to monitor progress and see how the G20 can coordinate efforts in increasing infrastructure investments at the global scale.
The third I, namely inclusiveness is probably the most relevant part of the G20 agenda for the global development efforts.
Inclusiveness aims to ensure the benefits of growth and prosperity are shared by people within and beyond G20 countries.
Within countries, we have examined our domestic policies and business practices to ensure that they promote inclusive growth.
Worsened by the effects of the global financial crisis, inequality has been increasing in many countries.
Among OECD countries inequality is at its highest level in 30 years.
The share of the wealthiest 1 percent in our economies is rising and the share of wage income is falling behind the rate of economic growth.
Real wages have been either flat or have decreased since 2008 in many countries.
This has important consequences for the global economy, because wage earners who form an overwhelming majority of our economies have a higher propensity to increase their consumption proportionally when their real wages rise.
Therefore, addressing rising inequalities is not only important for social stability but also critical for sustainable economic growth.
Women and youth deserve particular attention since they constitute major vulnerable groups need to have a better share from prosperity and economic growth.
Last year, the G20 made a commitment to reduce the gender gap in labour force participation by 25% until 2025.
Effective implementation of this target will bring an additional 100 million women into the workforce.
Under the Turkish Presidency, a Women-20 was established as a standalone engagement group to promote gender inclusive economic growth and take steps to ensure women's effective participation into the economic life.
These steps taken by the G20 will support to achieve gender equality and empower all women and girls which is also part of the Sustainable Development Goals.
This year, Turkish Presidency focused also on reducing youth unemployment. It has been on the agenda of the G20 for some time. However, we need a concrete commitment to take strong action in this important issue.
G20 Labour Ministers adopted a G20 target on reducing the share of young people who are at most risk of being permanently left behind in the labour market by 15% by 2025.
This collective target of the G20 will help us to better coordinate our efforts and policies to reach our shared objective of reducing youth unemployment.
G20's focus on reducing on youth unemployment is also highly relevant for the Agenda 2030.
Under the Sustainable Development Goal 4 on inclusive growth, substantially increasing number of youth for employment and decent jobs has been identified as a sub-goal.
Small and Medium Size Enterprises (SMEs) are another important element of our inclusiveness agenda.
SMEs are the major source of employment and an important driver of economic growth in many countries.
Therefore, SMEs are important to help us reach our goal of ensuring that all segments of the society have access to benefits of growth and prosperity.
Turkish Presidency has decided to establish for the first time a World SME Forum in cooperation with the International Chamber of Commerce.
We aim for the SME Forum to be the global voice of SMEs, a platform representing their interests, supporting them to meet various challenges they face and serve as an advocacy forum for SMEs.
Encouraging the growth of SMEs is a sub-goal under the Sustainable Development Goal 8 on inclusive and sustainable economic growth. Therefore, G20's focus on SMEs is highly related to the Agenda 2030.
The inclusive growth agenda also contains an external dimension.
Our aim here is to ensure that our decisions and actions will benefit not only G20 countries but also the entire world economy, including low-income developing countries.
We have put a special emphasis on reaching out to low income developing countries and developing policy responses to the specific challenges they face.
By doing so, we have helped focus the potential G20 contribution to the SDGs on what works and what developing countries need.
In this direction, Turkish G20 Presidency organized the first-ever joint meeting of G20 Finance Ministers and Finance Ministers from low income developing countries.
This type of policy dialogue is important not only because G20 has a comprehensive development agenda of its own, but also because decisions taken by G20 have an impact on developing countries as they integrate better to the world economy.
We have also made development as integral part of the G20 Finance Ministers' meetings this year.
As G20 Finance Ministers and Central Bank Governors, in our last meeting in Ankara, we welcomed the positive outcomes of the Addis Ababa Conference and pledged to support global development agenda through scaling up our technical assistance towards developing economies.
In fact, G20 has its own development agenda coming from 2010 with several concrete and action oriented elements.
Five priority areas agreed by G20 members under the development agenda are infrastructure, domestic resources mobilization, financial inclusion and remittances, food security and nutrition and human resources development.
G20 development agenda is linked with several SDGs.
For instance, G20's work on food security is closely connected to SDG 2 on ending hunger, achieving food security and improved nutrition and promote sustainable agriculture and SDG 12 on ensuring sustainable consumption and production patterns.

This year, we organized G20 Agriculture Ministers meeting in May. The central theme of the meeting is how the G20 can best support progress towards the achievement of sustainable food systems with a particular focus on food losses and waste to enhance global food security.

With world population expected to reach 9.3 billion by 2050 and changing food consumption patterns as a result of income growth and urbanization, food production will need to increase by some 60 per cent.

However, the natural resource base is already depleted and pressures on limited land and water are intensifying. Climate change will add to the difficulties of reconciling the balance between food needs and production possibilities.

Therefore, establishing sustainable food systems and reducing food losses and waste are essential to cope with this challenge. The cost for producing food that is wasted amounts to 1 trillion Dollars each year, and if we reduce food losses and waste to zero it would give us additional food to feed 2 billion people. The carbon footprint of producing that wasted and lost food is estimated at %7 of global greenhouse gas released into the atmosphere each year. 

G20 Agriculture Ministers agreed to establish a technical platform to measure and reduce food loss and waste. This platform is also open to non-G20 and particularly low income developing countries.

On Human Resources Development, G20 development agenda this year has focused on addressing skills mismatch which is important for many developing countries.

It has a strong link with SDG 4 on ensuring inclusive and equitable quality education and promote lifelong learning opportunities for all and SDG 8 on promote sustained, inclusive and sustainable economic growth, full and productive employment and decent work for all.    

On investment in infrastructure, G20 has worked with Multilateral Development Banks on project prioritization and highlighted the importance of investment for developed and developing countries alike.

Therefore, it is very much linked with the SDG 9 on build resilient infrastructure promote inclusive and sustainable industrialization and foster innovation.
The G20 is well placed to support the SDGs not only because it represents %85 of global economy but also because it is home to around half of the world´s poor.
We can build on the existing development agenda to bring together the private sector, civil society and development partners to help deliver on the ambition of the SDGs.
The G20 provides a unique forum for improving and coordinating development policy across traditional and emerging donors. 
Therefore, this year apart from advancing the ongoing G20 development agenda, we took steps to enhance policy coherence on development across the G20 agenda.
This has enabled us to focus on the positive spill-over effects of actions in a broad range of areas related to economic growth, job creation and investment.
In addition to the G20 work on food security, infrastructure and employment and how they support relevant SDGs, other G20 work streams which are not currently taken up within the G20 development agenda are also highly relevant for low income developing countries.
A striking example is the work to be done this year to develop an Energy Access Action Plan with a particular focus on Sub Saharan Africa.
Across the world, around 1.1 billion people do not have access to energy. This problem is most acute in two continents: Asia and Africa.
G20 decided to focus on Sub-Saharan Africa this year where 650 million people, more than half of the continent's population, do not have access to energy.
We think that G20 can add value by helping the important need of coordination among existing initiatives focusing on energy access in Africa.
Our focus is on regulatory and policy frameworks, access to financing and technology.
This year, Turkey organized the first-ever G20 Energy Ministers meeting on 2 October 2015. Energy Ministers adopted the G20 Access to Energy Action Plan with a particular focus on Sub-Saharan Africa.
One day prior to the G20 Energy Ministers meeting, we organized an international conference on Access to Energy in Africa with the participation of G20 and African Energy Ministers as well as private sector and international organizations.
G20 work on energy access this year is highly relevant with the SDG 7 on access to affordable, reliable, sustainable and modern energy for all.
Another important area where G20 can contribute is means of implementation defined in SDG 17.

The G20 is well placed to support the means of implementation of the SDGs, including development finance. 

Ongoing G20 work on tax and remittances is helping countries maximize their own resources for development.

This year, a G20 Call to Action for Strengthening Tax capacity focuses on support for domestic tax collection systems. It directly supports SDG 17 on the means of implementation of the SDGs, as well as the Addis Ababa Action Agenda.  

Other actions to support this SDG include work on tax incentives for investment and support for developing countries' inclusion in the G20 international tax reform agenda.

SDG 10 on reducing inequality within and among countries has also been a key theme under our inclusiveness agenda. It is also closely related with financing development.

Remittance flows are a significant source of income for many developing countries. According to World Bank figures, they totalled 435 billion USD in 2014 and are projected to increase to 454 billion USD in 2015.

This year we will adopt G20 national remittances plans to help the G20 make more progress towards its commitment to reduce the global average cost of remittances to 5%. 

Strengthening domestic resource mobilisation and financial inclusion are therefore key priorities for the G20 and we endorse the call to revitalise the global partnership for sustainable development as part of these efforts.
The G20 can also contribute to the SDGs by helping to ensure developing countries are able to take advantage of opportunities in the global economy.
The private sector´s role in development is very important if we are to succeed in developing more opportunities.  Access to trade and technology facilitation are key components of SDG 17.
This year we have focused on how firms in low income developing countries, in-particular SMEs, can participate in Global Value Chains (GVCs).
We will also deliver a G20 Leaders' Call on Inclusive Business to promote opportunities for low income people and communities to participate in markets.
One of the key messages is to CEOs and companies. Inclusive business can be good business.  It can open access to vast numbers of new customers with a combined spending power of $5 trillion. It can also stimulate demand and innovation to propel development forward.
The G20 will help develop the evidence base for inclusive business through a new policy platform, bringing together the private sector, IOs and G20 members.
Ladies and Gentlemen,
The implementation of Agenda 2030 requires a truly global partnership.
We all acknowledge that development is not just about assisting developing countries.
Official Development Assistance (ODA) continues to be the most important source to support the development efforts of many countries, particularly the LDCs.
UN members should meet their ODA commitments in full and in a timely manner. As a matter of fact, ODA of Turkey was 1 billion dollars in 2010. In 2014, it was 3.5 billion dollars.
However, better integrating all country groups to the world economic system is crucial to bring growth and prosperity to the developing countries, which will ultimately be the new engine of growth globally.
Our long term objective should be to create an environment where assistance will no longer be needed.
I do not think that G20 should be self-congratulatory in its efforts to support SDGs.
On the contrary, as representing 85% of the world economy, we have a responsibility to do more.
G20 was born out of the necessity that advanced and emerging economies should work together to meet increasing challenges to the global economy.
Now, we face global challenges that have an impact on all countries regardless of their level of development.
Global humanitarian action involves a complex web of commitments and agencies and requires concrete funding. Strong and effective development assistance comprising humanitarian relief and long term development aid forms the fundamental basis on which such global action can proceed and yield results. The emergence of non-traditional contributors, in addition to the established ones represented at the Developing Assistance Committee of the OECD furnish additional opportunities to sustain global humanitarian and development action. Recent years have seen the ascendancy of the profile of a number of developing states in the realm of development and humanitarian assistance.
Turkey is one such emerging donor whose contributions, now surpassing several of the established players, have qualified her to rank among the leading providers of Official Development Assistance globally. A distinguishing characteristic of Turkey, in this regard, has been the dexterity with which she has positioned herself as a connector between East – West and North – South.
As an ODA receiving higher middle income country, Turkey has achieved highest percentages of increase in her international development assistance including humanitarian assistance funding in a diversity of regions. As a founding member of the OECD she has opted not to join the DAC but participated in its meetings and reflected its core values in her programmes. She has effectively detached short term political expectations from her development assistance. She has shouldered the heaviest burden in terms of the number of displaced persons escaping Syrian and DAESH brutality.
The development agenda is part and parcel of a broader humanitarian agenda.
People of the world are confronting enormous challenges. One hundred million people are in urgent need of humanitarian assistance. There are more than 60 million people who have been forced to flee their homes or their countries.
Humanitarian crises are created as a result of conflicts which have not been prevented and impact those who have not build resilience the most.
The challenge is to link humanitarian work to prevention, resilience and development.
Humanitarian action and development or transition from relief to development must be seen as a continuum. Reducing human suffering and promoting development are objectives that are best met if the works are conducted in a mutually reinforcing manner.
The Syrian crisis shows that the humanitarian system requires urgent repair. This requires a new look at structures, financing and capacities. However, this would not be enough. The task is to expand the humanitarian space and to humanize the overall system. The world needs a new humanitarian vision.
The Istanbul Summit will aim to build on the momentum of the SDGs in order to strengthen the capacity of the countries and communities as well as the international agencies to better cope with crises and natural and manmade disasters.
The World Humanitarian Summit is an opportunity to unify the global agendas for development behind a robust, effective and fresh vision of humanitarianism that would be the product for the first time in history of both the east and the west; and the north and the south.
Thank you for your attention.
Dr. Burak Akçapar is the Ambassador of Turkey to India
An abridged version of this speech was delivered by Erdal Sabri Ergen, Consul General of Turkey, Mumbai, at T20 Mumbai 2015.
You can read exclusive content from Gateway House: Indian Council on Global Relations, here.
For interview requests with the author, or for permission to republish, please contact outreach@gatewayhouse.in.
© Copyright 2015 Gateway House: Indian Council on Global Relations. All rights reserved. Any unauthorized copying or reproduction is strictly prohibited