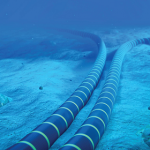 Space and undersea cables are two strategic areas in which India has converging security interests but divergent strengths.
India has had a space programme since 1963, which despite sanctions, has grown into one of the world's most ambitious programmes, with globally successful satellite launches and now a Moon and Mars pursuit.
In undersea fibre-optic cables, India is barely present, despite being one of the world's largest telecom and data markets and having the world's second largest digitised citizenry (after China), Since 95% of international internet data including cloud and digital communication are transmitted through undersea fibre-optic cables, it is necessary for India to develop a submarine cable network as part of its critical national infrastructure[1].
These two strategic areas converge for two reasons: first, the world's reliance on undersea cables will grow, and second, the developed world will transition to space-based communication. The developing world will soon be connected and online – a huge population to be served, for whom the Indian experience is applicable for equity and geopolitical reasons.
It is therefore necessary for India to align these security interests.
Figure 1: Undersea Cables in the Indo-Pacific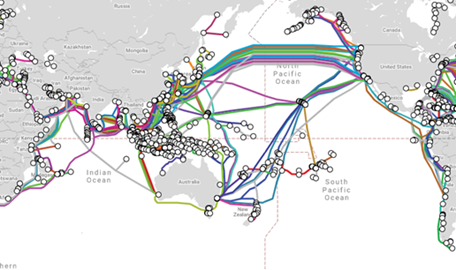 Source: TeleGeography
Space:
India is starting to use its space programme for public purposes, from last mile connectivity to revenue enhancement. Space reforms introduced in May 2020 have encouraged the emergence of start-ups with a space focus, and even established Indian companies from autos to telecom, chemicals and aerospace have begun to pay attention to the opportunities in space.[2] In July 2020, telecom player Bharti Global acquired a part of the UK's OneWeb, a satellite internet services company, which is now set to provide 5G and 6G telecom services.[3] Parent company Bharti Airtel already has 3G telecom services in Africa, and the upgraded technology will help it penetrate the continent further. [4]
Table 1: Expected internet growth 2018-2023

The January 2022 volcano-triggered tsunami cut Tonga off from the world for several days when undersea cables were severed. During such disasters, space-based communications can provide a much-needed back up. In addition, earth observation satellites can provide routine services related to agriculture, mineral exploration, fisheries, land management, disaster management and other geo-spatial analysis. India's low-cost space programme provides these services in India, while other developing and underdeveloped countries also have a need but not the means for similar services.
India's ISRO and the Japan Aerospace Exploration Agency (JAXA) are already in talks to develop a joint satellite mission to study the lunar polar region. Expanding the collaboration to provide space-related services to smaller countries in the Indo-Pacific, as also to the African continent, will be beneficial.
Undersea cables:
Undersea cables are the backbone of the global economy, with $10 trillion in financial transactions being transmitted each day. The Indo-Pacific region, which includes India and Japan, is home to the fastest growing undersea communication cable networks.
Though satellite communication is increasing connectivity in remote areas, undersea cable connectivity will continue to be the chief driver of internet growth, due to affordability and bandwidth advantages. Over the next three years, an $8 billion investment is expected in the undersea communication cable market for laying of more than 60 new cables totalling over 290,000 km in length.[5]
There are just three major players in undersea cables: Japan's NEC, U.S.-based SubCom and France-headquartered Alcatel Submarine Networks. They are the world's top three suppliers of optical cables, with an over 90% market share. They also own much of the technological elements of undersea networks across the entire spectrum, including subsea geological survey, cable laying and repair capabilities. A fourth player is emerging, i.e. China's Huawei Marine Networks, rebranded as HMN Technologies in Oct 2020.[6]
Table 2: Undersea communication cable systems – Major Players

Source: Gateway House research and TeleGeography
China aims to capture 60% of the world's fibre-optic communications market by 2025.[7] That goal is directly linked to its global plans for the Digital Silk Road, and Belt and Road, Made in China 2025 and China Standards 2035 initiatives. China therefore acquired the U.K.'s Global Marine, which is now Huawei Marine Networks. China now has a position in the undersea communication cable market and is building capabilities in maintenance, repair and upgrading existing legacy cable systems. Chinese companies have built or repaired almost a quarter of the world's estimated 400 submarine cables.[8]
Table 3: Undersea cable running through India
Source: Gateway House research
India and Japan must cooperate to counter China's focus on undersea cables and the state-owned consortia leading the new initiatives. There is already a high density of undersea cable networks in the South China Sea and the Indo-Pacific, areas of mutual strategic interest. And India has a direct stake: over the next three years, at least eight new cable systems to be commissioned, will transit via India (see table 3).
Recommendations:
Japan and India can collaborate on undersea cables – Japan has the technology and India has the market to make large projects and investments viable. NEC can lead a new syndicate with emerging Indian players Bharti Airtel and Reliance Jio to augment global capacity and prevent emergence of state-backed monopolies.
The Pacific Island nations are the landing points for several new and proposed undersea cables. They are vulnerable to state capture by foreign countries and entities. India and Japan can work bilaterally or multilaterally to secure data cable landing points in these islands.
India and Japan can work together to position their own nationals in important multilateral bodies such as the ITU, currently dominated by China.
Under India's G20 Presidency in 2023, India and Japan can together actively set the agenda for the Space 20 sub-forum, and drive outcomes especially on standards and regulatory frameworks.[9]
ISRO and JAXA can provide access to earth observation satellites to smaller Indo-Pacific countries for disaster management, agriculture, urban and rural land use management, etc. India and Japan can together provide capacity-building and other infrastructure to interpret and use this information.
Manjeet Kripalani is the Executive Director of Gateway House
This essay is part of a paper 'Analysing India's Economic Security Challenges'. Read the full paper here. 
The views and opinions expressed in this paper are solely those of the authors. The view expressed in the paper do not necessarily reflect those of NEDO
For permission to republish, please contact outreach@gatewayhouse.in
©Copyright 2022 Gateway House: Indian Council on Global Relations. All rights reserved. Any unauthorised copying or reproduction is strictly prohibited.
References
[1]https://www.un.org/en/development/desa/population/migration/generalassembly/docs/globalcompact/A_RES_66_231.pdf
[2] https://www.gatewayhouse.in/reforms-space-start-ups/
[3] https://www.gatewayhouse.in/india-oneweb-queens-stake/
[4] https://rotaryclubofbombay.org/the-path-for-indias-private-sector-to-launch-into-outer-space-is-bright-says-dr-chaitanya-giri-a-technology-strategy-analyst/
[5] Jayne Miller, Just Look at all those cables: The 2021 Submarine Cable Map is here, 24 May, 2021 available at : https://blog.telegeography.com/2021-submarine-cable-map
[6] https://www.gatewayhouse.in/quad-economy-technology-task-force-report/
[7] https://www.uschamber.com/sites/default/files/final_made_in_china_2025_report_full.pdf
[8] https://www.defensenews.com/opinion/commentary/2020/07/01/protecting-undersea-cables-must-be-made-a-national-security-priority/#:~:text=Huawei%20Marine%2C%20a%20Huawei%20subsidiary,world's%20approximately%20400%20submarine%20cables
[9]https://parlinfo.aph.gov.au/parlInfo/download/legislation/billsdgs/3022582/upload_binary/3022582.pdf;fileType=application/pdf