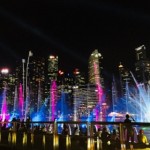 Scotts Road, the heart of the Orchard Street shopping district, Singapore's elite and tourist heavy shopping belt, was last week advertising more than electronics and garments to tourists. Restaurants were selling the "Trump Kim Burger" – a special kimchi burger sold for only a week in honour of the 12 June historic summit between U.S. President Donald Trump and North Korea leader Kim Jong Un. KFC upgraded its staple chicken dishes to create the "Four Peace Meal, For Peace", while a popular Mexican joint renamed its regular tacos as "El Trump", and "Rocket Man" and a pub created pricey new drinks – "The Trump" and "The Kim" both at $12.60 and containing the same amount of alcohol so that they are "equally powerful".
Singapore sure knows how to market its wares – and its geopolitical status. The country gladly spent $20 million on the summit, with a long term agenda in mind – to be the new geopolitical venue for high-level diplomatic meetings. And the spinoff effect on its hospitality, financial, and services sector has been positive as well. Singapore gets about 47,000 tourists a day. The summit is projected to have increased that number by several thousands, due to the arrival of at least 2,500 journalists, officials from the U.S., North Korea, and other nations. A CGS-CIMB research report predicts that the summit will boost visitors to Singapore by 6% in 2018.
The crowds didn't overwhelm this tiny city-state of 5 million. Apart from a few cordoned off roads, reporters, and security arrangements, life continued as normal. There are no signs of protests, disorganized crowds, or throngs of Trump and/or Kim supporters. The public did gather to witness history – and having done so, they continued their shopping.
Prime Minister Lee Hsing Loong maintains that this $20 million bill is Singapore's contribution to an international endeavor that is in his country's "profound interest", and a price it is willing to pay to put Singapore on the global map. Many of his citizens agree. GrabTaxi Driver, Chia Mok Ann, 24, positively beams while speaking about Singapore as the chosen location, its diplomatic win, and the cascading branding and marketing opportunities that follow with it. "People will see what Singapore really stands for – our state of the art infrastructure, cleanliness and efficiency, and our commitment to safety."
This summit, indeed, showcases Singapore as the ideal destination – for tourists, for the young generation seeking jobs, and now, as a location for international business meetings.
Ko Wang, 28, who works as a nurse at a private hospital is in awe of what her government has achieved in short notice. "For us Singaporeans, it is a very proud moment that we were chosen to host this summit. The reasons for why we were chosen are many – mainly our security and tropical beauty. We have shown that we are capable of handling important diplomatic meetings such as these. After this, more international meetings will be held at Singapore. The $20 million is a good investment. We are known as the "little red dot" on the map. Now everyone will know us as more than that.
Others are less concerned about history being made in their nation. They resent the money spent, are concerned about safety, and have a general wariness that the positive outcomes being cited by experts are only fleeting.
"Why should our hard-earned tax payers money be used to foot the bill for the summit? They should pay for it themselves. Our nation can do many other things to increase our global presence," said Lim Yu Zhuang, 46, another GrabTaxi Driver. A 50-year old mechanic waiting at the bus stop closure in Tomlinson Road, grumbled about the restrictions that caused people inconvenience. "I have to change my route, and walk an extra 30 minutes to reach my shop. This meeting is not going to cause tangible change in the way the world sees Singapore and it is unlikely that more meetings of this stature will come here," he said.
Actually, it's not the first time Singapore has played host to landmark meetings. In 1993, Singapore hosted the Wang-Koo Summit between Wang Daohan, Chairman, China's Association for Relations Across the Taiwan Straits (Arats), and Koo Chen-fu, Chairman of Taiwan's Straits Exchange Foundation (SEF).
It represented a historically important step forward in the development of Cross-Strait relations. A "Four Agreement" was signed to achieve concrete results for exchanges in commerce, economy, science, technology, and culture, to be implemented over 10 years.
Singapore has always emphasised its support for The One China Policy, and this meeting set the foundation for Singapore as a neutral, efficient, and unassuming location for high level bilateral meetings.
In November 2015, Singapore hosted another momentous meeting: between Chinese President Xi Jingping and the then Taiwan President Ma Ying-jeou, the very first time leaders of China and Taiwan had met since the founding of The People's Republic of China by Mao Zedong in 1949. While the meeting lacked concrete outcomes, it was viewed as significant for the Chinese long-term goal of integration of China and Taiwan, re-iterating the 1993 agreements on the peaceful development of cross-strait relations.
Once again, Singapore with its commitment to public order and safety coupled with its pristine urban environment and traditional Confucianism values, was regarded as the pragmatic and correct choice.
Twenty-four years later, from Wang-Koo to Xi-Ma, and now the show-stopper Trump-Kim Meet – Singapore is the new pin for high-level diplomatic summitry. With global power shifting towards Asia's emerging economies, this city-state is a better, closer bet than Switzerland. The $20 million price tag is a low-cost campaign fee for a country that's transforming its branding from being "a little red dot" on the shopping map, to becoming a precisely and globally positioned summit state that counts.
Preksha Dugar is former Meetings and Membership Associate at Gateway House.
This blog was exclusively written for Gateway House: Indian Council on Global Relations. You can read more exclusive content here.
For interview requests with the author, or for permission to republish, please contact outreach@gatewayhouse.in or 022 22023371.
© Copyright 2018 Gateway House: Indian Council on Global Relations. All rights reserved. Any unauthorized copying or reproduction is strictly prohibited.