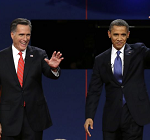 Republican nominee Mitt Romney this week offered a sweeping critique of U.S. President Barack Obama's foreign policy, demanding a more assertive and aggressive U.S. posture around the world.  But on close examination, it is difficult to decipher what Romney would do differently, except to fiddle at the margins.
What is clear is that Romney feels secure enough after a decisive victory in the first presidential debate to venture beyond his comfort zone of talking about the economy, and deliver a few punches on foreign policy issues. He is also helped by the Obama Administration's inept handling of events in Benghazi where a U.S. ambassador and three others were killed in a terrorist attack last month.
The Romney campaign has expertly exploited the opportunities.
According to a new Pew poll, Romney is ahead of Obama by four points among likely voters – 49% to 45% but tied among registered voters. Last month's Pew poll had Romney trailing by eight points among likely voters.
That was before the debate, a televised grand event that seems to have changed Romney's fortunes. Obama, ill at ease and appearing unsure, performed surprisingly badly in the match watched by an estimated 70 million Americans. The latest Gallup poll, which spans over seven days of data, still put Obama ahead of Romney among registered voters while other polling data show the challenger in the lead.
The race is once again open and Romney has the momentum with less than a month to go before voting day. No wonder the Romney campaign has decided to hit out on all fronts with the hope that some punches will connect. Hence, the foreign policy speech on Monday in front of 400 cadets at a Virginia military academy.
Romney's speech was a more assured performance after his gaffe-filled trip to Britain this summer when he insulted his hosts and made other mistakes of a foreign policy novice. During the campaign he has also pronounced Russia as America's archenemy, something even Republicans don't dream of these days.
Staying on the offensive while the going is good is smart strategy. But the rhetoric must be matched by ideas. As it turns out, Romney's ideas are not substantially different from Obama's current policies. What he offered were strong words, different in style and tone but not in content.
Romney's call to "use America's great power to shape history, not to lead from behind, leaving our destiny at the mercy of events" is all very well but he knows that there is neither the budget nor an appetite among his voters for leading from the front. Perhaps, that's why he didn't call for an intervention in the Middle East but only whipped up the idea of one.
"When we look at the Middle East today – with Iran closer than ever to nuclear weapons capability, with the conflict in Syria threatening to destabilize the region, with violent extremists on the march, and with an American ambassador and three others dead, likely at the hands of al-Qaeda affiliates – it is clear that the risk of conflict in the region is higher now than when the president took office," Romney noted. Apart from saying he would "change course" away from Obama's "passivity" and that he would come down harder on Iran on the one hand and arm Syrian rebels on the other, he didn't offer concrete ideas.
The Obama Administration has a stringent sanctions policy against Iran in place, which has pushed Tehran against the wall hard enough that rumblings of negotiations are being heard in certain quarters. But Romney is using Obama's discomfort with Israeli Prime Minister Benjamin Netanyahu on Iran to his advantage. Obama has urged Israel not to attack Iran unilaterally, arguing that there is still some space for a diplomatic solution – a stand that didn't satisfy Netanyahu who used the recent United Nations General Assembly gathering to raise the temperature by showing a cartoonish sketch of a nuclear bomb.
Romney is fine with it all except he says he wouldn't allow Iran even a nuclear "capability" and post a permanent aircraft-carrier task force in the Persian Gulf as a warning. It is a difference of degree and appears geared towards electioneering.
As for Syria, the U.S. is already supplying the rebels with weapons, as are the Saudis and others. Obama has shied away from handing them anti-aircraft weapons – something that Romney supports. He accused Obama of "sitting on the sidelines" instead of working with other nations to arm the rebels even more.
Although Romney didn't breach other parts of the world in his speech on Monday, he has used belligerent language against China, saying he would declare it a currency manipulator on day one of his presidency. He indirectly used the China bogey during the debate with Obama, saying he is not going to borrow money from Beijing to pay for expenditure at home. His comments forced Hillary Clinton to cover for him and Henry Kissinger called his comments 'deplorable.' But Romney's China rhetoric is similar to Obama's outsourcing comments in 2008: mainly for effect.
South Asia figures, sort of. On Afghanistan, Romney has agreed with Obama's goal of withdrawing U.S. troops by 2014, and added that it was time for Afghan security forces to protect their own freedom – the essence of Obama's policy. On India both have similar positions – deeper, broader and better relations although the Republican Party platform was far more extensive in describing the scope than the one produced by the Democratic Party. In the end, it doesn't matter because support for India is definitely bipartisan. It could be argued that another four years of Obama would serve India better because no time would be lost in policy reviews and new appointments of a new administration.
If India enjoys bipartisan support in Washington, Pakistan faces bipartisan opposition. Romney is more shrill on Pakistan but not substantively different from Obama – he supports the use of drones to kill extremists while trying to repair relations. Romney talks of putting more conditions on aid to Pakistan – an idea that candidates preach when out of office but usually forget when in office.
Whether or not Obama's policies are effective or inept is another debate. What seems apparent is that Romney won't usher in a foreign policy revolution if elected.
Seema Sirohi, an international journalist and analyst, is a frequent contributor to Gateway House: Indian Council on Global Relations.
This article is part of the series of analyses by the author on the U.S. presidential elections, 2012.
This article was exclusively written for Gateway House: Indian Council on Global Relations. You can read more exclusive content here.
For interview requests with the author, or for permission to republish, please contact outreach@gatewayhouse.in.
© Copyright 2012 Gateway House: Indian Council on Global Relations. All rights reserved. Any unauthorized copying or reproduction is strictly prohibited.