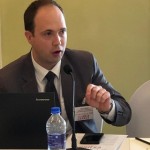 Gateway House (GH): What are the common cybersecurity threats India and Canada face?
Aaron Shull (AS): India and Canada face several common cybersecurity threats, principally from two areas: first, nefarious state actors or aggressive state behaviour in cyberspace; and second, non-state actors, principally organised criminal outfits, seeking to use the internet or cybersecurity as a way to exploit companies and individuals within our respective countries.
With state actors, we're looking at a very aggressive cyber posture along two threat vectors: cyber war and economic cyber espionage. Both Indian and Canadian companies are vulnerable to economic cyber espionage and our governments need to deal with the reality of cyber warfare as we're seeing more and more advanced cyber weapons.
GH: How can India and Canada tackle them together?
AS: India and Canada have a range of opportunities on which to work together in this space. Right now, at the United Nations, there are rule-setting exercises being undertaken by something called the Open-Ended Working Group and the UN Group of Governmental Experts. We can work together to try and advance a common set of rules governing cyberspace, both as it relates to the application of international law to cyberspace and things like cyberwar, but also to what the costs are and what the penalties are for states that break these types of international rules.
The second area where we can collaborate is combating international cybercrime. I know that there has been recent activity between our respective governments on fraud. In fact, in the past couple of days, the Indian police arrested a group of criminals who were exploiting Canadians through phone scams. We see this occurring in cyberspace routinely and our governments can collaborate to try to put these criminal outfits out of business. This will build and enhance trust between our respective governments and among individuals who have been subject to such exploits.
Aaron Shull is Managing Director and General Counsel, Centre for International Governance Innovation (CIGI).
This interview was exclusively conducted for Gateway House: Indian Council on Global Relations. You can read more exclusive content here.
For interview requests with the author, or for permission to republish, please contact outreach@gatewayhouse.in
© Copyright 2019 Gateway House: Indian Council on Global Relations. All rights reserved. Any unauthorized copying or reproduction is strictly prohibited.