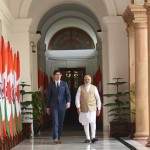 Gateway House and the Centre for International Innovation Governance (CIGI), Canada, with the support of Ministry of External Affairs, Government of India and Global Affairs Canada, hosted the second India Canada Track 1.5 Dialogue on 22 November 2019.
On Nov 22, the second India-Canada Track 1.5 dialogue was held in Mumbai. The closed-door consultation, focusing on futuristic subjects like the digital economy, trade and energy comes at a time when both governments have received a renewed voter mandate – Prime Minister Modi in India and Prime Minister Trudeau in Canada. This is an opportunity for both to understand and together manoeuvre a complex international era that is undergoing an epochal transformation in trade, technology and the multilateral order.
This is a change from the past, when Canada and India often found themselves on opposite sides on some critical issues on account of their developed-developing country status, and therefore outlooks on matters like trade liberalization and intellectual property protection. Today, the multilateral opportunities and national impulses of Canada and India coincide, particularly in three areas.
The first is reform of the World Trade Organization (WTO). India was one of the first to sponsor a proposal in November 2018 to save the WTO Appellate Body from becoming non-functional by December 11. It has joined Canada in urging nations to fill six of the seven vacancies, a move the US had blocked and refuses to review. Reviving the dispute resolution system, with or without US participation, serves every interest that the two countries have in avoiding a "law of the jungle"[1] in international trade. In addition, there are far-reaching proposals to explicitly bring environmental sustainability considerations into international trade law, and to modernize TRIPS, the global intellectual property accord.
Second, the driver of growth for both countries is innovation — the development, commercialization and application of new technologies. Here, India and Canada have convergent strengths – India in software services, and Canada with significant academic assets in innovation. For multilateralism this is greenfield territory. For example, the data that forms the basis of the fourth industrial revolution – the combination of robotics, machine learning and algorithms – will lead to the dominance of artificial intelligence in all aspects of life. It is the base for the new advanced manufacturing that is being studied as western businesses diversify away from China and closer to home[2]. Monetizing data now forms the business model of a surprisingly large number of firms.
This becomes important when viewed with a global lens. Data governance is a key focus. It is balkanized into three mostly mutually incompatible zones. One is the State-centric China zone and the second is the firm-centric U.S. zone; they are mirror images of each other where the individual has limited sovereignty or control over personal data or data generated by the person. Third is the European Union's General Data Protection Regulation (GDPR) zone which offers a higher degree of control to individuals on questions of privacy and use of their data. The fourth zone comprises the vast majority of countries including India and Canada which are making their own hybrid rules.
India's position on e-commerce rules is shaped by the anxiety that digital multinationals will monopolize profits and data processing, given India's painful experience of supporting the International Technology Agreement (ITA-1) in 1997 which destroyed the domestic electronics industry. But since the US, Europe and Canada account for 85% of India's $137 billion in software exports[3], there is value in partnering with the West to co-design the new global rules for e-commerce, where India is growing at over 50% annually, the fastest in the world[4].
The Canadians have their own concerns – the extension of an already lengthy copyright term from 50 to 70 years under the 2018 NAFTA II agreement. They worry this will stifle creativity as it blocks citizens from accessing the open source public domain – an area undergoing a national copyright reform process – and restricts flexibility in domestic policy regulation.
Third is the multilateral order. India is often criticised for abstaining from trade agreements and being a protectionist nation — an argument that resurfaced earlier this month as India declined to join the RCEP. However, statistics show how important trade is for India, particularly if it wants to reach the 2024 goal of being a $5 trillion economy. The country's trade-to-GDP ratio of 43% is higher than China's 38% and the 27% of the U.S.
The above instances underscore a broader and longstanding issue in international commerce: the extent to which regional trade agreements intermingle with the WTO multilateral system. Here India and Canada have much in common. While both recognize that for strategic and pragmatic reasons, neighbours matter – the U.S. for Canada, and China for India – they believe strongly in a vibrant and efficient multilateral trading system, one that has also kept up with the times.
A partnership with Canada on trade can also feed into India's upcoming presidency of the G20 in 2022, a forum in which the two nations have co-chaired the G20's Framework Working Group responsible for coordinating policies of the major world economies.
It's time to start moving now on matters in which Canada is a natural ally for India – for instance, to successfully progress globally on rules around e-commerce in particular and big data governance in general. This is also exactly the sort of strategic and thoughtful counterbalance to the regional dilemmas each country faces — to diversify trade and avoid getting further entrenched with a large neighbour.
Rohinton P. Medhora is President, the Centre for International Governance Innovation, Canada. 
Akshay Mathur is former Director of Research at Gateway House.
Gateway House and the Centre for International Innovation Governance (CIGI), Canada, with the support of Ministry of External Affairs, Government of India and Global Affairs Canada, hosted the second India Canada Track 1.5 Dialogue on 22 November 2019.
This article was exclusively written for Gateway House: Indian Council on Global Relations. You can read more exclusive content here.
For interview requests with the author, or for permission to republish, please contact outreach@gatewayhouse.in.
© Copyright 2019 Gateway House: Indian Council on Global Relations. All rights reserved. Any unauthorized copying or reproduction is strictly prohibited
References
[1] Law of the jungle: said by French Finance minister Bruno Le Maire at the G20 Summit in Argentina last year France's finance minister has referred to President Donald Trump's trade policies as "the law of the jungle," as the G20 (Group of 20) nations gather in Argentina.
[2] Mandel, Michael, "Building the new Manufacturing Stack", Forbes, 20 August 2019, https://www.forbes.com/sites/michaelmandel1/2019/08/20/building-the-new-manufacturing-stack/#6a899ab4561f;
Mandel, Michael, "How Digital Amnufacturing can help Modi's 'Make in India' Program", Forbes, 5 September 2019, https://www.forbes.com/sites/michaelmandel1/2019/09/05/digital-manufacturing-3dprinting-make-in-india-modi-asia-industry/#523a8bb51665
[3] India Brand Equity Foundation, "IT & ITeS Industry in India", India Brand Equity Foundation, September 2019, https://www.ibef.org/industry/information-technology-india.aspx
[4] India Brand Equity Foundation, "E-commerce Industry in India", India Brand Equity Foundation, September 2019, https://www.ibef.org/industry/ecommerce.aspx