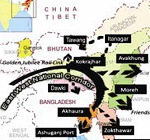 The May 2014 elections have given a historic mandate to the new government. Not only has the BJP won the majority seats in the Lower House of the Parliament, it has also emerged as one of the major parties in the North East which has traditionally been a stronghold of the Congress and other regional parties.
The government has responded at once to its constituency. A new minister, Gen. V.K. Singh, has been appointed as the minister for North East affairs, and the discussion to build infrastructure and connectivity within the region has already begun. This can be the long-delayed and bold peace-time initiative that will provide an economic, diplomatic and security boost not just to India's eastern flank but to our global ambitions to be a relevant Asian player and a competitive regional alternative to the Chinese juggernaut.
The new government envisages a robust regional economic plan to dovetail with new international trade relationships for the North East. Specifically this will provide a lucrative alternative to the expensive "Chicken's Neck" route to India – that slim strip of Bengal that runs between Nepal, Bangladesh and Bhutan which limits regional travel and trade opportunities.
Gateway House has envisaged such a plan in July 2011. It is the development of a "Seven Sisters Corridor" of infrastructure, entrepreneurship and foreign policy that will be the winning strategy for the North East.
The Seven Sisters' Corridor emulates an existing model – that of the Rs. 400,000 crores ($90 billion) Delhi-Mumbai Industrial Corridor, which is already dramatically changing the landscape of India's western hinterland. In the North East, a similar multi-billion dollar mega infrastructure project – estimated to cost Rs. 225,000 crores ($50 billion) – will link the Seven Sister states of the North East to each other and to contiguous neighbours like Bangladesh, Burma and Bhutan. Like the DMIC, an exemplary foreign policy initiative with Japan as a 50% partner with the Indian government, the Seven Sisters' Corridor could partner with Thailand, a state with which India is in the process of signing a Free Trade Agreement, and whose major companies like ITAL-Thai Development Company and the CP Group have the necessary expertise to develop infrastructure and small scale industries such as food processing. Myanmar, an emerging democracy with deep cultural linkages to the region, can also be engaged as a junior partner.
The plan (see map) will link all the six North East state capitals with each other and with border points with Bhutan, Bangladesh and Myanmar by road. The planned East-West National Highway Corridor, a National Highways Authority project which connects Porbunder in Gujarat to Silchar in Assam, can be extended to include the Golden Jubilee Rail Link border point to connect with Bhutan in Kokrajhar (Assam). Beyond Assam, it should fork out through Akhaura in Tripura to  connect with the Ashuganj Port border point with Bangladesh, extend the existing Friendship Road border point at Moreh (Manipur) with Myanmar, and connect two more border towns –Zowkhathar in Mizoram and Avakhung in Nagaland – again with Myanmar.
Like the DMIC, the Seven Sisters Corridor should provide high speed road connectivity, land for industrial regions and complimentary housing needs, uninterrupted power, access to ports for trading goods, financing for start-up entrepreneurs and small businesses, broadband and telecom access for businesses, and security to people.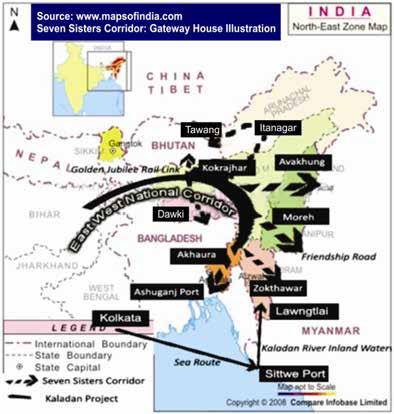 India must then use the diplomacy of mutual interest to draw its neighbours into a regional commitment. There is already a base to build on. For instance, the 2008 Kaladan Multi Modal Project between Myanmar and India, is a transnational infrastructure project which is developing a sea route from Kolkata (India) to Sittwe Port (Myanmar). From Sittwe Port an inland waterway  is being built on the Kaladan river to Paletwa (Myanmar) ending at Lawngtlai in Mizoram, India. The Kaladan initiative has prompted Bangladesh to make an offer to open its Chittagong, Ashuganj and Mongla ports to India. With these doors opening, adjoining Tripura can become the gateway for North East-bound trade from the sub-continent's south and eastern coasts and from Southeast Asia.
The corridor's success will depend on thriving industrial activity being developed around it – not just big private players feeding off the region's lucrative natural resource base, but more specifically small and medium value-added businesses. Food processing, for instance, remains untapped even though the region produces large quantities of rice, sugar, ginger, potatoes, millets, products essential for food security. Building smaller food parks and processing units  closer to Tier II or Tier III cities and to the farms[1] will be a boon to small entrepreneurs and marginal farmers. According to a 2010 study by Assocham, of all the industries, food processing creates the maximum employment for every Rs.10 lakhs invested – even more than agriculture or services[2]. It will help build a base of skilled labour and business entrepreneurs. A 2009 report by TeamLease, India's largest private temporary employment agency, showed that despite a high – up to 90% – literacy rate in the North East, only 1.3% of youth in the region have any formal training or job skills[3]. Meanwhile, the English-speaking youth are migrating to other parts of India in droves, manning the front desks of the hospitality business across the country. "The region is like a 10 horse power engine running at 2 horse power engine," says Manish Sabharwal, founder of TeamLease.
The Seven Sisters Corridor is a good place to productively direct the vast subsidies allocated to the region by the Centre and the States. The 10th Five-year plan (2002-2007) earmarked Rs. 80,000 crores ($18 billion) for various schemes, few of which were successful, prompting the Planning Commission to admit that "the absence of a well-coordinated regional plan is being felt constantly." The
Rs. 70,000 crores committed by the 11th Plan will certainly attain that goal and provide a better return if blended into the Seven Sisters Corridor budget.
But banking on the government for financing is neither practical nor appropriate. The initiative needs stakeholders that can invest in the region for the long term. This means private Indian business, and a reliable foreign nation partner like Thailand. Already, that nation has proximity to the North East and is the largest foreign direct investor in India among all in south east Asia, even topping China. At $85 million though, it is a miniscule 0.1% of total foreign investment in India. This can grow exponentially on the base of a North East project, and through partnerships with private Indian players like the Future Group, Larsen & Toubro, Essar, etc. Thai delegations which visited the North East as recently as March 25, 2011 stated they hoped to expedite connectivity and trade ties[4].
In order to enable this, New Delhi must make some policy changes.
i)        The charter of the North East Development and Finance Corporation (NEDFi) managed by Ministry of Development of North Eastern Region (MDONER) which currently promotes various small scale industries, must be modified to support the corridor so that funds can be allocated on a priority basis.
ii)       A new corporate entity, independent of financing companies, must be set up with the authority to manage the project, partnerships and funds, with accountability to MDONER and investors.
iii)     The North East Industrial Policy, which currently provides subsidies and incentives broadly agnostic of industry, should be modified to target enterprises that develop the corridor or establish themselves on it.
iv)  A new fund must be set up to finance first-time entrepreneurs or enable small enterprises to partner with larger multinationals in the region. For instance, the Godrej Group can partner with a local enterprise to exchange technical know-how in return for local management.
v)      The charter of the Central Industrial Security Force (CISF) which currently provides security to public institutions such as airports and oil refineries should be expanded to provide security to enterprises housed along the corridor.
vi)     Finally, the Ministry of External Affairs must make the corridor as an integral part of the Look East Policy and vigorously engage with Thailand. Prioritizing the completion of the Free Trade Agreement, the negotiation for which began in 2003, will be a good first step[5].
For most Indians, the North East has remained largely at the fringes of their sense of India and on the periphery of its geography. Now, with rapid economic growth needing protection from hostile neighbours on both sides like Pakistan and China, India  ignores the resource-rich North East at its own peril. It cannot achieve sustained growth or become a powerful, integrated nation if it continues to think of the north east as a rural infrastructure project.
With election turnouts touching 80% in some areas, it is time to recognise that the region is not only a robust participant in India's democracy, but that with imagination, it can play a role in leading an economic transformation from the East.
Akshay Mathur is Head of Research at Gateway House: Indian Council on Global Relations.
This article was exclusively written for Gateway House: Indian Council on Global Relations. You can read more exclusive content here.
For interview requests with the author, or for permission to republish, please contact outreach@gatewayhouse.in.
© Copyright 2014 Gateway House: Indian Council on Global Relations. All rights reserved. Any unauthorized copying or reproduction is strictly prohibited
[1][1] "Meet on food processing." Telegraph 23 Feb 2011: n. pag. Web. 25 Apr 2011. <http://www.telegraphindia.com/1110224/jsp/northeast/story_13625833.jsp>.