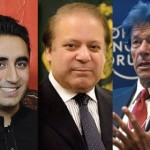 After four armed coups, Pakistan's military has perfected the art of overthrowing inconvenient elected governments without violence. The ongoing transition is a case in point as Nawaz Sharif, Pakistan's three-time prime minister, has been deposed and the decks are being cleared for cricketer-turned-politician, Imran Khan to take over instead. All without firing a single shot.
As Pakistan prepares for its next general election in July 2018 – its third successive election on schedule – it is clear who calls the shots. The military has been clearly in command since it executed its first coup in 1953. It drove home this message during a recent press briefing, where the military spokesperson laid out clear red lines for the media and the politicians on key issues such as ties with India and local rights movements.
Pakistan's army has refrained from overthrowing the government openly because coups create complications, such as the inability of the men in uniform to deal with the on-ground complexities of running an administration and cutbacks in aid from the democratic West. It has now discovered the golden mean: they continue to exercise power from behind the scenes, leaving a figurehead civilian government to take the brickbats while exercising very limited authority. The army can continue cornering the lion's share of Pakistan's budgetary resources while the civilian government takes the criticism for administrative failures. As an outcome, two successive parliaments have been able to complete their terms – unprecedented in the history of Pakistan, much acclaimed as a success of that failing state.
The third parliament in this upcoming political cycle already has its result foretold. The military's pick is Imran Khan, despite his poor political track record and lack of popularity. Pakistan Tehreek e Insaaf (PTI), Khan's party, has a small presence in Punjab and almost none in Sindh, the two largest provinces of Pakistan. But for the military, he is a provincial politician from a small state.
The deposed Nawaz Sharif, who has challenged the military's authority in the past, is now disqualified for life from holding public office, or heading his political party, the PML-N. This wasn't the first attempt to remove Nawaz Sharif in his third term. In 2014, thousands of demonstrators, led by a Pakistani-Canadian preacher Tahir ul Qadri and Imran Khan had congregated in Islamabad demanding his resignation. The demonstrators were well equipped – with wire cutters and cranes to deal with police barricades. A demonstration such as this in the national capital would not be possible without the army's backing.
Nawaz Sharif's confrontations with the military are not new. As a popular leader of Pakistan's largest province, Punjab, he has always been loath to play second fiddle to the military. He has tried to cut back the military's powers in the past – by repealing the 8th constitutional amendment 1997, taking away the President's right to dissolve the parliament, and then by passing the 14th amendment, tying parliamentarians to their respective parties. In October 2016, the Nawaz government 'bluntly warned' the military establishment of Pakistan's growing international isolation because of its proven track record as a state sponsor of terrorism as testified to in numerous statements by senior American officials. This was a manifestation of poor civil-military relations and also an additional point of conflict, which eventually led to Sharif being deposed. There also seems to be an attempt, possibly orchestrated by the army, to split the PML-N – between Nawaz Sharif and his younger brother Shahbaz Sharif, the chief minister of Punjab.
A key area where Nawaz Sharif ran afoul of the military was his willingness to have a working relationship with India – not from a love for India but to enable Pakistan to have a more normal economy. He visited India in 2014 during Prime Minister Modi's swearing-in, and then hosted Modi in Pakistan during his own birthday celebrations in 2015. The military let him know how they viewed these visits – both were followed by terror attacks in India, covered with the fingerprints of the Pakistan-based terror groups often used by the military.
Unlike Nawaz Sharif, Imran Khan has a small political base, so he doesn't present a challenge to the army's monopoly on power and can be more easily manipulated. He has already obliged the military by supporting the merger of Khyber Pakhtunwa (KPK), the state governed by PTI, with the Federally Administered Tribal Areas (FATA), an attempt by Pakistan to consolidate its unsettled frontier with Afghanistan and Pakhtun dissatisfaction with the Pakistani state.
In deposing Nawaz Sharif and favouring Imran Khan, Rawalpindi may have been emboldened by the increased support from China and reduced dependence on the United States for money and military hardware. China has shown itself unconcerned about doing business with undemocratic and unsavoury regimes across the world.
Winners find easy followers. Multiple lawmakers have defected from the PML-N to the PTI in recent weeks. There have been some attempts to shore up Imran Khan's image as well, with reports of trouble in his third marriage receiving only small coverage in the Pakistani media. The local media has also ignored his second wife's allegations about his extremist sympathies and political u-turns. The courts, which are known to be ever helpful to the army, have stopped the release of her tell-all book.
The incoming civilian figurehead – most likely Imran Khan – will serve an important purpose for the army. Pakistan's economy is set to face yet another balance of payments crisis – foreign exchange reserves have been falling for 18 months and are now just $10.3 billion, down to two months of imports. The caretaker government has acknowledged that the country will soon need yet another bailout. The civilian Prime Minister will provide a ready scapegoat for these failures.
What does this mean for India?
Irrespective of who wins the elections in Pakistan, it will be the military which will prevail on key policy matters, including terrorism and relations with the U.S., China and India. Any leader attempting to challenge the military and attempt a working relationship with India, will be dismissed. India should not expect any improvement in the situation in Jammu & Kashmir or any genuine normalisation in bilateral ties.
With a non-entity like Imran Khan in the Prime Minister's seat, the military will be firmly in command and free from any responsibility or blame for economic and administrative lapses.
Neelam Deo is Director, Gateway House.
Amit Bhandari is Fellow, Energy and Environment Studies, Gateway House.
This blog was exclusively written for Gateway House: Indian Council on Global Relations. You can read more exclusive content here.
For interview requests with the author, or for permission to republish, please contact outreach@gatewayhouse.in or 022 22023371.
© Copyright 2018 Gateway House: Indian Council on Global Relations. All rights reserved. Any unauthorized copying or reproduction is strictly prohibited.