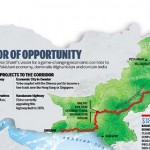 Chinese and Pakistani leaders regularly describe their relationship to be "higher than the Himalayas and deeper than the Indian Ocean". But the nature of the China-Pakistan relationship is more complicated.
On one hand Pakistan poses is a security threat to Beijing, as groups such as the East Turkestan Islamic Movement(ETIM), responsible for terrorist attacks in China in Beijing and Kunming in 2014, receive training and support on Pakistani territory. On the other hand, Pakistan is becoming an integral piece in China's One Belt-One Road(Yidai-Yilu) connectivity puzzle.
Gateway House interviewed Dr. Jabin Jacob, assistant director and fellow at the Institute for China Studies, New Delhi, on the relationship between China and Pakistan, the China-Pakistan Economic Corridor(CPEC), as well as China's Yidai-Yilu initiative and where India fits in.
China-Pakistan relationship
Jabin Jacob:  "The one belt-one road initiative that President Xi Jinping has come up with has a major role for Pakistan to play. Last year President Xi came here(India) and announced $20 billion worth of investment and $30 billions in the whole of South Asia. Now China is investing $46 billion investment in Pakistan alone. This shows the level of seriousness with which China is approaching Pakistan."
Pakistan and Yidai-Yilu 
Jabin Jacob: "Because of the long relationship that the Chinese have had(with Pakistan) on political and military grounds, Pakistan is the ideal ground for many of their programs to take of quickly. There is already a political and economic foundation for the Chinese to start working on and they are hoping the success of these projects will have a demonstrative effect for their projects in other parts of Asia."
CPEC and combating terrorism 
Jabin Jacob: "The Pakistanis do not have the capacity nor the reach to be able to crack down on these elements(ETIM)… despite being friends for so long, they (Pakistan) have not paid much attention to Chinese security interests."
China-Pakistan Economic Corridor
Jabin Jacob: "If this(CPEC) is connected to Indian markets it will be a win-win situation for all parties concerned. India's security concerns will always be there, the question is, do we let those security concerns limit us or do we set aside for them for the time being and give this a chance. India cannot stop them(China) from engaging with the Pakistanis but India needs to be able get them(China) into a position where they can acknowledge that and realise that doing business with India is much more profitable."
India and the Yidai-Yilu(One Road-One Belt)
Jabin Jacob: "The Silk Road economic belt passes through central Asia, where India enjoys immense goodwill and the Indian Ocean, where India is a large economic provider. India should leverage those advantages."
India's reticence
Jabin Jacob: "The impression that Chinese tried to create is that the Silk Road is a Chinese initiative, that this has its historical heritage from China.  The reality is it was not only Chinese traders or Chinese products. The silk road consisted Central Asian people, Arabs, Persians, Punjabis and Kashmiris, who were on the trade routes communicating between Europe, China and the Arab world.  Today, this kind of depth of history seems to be disappearing in the way the Chinese present it."