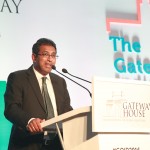 Mr. Subramaniyam Jaishankar, Foreign Secretary
Mr. Adi Godrej, Chairman, Godrej Group,
Mr. Blaise Fernandes, CEO of Gateway House,
Excellency's,
Distinguish guests,
Academics,
Ladies and gentlemen,
Good evening!
Let me first thank Gateway House + MEA for including Sri Lanka as a stakeholder of this first major geo-economic policy dialogue here in dynamic and progressive Mumbai.
I hope this seed will bear fruit as both India and Sri Lanka move towards our foreign policy objectives by leveraging the hugely positive changes taking place in our region.
President Pranab Mukerjee, then Finance Minister, delivering the Luckshman Kadirgamar lecture in Colombo in late 2009 said that "The future of peace, security and development of our region has to be fortified by common economic prosperity. The challenge today is to build inter-dependencies which not only integrate our region but also create a strong interest in each other's stability and prosperity."
true then, now and in to the future.
In fact it was LK who forwarded the thesis that India and Sri Lanka should work together to build on our shared geography, history and culture in a relationship he defined that should be in a state of "irreversible excellence".
I believe what he meant was that this relationship must benefit each other in their bilateral transactions and together must benefit both in transactions with others.
So, the mere fact that I am here is a big step in shaping the new paradigm of integrated economic diplomacy between us and beyond.
From what I hear our Consul General is doing a great job on that front on a day to day basis.
Ladies and gentlemen,
Let us survey the context of today's engagement; geopolitics meets business.
While the GPS of our nations have remained static over millennia, on almost every other measure, the world's centre of gravity is shifting towards the East: by 2030 Asia is projected to become world's largest economic region and in 2013, for the first time in modern history, Asian defense spending is estimated to have exceeded Europe's.
In this backdrop, Sri Lanka, as a small, but increasingly more strategically important island in this emerging large and powerful Asian neighborhood, must determine the optimal navigational strategy in order to meet its macro objectives.
Ensuring the security of all Sri Lankans and advancing their development will always be at the core of our government's duties in the foreign policy realm.
Over the last few years, however, Sri Lanka's foreign relations were not aligned to our country's needs. While the interests of the few were served, the needs of the many were ignored. Our relations faced many challenges.
As we now reset our foreign policy, we are gearing our strategy and policies towards strengthening our relationship with India, harnessing the opportunities the Asian Century has to offer, while navigating and minimizing the risks that will inevitably accompany her rise.
In this context it is most important to understand relations between Sri Lanka and India in our engagement with the region; from our vantage point.
Both ancient history and contemporary experience suggest that Sri Lanka's success depends on maintaining friendly and intimate ties with India.
India is our closest neighbor, the world's fastest growing large economy, the most populous democracy, our largest source of tourists and the people with whom we share such strong ancient and contemporary civilizational ties.
At the same time, our ability to integrate with the region while maintaining a strong and healthy relationship with the subcontinent has always paid rich dividends.
I like to go back to the thinking of FM Mangala Samaraweera to seek an answer to what is meant by region. Is Sri Lanka a SA nation? Or is it an Indian Ocean country?
Throughout its ancient history, Sri Lanka has closed links with the entire Indian Ocean rim spanning from Africa, the Arab Gulf, Persia, South Asia, South East Asia and Australia.
A classic example is the reign of much adored King Parakramabahu the Great, from 1153 to 1186 based out of Polonnaruwa. The Culavamsa and other chronicles along with archeological excavations provide ample evidence of our engagements with Indian Ocean countries and beyond.
Ships had come from these countries to Lanka filled with numerous products.
They had been stockpiled and resold to traders who had visited the island from various other parts of the world giving rise to substantiated speculation that Sri Lanka was an important entrepot trading centre at that time.
Coins issued by monarchs in China, Cambodia, Bengal, Persia, Middle East, Egypt and Greece had been found almost throughout the country relating to his period signifying the trade relations he would have had at that time.
The fact is that Sri Lanka, geographically located at the centre of the Indian Ocean and sitting astride major East-West and South-South trade routes, is at the crossroads of the Indian Ocean world.
However, over time, we had come to become classified as a South Asian country and our own imaginations and those of others turned towards the Indian hinterland.
But, once again, in the current context, in a comparative sense, we are also the exception to the South Asian identity.
Reclaiming our Indian Ocean identity beyond South Asia, which we are now engaged in, will help us and others unlock the tremendous opportunities Sri Lanka processes for mutual benefit, in creating the new reality in the emerging Asian Century.
Sri Lanka, I believe, should be looked at in that light when discussing the various topics by Indian policymakers and businesspeople during the course of this dialog.
Such an outcome will help create larger markets to increase trade and foreign investments, open the economies to outside world, enhance the credibility of national reforms and policies, provide an opportunity to strengthen common positions at international for a and help to reduce or resolve inter-state conflicts.
Efforts to develop our region should not be considered solely as a means to accelerate economic growth but also as an effective mechanism to address broader socio-economic and environmental issues facing the region.
In moving the agenda forward we are now working with new vigor. We have begun to put in place policies to improve our trade to GDP ratio, which had fallen by almost half in the last decade or so.
Removing trade barriers, promoting free trade agreements and generally tilting the economy towards the production of more tradable goods and services have already begun.
As most of you are ware India and Sri Lanka entered into a structured trade framework in December 1998 with the signing of the Sri Lanka India Free Trade Agreement.
The agreement has produced results over the years despite some areas of contention due to lack of proper understanding and adjustments of the basic concept of overall trade.
We hope that the contentious issues can be sorted out soon and the Economic and Technical Corporation Agreement between our two countries can become reality soon which will open new opportunities in services and investments.
We are in the process of deepening our FTA with Pakistan. We are also negotiating a Free Trade Agreement with China.
The agreements with China, India and Pakistan will give us preferential access to a market of almost 3 billion people; certainly a Rare, if not Unique Selling Point'.
We are also exploring the possibility of signing Agreements with several other countries, including Singapore and Turkey in the near term.
In addition, we are assessing the merits of seeking to join the Trans Pacific Partnership.
Already Indian business understands the value of using the ports of Colombo; both sea and air. And we are in the process of adding capacity to both.
In the recent past 70 to 80% of the TEUs handled by Colombo port was transshipment to India.
With liberal air connectivity between the two countries and 120 weekly flights Sri Lankan Airlines earns 40% revenue from these routes.
The possibilities for India and Sri Lanka will become endless as we become the Indian Ocean Hub; with equidistance between the West and Far East; that opportunity between Singapore and Dubai for so long in the modern times, underutilized.
I wish all participants fruitful deliberation for a prosperous regional engagement that is mutually beneficial.
Thank you.
Harsha De Silva is the Deputy Foreign Minister of Sri Lanka.
This speech was delivered as the Opening Address during The Gateway of India Dialogue 2016, held in Mumbai on the 13-14th of June 2016.
You can read exclusive content from Gateway House: Indian Council on Global Relations, here.
For interview requests with the author, or for permission to republish, please contact outreach@gatewayhouse.in.
© Copyright 2016 Gateway House: Indian Council on Global Relations. All rights reserved. Any unauthorized copying or reproduction is strictly prohibited