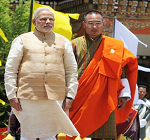 The growing role of economics in diplomacy is de rigueur all over the world and under the Narendra Modi government, India has also joined the trend.  Although there is no agreed definition, one working proposition was that countries practice economic diplomacy by providing economic incentives to promote strategic interests. On the other hand, powerful countries such as the U.S. and groupings such as NATO or the EU impose economic and financial sanctions to constrain those activities of other countries deemed to be negatively impacting their own strategic interests.
Thus, the extension or withholding of loans by UN bodies or international organisations such as the IMF or the World Bank, the boards of which are dominated by representatives of developed countries, are components of the West's economic diplomacy.
However, as emerging economies such as China and India, Russia have grown rapidly, they are competing with the richer and more powerful countries in the application of the tools of economic diplomacy to attract investment, secure natural resources and develop strategic convergences. China is emerging as a skilled practitioner of the art by dispensing billions of dollars in economic assistance to obtain contracts for building infrastructure and acquire rights to natural resources in Africa and Latin America, on the one hand. It also engages in coercion by, for example curtailing  the number of Chinese tourists visiting the Philippines after disputes related to Scarborough shoal in the South China Sea
INDIA'S ECONOMIC DIPLOMACY
Growth promotion is the objective of governments everywhere. The new Modi government, like most other governments has raising the rate of growth as its primary objective. It has also identified imperatives such as employment generation, filling the infrastructure gap, and restraining inflation which erodes the living standards of the poor. How the government plans to attain these objectives will become clearer in the next few days, having presented its first budget on 10 July. Meanwhile, the hectic parleying it has undertaken with foreign representatives in the first two months indicates that economic diplomacy will be an important component of its foreign policy.
By inviting SAARC leaders and the president of Mauritius to the prime ministerial swearing-in ceremony, the government revealed a focus on the neighbourhood. The Indian Ministry of External Affairs dispenses an annual aid budget of approx $1.3 billion. A substantial percentage has traditionally been allocated to Bhutan to secure its strategic interests in a country whose only other neighbour is China. But India has also invested in the development of the hydroelectric potential of Bhutan, presenting itself as the buyer of all power surplus to the needs of Bhutan. To acknowledge the close friendship between the two countries Modi made his first visit abroad to Bhutan. In his address to the Bhutanese parliament, he emphasised the thrust towards economic diplomacy by asserting that "a strong and prosperous India is in the interest of all South Asian countries"
This trend of expanding economic exchanges to mitigate political differences is more advanced with Bangladesh, which enjoys a bilateral trade relationship of approx $5 billion with India. That new external affairs minister, Sushma Swaraj made her first visit abroad to Dhaka, despite the inability of Bangladeshi prime minister, Sheikh Hasina to join Modi's swearing-in ceremony, acknowledged the enormous geo-strategic  significance and economic potential of Bangladesh to India, in general and to neighbouring Bengal and our northeastern states in particular.
Apart from an acknowledgement that Sri Lanka is our largest trading partner in SAARC, the refusal to succumb to pressure from Tamil Nadu politicians and inviting Sri Lankan president Mahinda Rajapaksa to the swearing-in ceremony, the government also displayed recognition of the strategic location of Sri Lanka in the Indian Ocean and from our point of view, the focus of China's undue interest. The first pay-off of this approach came last week with Sri Lanka canceling the visa-on-arrival facility for Pakistani residents, following a terror-linked explosion at Chennai railway station last month.
Ignoring past insults heaped on him personally through visa cancellations by western countries – led by the U.S., the acceptance of President Barack Obama's invitation to visit the U.S. and reception of the foreign ministers of France and the UK indicated Modi's acknowledgement that India needs the West. The India-U.S. strategic dialogue next month will showcase the relevance of economic diplomacy by having both the American secretaries of state and commerce lead the talks together. By drawing offers of a billion euro credit line from France, furthering interest in a Mumbai-Bangalore industrial corridor as well as signing defence deals worth nearly $640 million with the UK and attracting high-technology from the U.S., the Modi government showed a masterful grasp of economic diplomacy. This is critically important to us for expanding our strategic space in an Asia increasingly dominated by an expansionist China, earning acceptance of our nuclear programme, securing energy supplies in an unstable Middle East, and fulfilling our investment needs, especially in infrastructure.
By receiving the Russian deputy prime minister Dmitry Rogozin within weeks of his assumption of office, Modi showed that an old friend and valued supplier of defense equipment would also be a strong partner in our quest for energy security. Equally, by receiving the foreign minister of China as his first foreign visitor, Modi has signalled an awareness of the rise of China and the complexity of the bilateral relationship. Unfortunately, Modi's planned July visit to Japan which would have provided an Eastern balance to the exchange with the U.S.-EU and a regional balance to the interaction with China has had to be postponed. But when he does go, Modi will find that as Japan responds to our need for investment and technology, India needs to show sensitivity to Tokyo's greater (than ours) anxieties about Chinese aggression.
So far, the Modi government has deftly combined politico-strategic concerns with economic advantage. It needs to show that it can shape the agenda in multilateral gatherings such as BRICS next week and forthcoming meetings of the WTO and climate change talks after the novelty phase of the force of Modi's personality and the BJP dominance of parliament has been overtaken by other global events. A good place to start will be to reach out to Germany, the most important country in Europe, and be more active in our contiguous regions of troubled West Asia and economically vibrant ASEAN.
Neelam Deo is Co-founder and Director, Gateway House: Indian Council on Global Relations; She has been the Indian Ambassador to Denmark and Ivory Coast; and former Consul General in New York.
This blog was exclusively written for Gateway House: Indian Council on Global Relations. You can read more exclusive content here.
For interview requests with the author, or for permission to republish, please contact outreach@gatewayhouse.in.
© Copyright 2014 Gateway House: Indian Council on Global Relations. All rights reserved. Any unauthorized copying or reproduction is strictly prohibited