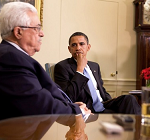 Palestinian President Mahmoud Abbas decided to put the fate of his people in the hands of the United Nations collective after two years of false starts and dashed hopes and watching an American president stand squarely in the corner of Israel, helpless against the power of the pro-Israeli lobby.
Abbas made a formal request on Friday to the UN Security Council for a full UN membership, recounting how every effort at making peace had "shattered against the rock" of Israeli settlements. Repeated applause and cheers greeted his speech to the UN General Assembly followed by a standing ovation as he ended asking for support for the "establishment of Palestine." The only delegates left sitting were from Israel and the United States.
The drama around Abbas' decision to go ahead and ignore the enormous pressure from the U.S. and some European countries to give negotiations yet another chance gripped the week-long gathering of world leaders. The Palestinian question once again is front and centre although it is another matter how far the request is likely to go. The Obama Administration has made it clear it would veto the proposal in the Security Council should it reach that stage. But before that, U.S. diplomats will try to stall, delay, influence and generally prevent a majority from coalescing within the 15-member Council. Clearly, the Americans are loath to use their veto power because of the regressive signal it would send in light of the Arab spring. Washington prefers that Abbas falls short of garnering nine votes in the Security Council in favor of recognition.
Those strongly in favour of granting Palestine recognition are India, Brazil, Lebanon and South Africa among the non-permanent members and China and Russia among permanent members. The Europeans, including France, Germany, Britain, Portugal, Bosnia and Herzegovina, are currently undecided while Colombia, Gabon and Nigeria are under tremendous pressure to vote against the request. For an African country to vote against the recognition of Palestine would speak volumes but political expediency and pressure can make countries bend.
What is clear is that the United States can no longer claim to be an honest broker in the Middle East. President Barack Obama, who delivered a soaring speech in Cairo in June 2009 calling for a "new beginning," has walked back significantly from his tough line on Israel. He no longer occupies the moral high ground where he acknowledged Palestinian suffering along with the need for security for the state of Israel. When the Palestinians heard him in Cairo, he signified hope and an energized American effort to push the peace process forward. True, Obama has come under steady pressure from the pro-Israel lobby at home while being repeatedly snubbed by Prime Minister Benjamin Netanyahu on the question of ending illegal settlements in and around Jerusalem. Netanyahu, a captive of the extreme right-wing religious parties in Israel, is content not to move and force immobility on the Americans as well. Ironic indeed that 70 percent of the Israelis are said to support a two-state solution and recognition of Palestine as a separate state.
Obama's own re-election bid, which currently looks under a cloud given the depressing state of the economy, unfortunately requires sterling credentials on the question of Israel. He has received open warnings about losing the influential Jewish vote and thereby funds for the Democratic Party, something that his team tried to "correct" by making his UN speech a tonic designed to soothe Israel. The speech asserted that the United States will support Israel under almost all circumstances. He seemed to be competing with Rick Perry, the Texas governor and a top Republican presidential hopeful, who had tried to upstage Obama on the all-important question of Israel.
Perry "happened" to be in New York rabble-rousing the pro-Israeli voters in the same week as the General Assembly to establish his credentials and darken Obama's. He called Obama's Middle East policy "naïve, arrogant, misguided and dangerous," scaring the president's reelection team silly. The White House apparently has sent e-mails to those concerned about Israel quoting Netanyahu praising Obama on Israel. An American president in need of a stamp of approval from a foreign leader is indeed in trouble.
And so came the repeated public assertions that the Palestinian bid for recognition was foolhardy and would prompt an American veto. For a president to attempt to out-Israel a mere candidate is a reflection on Obama's diminished position, his low approval ratings at home and his powerlessness against the Republicans.
The world watched Obama, once a symbol of hope and change at home and abroad, deliver a speech that was the very antithesis of logic. He praised the winds of change from Cairo to Tripoli where international law and support were key to attaining the very freedoms that Americans would like all others to enjoy but the Palestinians, he implied, must attain them without such leverage.
The speech is unlikely to convince the hardcore pro-Israeli lobby about Obama's change of heart because it mistrusted him from the day he made the Cairo speech. So what did he achieve by falling in line?
Obama could and should have been on the right side of history on the question of Israel-Palestine. No one can deny that Abbas and his Prime Minister Salam Fayed have tried to play by the ever-changing rule book designed by Israel and its supporters, reducing, shrinking and squeezing their aspirations to suit an uncompromising partner. But even they have a threshold.
Seema Sirohi is a Washington-based analyst and a frequent contributor to Gateway House: Indian Council on Global Relations. Seema is also on Twitter, and her handle is @seemasirohi
This article was exclusively written for Gateway House: Indian Council on Global Relations. You can read more exclusive content here.
For interview requests with the author, or for permission to republish, please contact outreach@gatewayhouse.in.
© Copyright 2011 Gateway House: Indian Council on Global Relations. All rights reserved. Any unauthorized copying or reproduction is strictly prohibited.