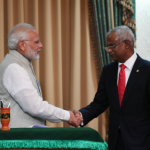 Newly elected Maldives president Ibrahim Mohamed Solih, who had a surprise win four weeks ago, arrives in India on December 16, his first visit abroad as president.[1]
The election outcome created an opportunity for Prime Minister Narendra Modi to visit Maldives – and initiate a recasting of India-Maldives relations, which is a vital need, especially with the Chinese footprint growing larger on the islands.
Will the talks in Delhi next week produce a magic solution? Here are some factors to be considered.
First, Solih heads a coalition of four parties,[2] known to be fraught with serious internal differences. Therefore, he will only be as strong as his partners allow him to be.
Second, Mohamed Nasheed, former president and now adviser to the president, is a hovering presence; he recently told an Indian journalist that his political career was "not over".[3]
Third, the departure of the previous president, Abdulla Yameen, with his leanings towards China, does not automatically signify that India is in-and-China is out. Solih's win had an exultant Indian media expecting the tables to turn and for Maldives to once again regard India as its closest friend. But this is a simplistic way of looking at this relationship. Maldives needs Chinese money, but it also wants to maintain close ties with India; it must maintain this balance in external relations in its own interest. All that this political change offers is a chance for both Maldives and India to work toward a better and more acceptable equation. Given China's assertive strategy, backed by a thick checkbook and its tangible gains in Maldives in the current decade, the clock on this relationship can hardly be reversed.
What is impelling Maldives to seek such a balance? President Solih gave a clear glimpse of his priorities at his post-inauguration speech and his early meetings with foreign dignitaries. The nation's foreign policy, he stressed, would be "fundamentally hinged" on advancing policies that promoted the progress and welfare of "our home".[4] The goals he set for the first 100 days of his tenure include reduction of electricity prices, full subsidy for tuition fees for undergraduate students and stopping the issuance of fishing permits to foreigners.
On ties with foreign partners, Solih's message was: existing ties with India and other regional countries will be fortified, but at the same time, relations with "all countries that wish to form mutually beneficial development partnerships" will also be encouraged.[5] As if not to leave anyone in doubt, Solih received the special envoy of the Chinese president on November 18 and apparently conveyed to him his willingness to further deepen practical cooperation with China within the framework of the Belt and Road Initiative.[6]
As for the controversy about mega development projects financed through Chinese loans, the new leadership claims that these projects – the upgradation of Male airport, the Friendship Bridge connecting Male with Hulhule (the island where the airport is located) and mass housing on reclaimed land – have put the nation's finances in a precarious position, and that they were undertaken for political gains. The new government is yet to discover the size of the total debt, much less decide what it can do about it. (Reports in the public domain indicate the debt to be $3.2 billion, while experts suggest that it is closer to $2.65 billion, representing 60% of the nation's GDP. Gateway House research shows that the three largest Chinese projects are together worth $1.5 billion – more than 40% of the Maldivian GDP. The Chinese officials have mentioned that China gave loans to Maldives amounting to $1.5 billion, including $900 million from their public sector enterprises.)
When the high-powered delegation from Maldives, led by Foreign Minister Abdulla Shahid, held preparatory discussions in Delhi on November 26, it seems to have presented a long wish list. This may have included requests for a major loan on soft terms, a swap facility, and probably a grant, with a view to stabilising its budget. India has assured Maldives of its willingness to help. The upcoming Solih-Modi dialogue will reveal the extent of accommodation New Delhi is able to show. Its assistance package is expected to be substantial enough to put India back in the game, but China's stakes cannot be matched. The "Harmonious synergy of India's 'Neighbourhood First' and Maldives' 'India First' policy", highlighted by External Affairs Minister Sushma Swaraj,[7] will be watched with much interest.
From India's point of view, the security and strategic aspects are of equal significance. The truth about Chinese activities in one or more islands for suspected military purposes should be established to determine if India's red lines have been breached.[8] If so, New Delhi can insist that Male consider undoing the damage. On the positive side, the substantial cooperation that existed between the Indian Navy/Coast Guard and Maldivian security forces should be given fresh momentum. Similarly with intelligence and security cooperation to counter terrorism and violent radicalism, which will need to be strengthened.
At their first meeting, Modi and Solih had agreed to facilitate people-to-people relations. For this purpose, Male needs to ease visa regulations for visitors from India. Government-to-government relationships have their limitations, and other stakeholders – business, media, think tanks and civil society – must get more involved in deepening bilateral ties instead of dismissing Maldives' significance on the basis of its small population.
After the India visit, Maldives is bound to shift attention to refashioning its partnership with China. President Solih has already been invited to China, and Foreign Minister Shahid is likely to go there soon for preparatory talks.[9] Hence, it will be some time before the contours of Maldives' rebalancing becomes clear. Meanwhile, New Delhi is fully conscious of the need to leverage a small, but potentially important, window of opportunity.
Rajiv Bhatia is Distinguished Fellow, Gateway House. A former ambassador to Myanmar, he earlier headed the division responsible for India's relations with Maldives, Bangladesh, Sri Lanka and Myanmar in the Ministry of External Affairs.
This article was exclusively written for Gateway House: Indian Council on Global Relations. You can read more exclusive content here.
For interview requests with the author, or for permission to republish, please contact outreach@gatewayhouse.in.
© Copyright 2018 Gateway House: Indian Council on Global Relations. All rights reserved. Any unauthorized copying or reproduction is strictly prohibited.
References
[1] The previous president, Abdulla Yameen, turned himself into an authoritarian ruler, jailing opposition leaders and other dissenters, restricting freedoms and human rights of citizens, and sought to rig elections. His defeat surprised him as much as his opponents. His tenure witnessed Maldives executing a strategic shift away from India and towards a far deeper relationship with China than ever before.
[2] The four parties are: Maldivian Democratic Party (MDP), Progressive Party of Maldives (PPM-Rebel), Adhaalath Party (AP), and Jumhooree Party (JP).
[3]Srinivasan, Meera, The Hindu, Maldives SC quashes Nasheed's conviction, 27 November 2018, <https://www.thehindu.com/todays-paper/tp-international/maldives-sc-quashes-nasheeds-conviction/article25601906.ece>
[4]The Presidency, Republic of Maldives, President Solih announces first 100 days' goals set by his Administration, 17 November 2018, <https://presidency.gov.mv/events/207>
[5] Ibid.
[6]Embassy of the People's Republic of China to the Commonwealth of Australia, President Xi Jinping's Special Envoy and Minister of Culture and Tourism Luo Shugang Meets with President Ibrahim Mohamed Solih of the Maldives, 19 November 2018, <http://au.china-embassy.org/eng/zgxw_4/t1615046.htm>
[7]Kumar, Raveesh, MEA India, Twitter, 26 November 2018, <https://twitter.com/MEAIndia/status/1066936944918032384>
[8]Economic Times, China's ocean observation station at Maldives not a submarine base: Chinese media, 28 February 2018, <https://economictimes.indiatimes.com/news/defence/chinas-ocean-observation-station-at-maldives-not-a-submarine-base-chinese-media/articleshow/63114532.cms>
[9]Please see my previous article dealing with Maldives-China relations: Bhatia, Rajiv, Gateway House: Indian Council on Global Relations, For Maldives, it is 'China First' now, 13 December 2017, <https://www.gatewayhouse.in/maldives-china-first/>