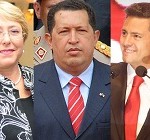 The politics of the region will be more pragmatic and less radical in 2014 – and in the coming years too, as a result of changes in the political leadership in Venezuela.
The death of Venezuelan President Hugo Chavez in March 2013 was a turning point for the region, which was polarised by his ideological warfare in the last 14 years. Chavez saw his country and the region as a world of either followers or enemies. In the name of 21st century socialism, he was hostile to private business and ruined Venezuela's private sector. Chavez divided Latin America with his extreme positions on regional and global issues. He tried to create a grouping across the region called ALBA (Bolivarian Alliance for the Americas) to follow his example.
Venezuela today is much worse politically, economically and socially than before Chavez came to power. It has the highest inflation in the region, power shortages, a huge black market for foreign exchange, import controls, long queues in front of poorly-supplied supermarkets, rampant corruption, and a worsening law and order situation.
Although Chavez gave some hope to the poor with his populist policies, he severely damaged the democratic and institutional framework of the country. All this has given a clear message to other leftists in the region: this is the path they should avoid.
Fortunately, Chavez's successor, Nicolas Maduro, does not have the charismatic and destructive talents of Chavez. More importantly, he does not have any pretensions to lead the region. He is becoming more flexible and less confrontationist. This is the best news for Latin America.
On the other hand, the Left in the region may now be more inspired by the moderate and pragmatic President Michelle Bachelet, who has come back to power in Chile through the December 2013 elections. She won against the candidate of the ruling right-wing party without resorting to radical rhetoric or threatening capitalism.
Bachelet has promised a course-correction in governance, with more inclusive development policies. She attaches equal importance to the creation as well as distribution of wealth, with her mix of balanced pro-poor and pro-market policies. Similar models are already working well in Brazil, Uruguay and Peru. This is the model which is setting the long-term trend for Latin America.
Mexico has set a new paradigm for democratic functioning in the region with its Mexico Pact (Pacto por Mexico), under which ruling and opposition political parties work together through a consensus on fundamental reforms and vital national policies. The Mexico Pact has already delivered, in just one year, six vital reforms that would not have been possible without the pact. It has inspired confidence and optimism in Mexicans about the political system, and set an example to democracies around the world which suffer from divisive politics.
Uruguay has set an example for the region and the world on the drugs issue by enacting a path-breaking new law that decriminalises, legalises and regulates the production, sale and consumption of cannabis. This too is a turning point for Latin America, which is a victim of the U.S.-led "war on drugs." More countries from the region are likely to follow the Uruguayan path in the future.
Ambassador Viswanathan is Distinguished Fellow, Latin America Studies, Gateway House. He is the former Indian Ambassador to Argentina, Uruguay, Paraguay and Venezuela, and Consul General in Sao Paulo.
This blog was exclusively written for Gateway House: Indian Council on Global Relations. You can read more exclusive content here.
For interview requests with the author, or for permission to republish, please contact outreach@gatewayhouse.in.
© Copyright 2014 Gateway House: Indian Council on Global Relations. All rights reserved. Any unauthorized copying or reproduction is strictly prohibited.