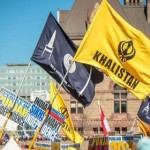 Ominous threats against two Chief Ministers. A close-up simulating one being shot in the face. A "bounty" offered for an Indian Army general facing assassination. And applause for a terrorist who slaughtered hundreds of innocent civilians.
For Indian viewers, these are a few of the surprises — which should not be surprises at all — obscured by the Indian government's ban on the U.S.-based separatist group Sikhs for Justice (SFJ). Fronted by an energetic American lawyer, Gurpatwant Singh Pannun, who is officially labelled a terrorist in India, SFJ has been fighting through the ban and the pandemic to finally begin voting in its unofficial referendum on a breakaway Sikh state called Khalistan.
The timing of the initial vote in London — on the anniversary of Indira Gandhi's assassination in 1984 — was not accidental, and it gives a clue to what Indians are not seeing because of the ban on Sikhs for Justice.
The group was branded an illegal organisation in January 2020, when a government order was ratified by Chief Justice D.N. Patel of the Delhi High Court. Justice Patel ruled that SFJ's activities "threaten the sovereignty, unity and territorial integrity of India." Dozens of SFJ websites were blocked in India and Pannun himself was declared an "individual terrorist."
That didn't stop SFJ celebrating the assassination of Prime Minister Gandhi, who was gunned down by two Sikh bodyguards on October 31st, 1984. Both assassins are frequently featured in SFJ propaganda, hailed as "martyrs" and honoured for their "brave act of justice."
But that's just a part of the constant celebration of murder that is evident — to those outside India — in the stream of internet propaganda emitted by Sikhs for Justice, on multiple sites and platforms. In fact, although it describes itself as a "human rights organisation," SFJ's firehose of publicity shows no glimmer of interest in the human rights of the thousands of innocents who died in Khalistani terrorist attacks during the 1980s and early '90s. Quite the contrary.
Prominently featured as a hero in the referendum campaign, for example, is the worst mass-murderer in Canadian history — the Babbar Khalsa leader, Talwinder Singh Parmar. It was Parmar who conceived and directed the 1985 Kanishka bomb plot which destroyed Air India's Flight 182 off the coast of Ireland — the deadliest terrorist attack anywhere until 9/11. Parmar later fled Canada for Pakistan and was killed by police in Punjab in 1992 — so he never faced trial. But a decade of legal proceedings in Canada – including a judicial inquiry and a criminal trial of Parmar's colleagues — confirmed that Parmar instigated and directed the bomb plot.
None of the 331 victims had anything to do with the Khalistan struggle. Eighty of them were children. Thirty-three were Sikhs. Two were Japanese baggage handlers, killed by a second bomb which blew up on the ground as it was being transferred to another Air India flight leaving Tokyo. The plan was to destroy two planes at once, on opposite sides of the globe – meaning that the death toll, as ghastly as it was, was supposed to be much higher.
Even so, the Kanishka massacre was a catastrophe not just for the victims, who were mainly Indo-Canadians heading for vacations in India, but also for the Khalistan movement, which never recovered from the disgrace. How was a massacre of Canadians supposed to bring forth a Sikh state? If this was "revenge" for the 1984 Indian attack on the Golden Temple, why kill Canadian Sikhs? Or vacationing children? Or Japanese baggage handlers?
Nevertheless, instead of repudiating this historic crime, the Sikhs for Justice campaign seems to embrace it. In December 2019, Gurpatwant Pannun was in British Columbia to promote his referendum by announcing the opening of the "Shaheed Talwinder Singh Parmar Voter Registration Centre." To mark the occasion, two posters showing Parmar in heroic poses were prepared and posted on the internet.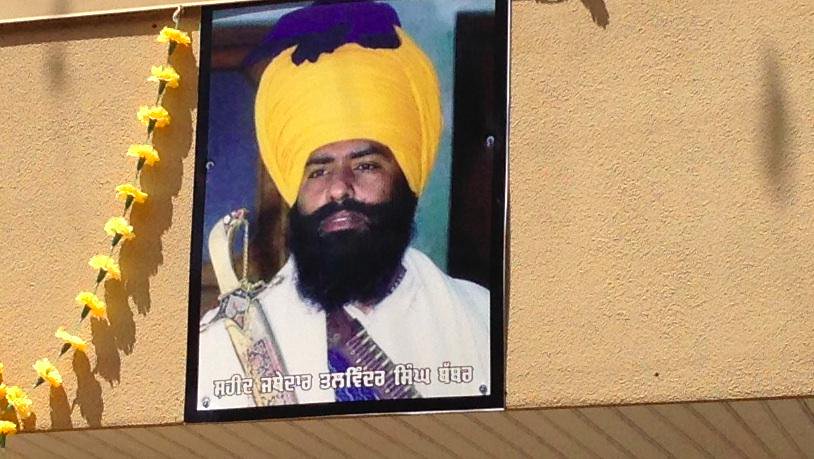 More portraits of a beaming Parmar were featured in street demonstrations at the Indian consulate in Vancouver. No explanation was offered for why Parmar was being honoured as a martyred hero. But, for local Khalistanis, no explanation was needed. A life-size poster of "Shaheed" Parmar already adorned a gurudwara in nearby Surrey, British Columbia. The excuse typically offered for this grotesque display is that, despite abundant evidence that he led the bomb plot, Parmar was somehow innocent. As for why he ordered the bombs, and why those were the bombs that blew up, and why he preached that "Indian planes will fall from the sky," Parmar's admirers are silent.
So, the glorification of Parmar was already normalised in Canada, and no controversy arose when Sikhs for Justice made him, quite literally, the poster boy for its referendum campaign.
This reverence for a mass-murderer, though, had been a feature of the Khalistan movement ever since Parmar's death in 1992. Various SFJ Facebook pages applaud him as a "Jathedar," or religious leader, and show him posing with weapons at a gun market in Pakistan.
Parmar is not, however, the only terrorist who is regularly honoured in Sikhs for Justice iconography. Pannun has recently produced and starred in two menacing videos aimed at the former and current Chief Ministers of Punjab – Capt. Amarinder Singh and Charanjit Singh Channi – both staunch opponents of the Khalistan movement. The first video, entitled "I Am Dilawar," was released on the anniversary of a 1995 suicide bombing by Dilawar Singh, who killed Chief Minister Beant Singh, along with sixteen bystanders. Illustrated with grim scenes of the wreckage of Beant Singh's car, the video features closeups of a portrait of Capt. Amarinder being shot in the face by an off-screen gunman. Any crackdown on Khalistanis, the video warns, will have consequences – perhaps the same fate that befell Beant Singh: "Capt. Amarinder is following the footsteps of slain CM Beant."
More recently, after the resignation of Capt. Amarinder, Pannun shifted his aim to his successor as Chief Minister of Punjab, Charanjit Channi. Again, the video thunders a warning, leaning heavily on reminders of the murder of CM Beant Singh, with pictures of the victim and the wreckage of his car to reinforce the message.
Such videos are posted and re-posted on a sprawling network of websites and Facebook pages which animate a frenetic game of whack-a-mole, as Indian authorities manage to shut one down, only to see another pop up in its place. This allows a page to run Sikhs for Justice material for years, linking to an SFJ home page and using the SFJ name and logo, only to be disowned as unofficial if trouble arises.
But wherever the content appears, the veneration of terrorist martyrs is a constant. In yet another video, Pannun shakes his finger at the camera and promises to give new iPhones to anyone who flies the Khalistan flag in honour of "Shaheed" Beant Singh, one of the bodyguards who shot Mrs. Gandhi.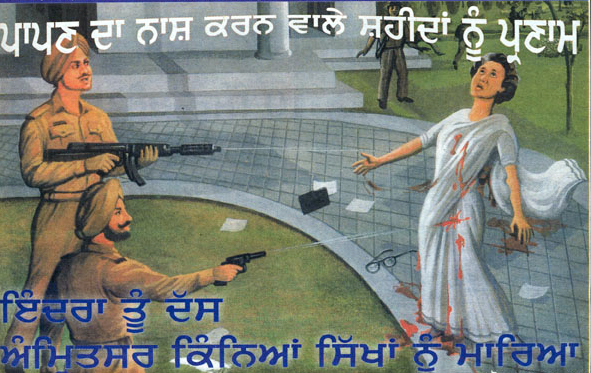 Other SFJ offerings illustrate Gurpatwant Pannun's penchant for wild exaggeration. Operation Blue Star, for example, is a key moment in the history of the Khalistan movement, when Sikhs around the globe were outraged by the Indian Army's June 1984 attack on the Golden Temple at Amritsar. Contemporary eyewitness accounts tell of the deaths of many soldiers, of the militant Sikh preacher, Jarnail Bhindranwale, and of his gunmen, as well as hundreds of innocent pilgrims. 37 years later, though, Gurpatwant Pannun frequently claims that ten thousand pilgrims were "herded" into the temple to be slaughtered by Indian troops.
Pannun also offers ominous "bounties" for information on notable enemies of the Khalistan movement, such as the military leaders of Operation Blue Star. Lt. Gen. Kuldip Brar, for example, has been an assassination target ever since and his throat was slashed by a Khalistani gang in 2012 during a trip to London. He survived, but remained a target, as seen in a Sikhs for Justice offer to pay handsomely for information on his movements.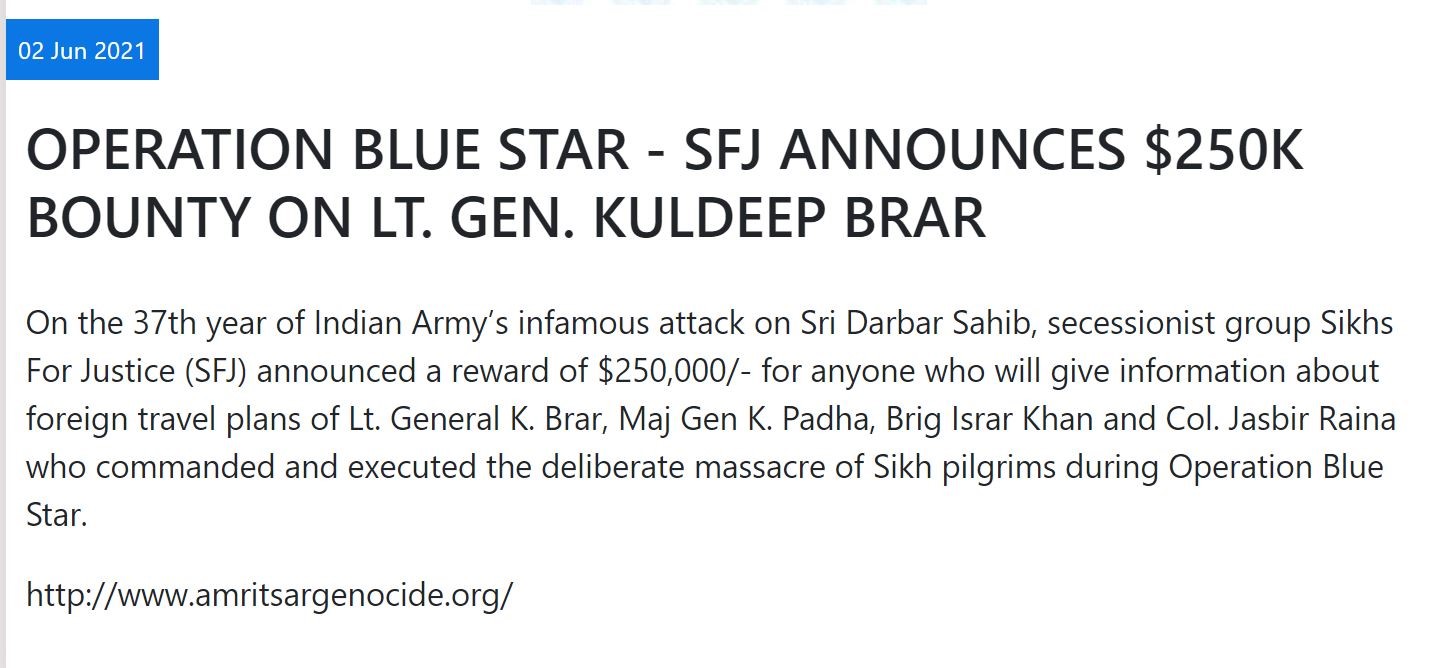 Another unnerving feature of SFJ's online campaign is its use of the Air India bombing anniversary on June 23. What kind of mind commemorates that atrocity by denouncing Air India? Yet that's exactly what happened in 2015, when Sikhs for Justice demanded a boycott of the airline.
An equally macabre commemoration came in 2021, when SFJ urged striking farmers to "seize Delhi airport" to mark the anniversary of the 9/11 attacks.
Despite such provocative content, Sikhs for Justice has exploited Facebook's willingness to keep its internet presence alive in the face of the Indian government's attempts to suppress it. Indeed, Gurpatwant Pannun has used it as a kind of rhetorical flame-thrower – so much so that it hardly seemed surprising when he celebrated the start of referendum voting in 2021 by taking a real flame-thrower to the Indian flag.
India's internet censorship, then, has been far from leak-proof when it comes to Facebook. But it's been more successful on Twitter, where there are many accounts offering a Khalistani perspective but reaching small numbers of followers. There's been no enduring presence for leading figures like Pannun, whose accounts are quickly shuttered. Even so, they are revealing when they briefly appear.
Pannun made such an appearance for a couple of weeks in 2021, for example, in another bid to exploit the anniversary of the Air India bombing.
Using an account purpose-built for the occasion, Pannun posted a series of extraordinary tweets incorporating his signature colourful graphics and video. These displayed a letter to Canadian Prime Minister Justin Trudeau, demanding the expulsion of the Indian High Commissioner to Canada, Ajay Bisaria, for what Pannun called "hate-mongering speech against Canadian Sikhs."
Pannun's objection was to a routine annual statement by the High Commissioner marking the June 23 anniversary of the Air India bombing. In it, Bisaria made no mention of Sikhs, Canadian or otherwise. Rather, he noted that the attack "revealed to the world the heavy cost that Khalistani terrorism could inflict on humanity."
That was the comment that Pannun underlined in his protest letter to Prime Minister Trudeau. But what, exactly, was improper about deploring Khalistani or any other kind of terrorism? Pannun's letter did little to dispel that mystery. Rather, he compounded it by calling the statement an attempt by Bisaria to "delegitimise and undermine" the Khalistan movement.
Inevitably, his critics countered that it was the terrorism which damaged the movement, not the condemnation of terrorism.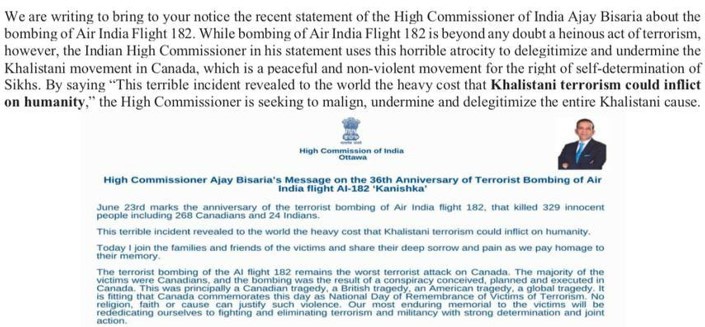 It would appear, then, that the Indian blackout on Pannun's online campaign is succeeding to some extent – that is, assuming that blacking it out means success. But censorship also works against the censor, by sheltering the odious features of the campaign from public scrutiny. If Indians were more aware of Pannun's threats and his soft spot for terrorists, it is hard to imagine him gaining in popular esteem.
More to the point, it seems unlikely that the millions of Sikhs who voted in 2017 for Capt. Amarinder will now be inspired by the sight of his simulated assassination to join the separatist camp. It is hardly a safe assumption that Pannun's bellicose propaganda would win him new friends if not kept out of sight. In the light of day, it seems far more likely to win him new enemies.
For most of the world, though, the Sikhs for Justice referendum campaign is barely visible – a mere curiosity in the backwaters of the internet. It is simply not news – although it might be if it were banned in the West, not just in India. For Canada, Britain and the U.S., freedom of speech is the rule and there's been no effort to silence SFJ. Although this irritates Indian authorities, Western politicians do not pay any price for tolerating speech which voters hardly notice.
Rather, what is missing in the West is not Indian-style censorship, but loud and public disapproval by political and community leaders. They also have freedom of speech – but they rarely use it, even to denounce the veneration of Talwinder Parmar in Canada, where some key electoral districts hang in the balance. Traditional vote-bank politics leads all parties to avoid even mild criticism of Khalistani propaganda.
Ramesh Sangha, a Sikh and a former Liberal Member of Parliament from Brampton, Ontario, knows that deviations from this practice are punished. In January of 2021, after alleging Khalistani sympathies on the part of two Sikh ministers in Prime Minister Trudeau's cabinet, Sangha was swiftly booted out of the ruling Liberal party. Meanwhile, the New Democratic Party (NDP), a left-wing party which currently holds the balance of power in Canada's parliament, is led by Jagmeet Singh, a lifelong Sikh activist who, upon winning the party leadership, famously refused to denounce the martyr posters honouring Parmar.
There is little prospect, then, that the gusher of Sikhs for Justice publicity will be shut off outside the borders of India. Within India, though, it is reasonable to wonder if the ban just protects Indians from what they might be better off knowing.
Terry Milewski is a journalist, former Senior Correspondent at the Canadian Broadcasting Corporation and author of "Blood for blood: Fifty years of the global Khalistan project".
This article originally included pictures and screenshots of Sikhs for Justice's propaganda material that were removed due to the ban in India.
This article was exclusively written for Gateway House: Indian Council on Global Relations. You can read more exclusive content here.
For interview requests with the author, or for permission to republish, please contact outreach@gatewayhouse.in.
© Copyright 2021 Gateway House: Indian Council on Global Relations. All rights reserved. Any unauthorized copying or reproduction is strictly prohibited.