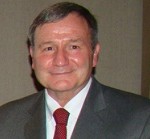 The US and NATO will begin to finally withdraw its troops from Afghanistan next year, a policy that has serious implications for South Asia. Gateway House's Aakash Brahmachari and Hari Seshasayee interview Ambassador Karl Eikenberry, who has served both as a military officer and as a diplomat in Afghanistan, to discuss Afghan capability after the international military withdrawal and that country's potential as a commercial link between South and Central Asia.
Q: Having served in Afghanistan in a military as well as diplomatic capacity, what were the main challenges you faced?
There were many challenges, but I'll highlight two. First of all, Afghanistan has been through many decades of conflict; it is a country where human capital was severely damaged through warfare, a country in which there was great mistrust of people. Add to that a damaged economy sitting in a land that was extraordinarily challenging in terms of the terrain. When we go back to early 2002, when international forces intervened in Afghanistan, the international community and the Afghan people underestimated the scope of the challenges.
The second challenge is that although it was positive of the international community to provide unprecedented support to Afghan reconstruction and try to help stabilize the country, it posed other issues. They had to integrate those efforts, prioritize and achieve coherence between the Afghans on the one hand, and the complex mosaic of international actors on the other.
Q: In a 2010 press briefing, as U.S. Ambassador to Afghanistan, you said "Afghans must take the lead in their own security and governance." How do you foresee this happening after the military withdrawal in 2014?
After the international military intervention, there really was no Afghan army. That had to be built from scratch, and the police force required an enormous amount of work. Over the last seven years, the Afghans have played an increasingly predominant role in providing security in many parts of the country.
Now, we are in the final 18 months of transition, where international military forces will transition security over to full Afghan security control. Beyond this transition in 2013-14, the Afghan military and police forces are still going to require security assistance support from the international community – primarily NATO, the United States, for which agreements have been reached.
I remain confident that the Afghans can achieve their ambition. Our desire is to support them over the next two years to help them completely enforce security operations in their country with international military support.
Q: You have argued that declining political ownership after repealing the military draft in the U.S. re-shaped the nature of American military intervention abroad. Do you think a military draft can help political cohesion in Afghanistan?
The Afghan political leadership and the people have talked about this for two reasons. One, the current model of volunteer forces is extraordinarily expensive for the Afghans to maintain. Their army and air force is 200,000 strong and has high personnel costs which will be difficult to maintain. Secondly, the Afghans also talk about the benefits attained from the draft for the same reasons as in the American context. In Afghanistan, the idea is that a well-implemented draft might be able to forge a stronger sense of national unity and national identity through military service.
Q: At the India-U.S.-Afghanistan trilateral dialogue on February 19, the U.S. representative spoke of India's significant role in "advancing the new Silk Route vision of connectivity between South and Central Asia with Afghanistan at the core." How can India play a role in fulfilling this vision of connectivity?
I think in three areas – supply, demand, and expertise. Through supply first: the Indian economy is booming now and the breadth and scope of richness in the Indian economy is extraordinary. India can make appropriate investments in Afghanistan, perhaps in their mining or agricultural sector.
Second is demand. It is a dream, for example, for every Afghan farmer to produce pomegranate and export it to India, a huge potential market. But this is going to require trade agreements as well as transit agreements because those pomegranates need to pass through Pakistan in order to get into India. There's also a market in Pakistan.
The third area where India can help Afghanistan is expertise. India can perhaps help the Afghan Ministry of Commerce figure out how to develop transit trade agreements. Indian commercial lawyers in Kabul can help to establish commercial laws. I think there's great potential for India to exercise an important influence in the Afghan economy.
Ambassador Karl Eikenberry served as U.S. Ambassador to Afghanistan from May 2009 till July 2011, he is presently the William J. Perry Fellow in International Security at the Center for International Security and Cooperation and is a Distinguished Fellow at Stanford University.
This interview was exclusively conducted for Gateway House: Indian Council on Global Relations. You can read more exclusive content here.
For interview requests with the author, or for permission to republish, please contact outreach@gatewayhouse.in.
© Copyright 2013 Gateway House: Indian Council on Global Relations. All rights reserved. Any unauthorized copying or reproduction is strictly prohibited.