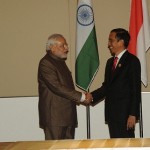 Indonesian President Joko Widodo (popularly known as 'Jokowi') visits India next week amidst developments in 2016 that have underlined a strategic flux in East Asia. There is the fact of China's marked ascendency, the failure of Obama's pivot/rebalancing strategy, shadows of uncertainty and unpredictability over Trump's likely policy approach, and deepening disarray in ASEAN. In light of these factors, can Indonesia and India truly 'rediscover' themselves and operationalise their Strategic Partnership optimally?
Perhaps no two nations share as many commonalities. Besides the obvious one of the first three alphabets in their names, they are the biggest Asian democracies, large multicultural societies, driven by the inclusive philosophy of 'Bhinneka Tunggal Ika' ('Unity in Diversity'), leading maritime players and major emerging economies in the Indo-Pacific region. They ought to be the best of friends and the closest of partners. Alas, reality is different.
Located in the middle of the Indian and Pacific Oceans, Indonesia  tends to look towards the north and east across the Pacific, even as India "looks" and "acts" east. Indonesian scholars have called for Jakarta to adopt a "Look West" policy in order to ensure greater convergence with India's "Act East" policy.
Jokowi's determination to accelerate his country's economic development, especially its maritime infrastructure, has driven him to seek huge investments from abroad. China, rather than India, is viewed as the suitable source – and the Chinese have been willing to oblige.
Besides, as a nation with the largest Muslim population in the world, Indonesia, though following a moderate version of Islam, tends to allow its policy to be influenced by the Organisation of Islamic Cooperation (OIC) and Pakistan. A natural Indonesian impulse for competition with India in the Asian space is also cited in this context.
All this might explain why, in spite of strenuous efforts made in the past decade, the bilateral relationship – as it stands today – has considerably less substance than it should have. The visits of President Yudhoyono in 2005 and 2011 and of Prime Minister Manmohan Singh in 2013 resulted in the launch and nurturing of the Strategic Partnership and conclusion of numerous agreements. However, many scholars and former diplomats are convinced that the implementation has lagged behind noticeably. The fact that Jokowi is visiting India two years after assuming office and that Modi, now in the second half of his five-year tenure, is yet to make his visit are indications enough that each nation needs to accord greater importance to the other – if they want better results.
To develop and sustain stronger ties is in their mutual interest. The geopolitical environment is worsening. 'China's Nine-Dash Line' that violates Indonesia's Exclusive Economic Zone (EEZ) in the waters off Nathuna Island, has been firmly rejected as illegal by Jakarta. But, to overcome its sense of insecurity, Indonesia needs reliable friends in the region.
India is deeply conscious of Indonesia's vital importance in ASEAN: the nation accounts for over 37% of the grouping's population and over 33% of its combined GDP. Without a vibrant and substantive relationship with Indonesia, India's Act East Policy can hardly be effective.
Further, in order to craft a coalition of nations committed to international law and norms, freedom of navigation and the objectives of peace and security, India and other like-minded countries have necessarily to depend on the strong support  of Indonesia. The obvious common bond among them is to preserve and promote a multi-polar Asia. A mutuality of strategic interests is quite evident.
As our two leaders sit down for much-delayed parleys in New Delhi on December 12, they will no doubt keep the big picture in mind. Linked by over two millennia-old ties which received a special fillip in the 1940s and 1950s, their nations have a strong congruence of interests, moulded by contemporary geopolitics. PM Modi and President Widodo should promise to find more time for each other and possibly agree to hold regular annual summits in the future. They could also motivate their ministers to not only interact more often, but also produce better results.
However, this will not be enough. The two governments need to have a candid and in-depth dialogue to examine what ails or hampers the economic relationship and how trade flows can be increased. Bilateral trade, which peaked at $19 billion in 2014-15, is down to $14 billion in 2015-16. India has substantial investments in Indonesia, but Indonesian companies appear reluctant to reciprocate. Corrective and promotional measures should be designed and executed on priority.
Above all, cultural cooperation and people-to-people links alone will be able to impart momentum and visibility to bilateral relations. For years, experts from both countries have offered many ideas: direct flights, linking Indian and Indonesian cities; sister-city relationships between a few of them; expansion of student exchanges; higher tourist flows; stronger promotion of dances, music and the arts; and regular Track II dialogues. These and other ideas were reiterated at the Kalinga-Indonesia Dialogue, held recently at Bhubaneswar and Cuttack with the support of the Indian Council of Cultural Relations and the Odisha government.
The time is now ripe for a special push by the two governments to secure desired outcomes. Jokowi's visit should be followed by the Indian PM's voyage to Indonesia within a few months. Should this happen, it will confirm that the leadership, fired by a shared vision, is serious about upgrading this vital partnership within a short time.
Rajiv Bhatia is Distinguished Fellow, Foreign Policy Studies Programme, Gateway House and a former ambassador. He served as DCM in the Indian Embassy, Jakarta.
This article was exclusively written for Gateway House: Indian Council on Global Relations. You can read more exclusive content here.
For interview requests with the author, or for permission to republish, please contact outreach@gatewayhouse.in.
© Copyright 2016 Gateway House: Indian Council on Global Relations. All rights reserved. Any unauthorized copying or reproduction is strictly prohibited