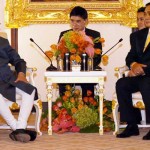 India's vice president Mohammad Hamid Ansari visited Brunei (February 1-3) and Thailand (February 3-5 ) as part of India's endeavour to impart substance and momentum to its Act East Policy. In the past 20 months, the top three Indian leaders—president, vice president and prime minister—have visited nine of the 10 ASEAN (Association of Southeast Asian Nations) member states. (The president is slated to visit the Philippines.) This is indicative of the high importance accorded to multi-faceted relations with ASEAN.
Earlier, Vice President Ansari visited Cambodia, Laos, and Indonesia. A distinguished former diplomat and reputed scholar, his engagement with the East Asian region shows New Delhi's determination to use all its valuable resources. His public addresses, especially at universities abroad, attract considerable attention from the strategic community. In his travels to the region, he conveys a clear message that India is ready to play a more proactive role in order to meet the expectations of its Asian neighbours.
In welcoming Ansari who was on the first vice presidential visit from India since the establishment of diplomatic relations in 1984, Brunei articulated much satisfaction. During discussions at leadership level, there was an emphasis given to deepen cooperation in security and defence matters as well as business and economic ties. Brunei is a modest energy supplier which exports oil worth $1 billion a year to India. The proposal to set up a fertilizer plant in Brunei, using local gas to produce fertilizers for use on farmlands in India, was discussed. It evoked a positive initial response. A strong pitch was also made for increasing Brunei's investments in India, given the new opportunities available due to the Modi government's flagship initiatives, including the Make in India programme.
Agreement also emerged on strengthening science and technology cooperation. Brunei hosts a telemetry tracking and telecommunication station of the Indian Space Research Organisation (ISRO) which served as a crucial component for deploying the Mangalayaan (Mars Orbiter Mission). Brunei authorities expressed appreciation for the presence and contribution of a 10,000-strong Indian community of professionals.
Thailand, one of the founder members of ASEAN, figures high in India's regional priorities. The vice president's visit was at the invitation of Thai prime minister General Prayut Chan-o-cha. Bangkok was pleased to receive an Indian vice president after a gap of 50 years, and to hear him say India saw Thailand as "a bridge between South Asia and Southeast Asia". The vice president urged the hosts to consider India as their "springboard" to West and Central Asia, and to Europe.
Thai society is culturally rich and deeply proud of its history, royalty, and diversity. It is also a nation of smart entrepreneurs and business people. Hence, the vice president's call "to synergize our efforts in the areas of economy and business" was highly relevant. Bilateral trade stood at $8.66 billion in 2014, with Thai exports exceeding India's exports. The two sides agreed to encourage the private sector to explore the untapped potential. In Thailand too, a strong case was built to attract new investments to India.
Going beyond these two bilateral relationships, one may pinpoint four important regional implications which reflect the present and future directions of the Act East Policy. First, while India pays higher attention (than before) to the non-ASEAN countries in East Asia, it remains committed to deepening cooperation with ASEAN to the fullest possible extent. In policy terms, ASEAN represents "the core of Act East Policy" and is "at the centre of our dream of an Asian century", as Ansari put it. India and ASEAN are "natural partners". Second, on issues relating to the South China Sea and the strategic contestation currently underway, the vice president made India's position once again clear. Safety and security of sea lines of communication is important to all; peace is vital for economic development and entails action "with responsibility and restraint" from all sides; and India is supportive of collective efforts by ASEAN countries and China to conclude the Code of Conduct "to keep peace and stability".
Subsequently echoing this calibrated line, Prime Minister Modi, through his address at the International Fleet Review 2016, issued a clarion call: "Use seas to build peace, friendship and trust, and curb conflict; respect and ensure freedom of navigation; and cooperate, not compete in responding to the challenges in the seas."
Third, in the "upgraded" policy towards the east, economic cooperation receives increased salience and connectivity has become a strategic priority. Therefore, the goal to conclude Regional Comprehensive Economic Partnership negotiations by end 2016, use of the $1 billion pledged for connectivity projects with ASEAN, and operationalization of the special purpose vehicle initiative concerning CLMV countries (Cambodia, Lao PDR, Myanmar, and Vietnam) will be the new template to assess the effectiveness of the Act East Policy.
Fourth, cultural links and people-to-people exchanges would be expanded through a variety of means and programmes. Making Nalanda a "world class university" with the support of our East Asian partners is one of them.
In sum, Vice President Ansari's visit provided further clarity to policy while advancing its implementation. It showcased that the rationale for a strong India-ASEAN strategic partnership is sharper than before.
Rajiv Bhatia is Distinguished Fellow, Foreign Policy Studies Programme at Gateway House, former ambassador to Myanmar, and author of 'India-Myanmar Relations: Changing contours' (Routledge).
This article was exclusively written for Gateway House: Indian Council on Global Relations. You can read more exclusive content here.
For interview requests with the author, or for permission to republish, please contact outreach@gatewayhouse.in.
© Copyright 2016 Gateway House: Indian Council on Global Relations. All rights reserved. Any unauthorized copying or reproduction is strictly prohibited