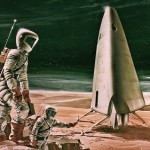 Space fiction of the mid 20th century assumed the presence of towns on the Moon, long-haul flights to the Moon and Mars, and a seamless connectivity between Earth and the Moon by the year 2000. Although it is 2020 and none of these predictions have been realized completely yet, the world is nonetheless accelerating towards them. This new acceleration is catalyzed by a new, liberal and enterprising approach to outer space.
The world is birthing a second generation of space-faring nations. This new generation is different from the previous one that includes India, the United States, Russia, Japan, China and Europe. The newer generation is enterprising, has industrial ambitions, are investing and inventing myriad Industry 4.0 space technologies, provide space-based services, and will not reinvent the wheel competently created by the first-generation space-farers, in this case rockets and satellite technology. The United Arab Emirates, with its successfully-launched Martian mission Hope, has placed itself on a high-ranking pedestal amongst this new second-generation and in short order.
The UAE's approach to outer space is based on visionary enterprises. This is evident from the national leadership's intent to raise the first Martian city by the year 2071 – the country's centennial year. Although 2071, is fifty years away, UAE has made this goal contemporary by setting realistic space technology targets under the broader National Space Strategy 2030 and by clubbing the long-term goal with a short-term goal of becoming a global hub for 3D-printed urban infrastructure. Using the latter goal, the UAE intends to build a prototype Mars city in Dubai entirely with 3D-printing technology. The UAE's leadership is setting yardsticks for other second-generation space-faring nations with these pragmatic and far-reaching plans.
India is UAE's nearest first-generation space-faring nation. The two countries have identified numerous areas of technology co-operation ranging from artificial intelligence, solar energy, cyber space, defence, information technology, financial technology, and Industry 4.0. In 2016, the Indian Space Research Organization (ISRO) and the UAE Space Agency, signed a space co-operation agreement understanding the exigencies of the times. However, given the increasingly enterprising nature of space activities, a bilateral space co-operation should not be only a government-to-government undertaking.
Early in the summer of 2020, India commenced far-reaching policy reforms for its domestic space sector. India's first-generation space program attained tremendous success despite the enormous socio-political commitments of a developing economy, and under western sanctions. Now that the country is breaking into the league of the top-five large economies of the world, and its economic growth trajectory charted, the reforms reflect the evolution of India's space programme in line with futuristic demands. The critical reform has been offering India's private sector the opportunity to participate in the nation's space programme on a par with the national space agencies and government-controlled manufacturing units. This liberalization offers major opportunities for the private sector to enter into space-based services, space technology manufacturing, contract research and manufacturing, space-based maintenance, repair and overhaul (MRO) services, transportation, space-based internet data transmission among the others. Already, there is a small community of space start-ups in India, and this will now grow exponentially.
India's space sector liberalization has created significant investment and partnership potential for the international private sector. Such private sector space co-operation between India and the UAE can co-exist with the exclusive agreement signed by its two national space agencies. It is therefore pragmatic for India and the UAE to include private players within the bilateral comprehensive strategic partnership.
This private space co-operation can exist on multiple levels. At the academic level, it can foster educational, mostly university level partnerships, through joint R&D of early-concept technologies and student-led projects. At the incubator-accelerator level, investors from both countries should be free to invest in start-ups that promise a far-reaching innovation or one that fills in the missing link in their respective countries. At the industry level, micro, small and medium enterprises can explore areas of common interest for partnerships and joint ventures. Likewise, both the governments can partner in special projects that are part of the national vision. There is scope for the UAE to be part of the Indian Human Space Flight programme as much as there is opportunity for India to be part of UAE's vision for the Mars City.
As the world enters the Second Space Age, an Indo-Emirati space partnership can be a lodestar for others. However, it is only the people-to-people connect and the diversity of the innovation linkages between the Emirati and Indian diaspora, that can truly make it a success for science and citizens, and help achieve their aspirations for the 21st century.
Chaitanya Giri is Fellow, Space and Ocean Studies Programme, Gateway House.
This article was exclusively written for Gateway House: Indian Council on Global Relations. You can read more exclusive content here.
For interview requests with the author, or for permission to republish, please contact outreach@gatewayhouse.in
© Copyright 2020 Gateway House: Indian Council on Global Relations. All rights reserved. Any unauthorised copying or reproduction is strictly prohibited.