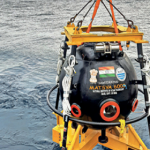 On 29 October 2021, India's Ministry of Earth Sciences (MoES) launched the Samudrayaan project for deep ocean exploration.[1] As part of the project, India plans to develop which will enable us to send humans to oceanic depths greater than 1,000 metres.
Chennai-based National Institute of Ocean Technology (NIOT) is building one such vehicle, the Matsya-6000 DSV, which will undergo shallow-water trials at a depth of approximately 500 metres from mean sea level in the fourth quarter of 2022. By the second quarter of 2024, Matsya-6000 will prepare for trials at depths between 1,000 metres and 6000 metres.[2] Once successful in these trials, India will join a select group of countries, currently consisting of the United States of America, Russia, France, Japan and China.
India has only begun to address the void in its deep ocean exploration capabilities. The Deep Ocean Mission, of which Samudrayaan is a part, is the result of several ongoing attempts to bring Earth sciences on par with the more revered atomic and space sciences. The government first proposed to launch a Deep Ocean Mission in 2017.[3] Eventually, the mission was allocated a budget of nearly US$ 525 million in the 2021-22 Union Budget,[4] and cabinet approval given in June 2021.[5] The development of Matsya-6000 is funded through this allocation. While the MoES is the nodal ministry for Samudrayaan and DOM, the Indian Space Research Organization (ISRO), Defence Research Development Organization (DRDO) and Indian Institute of Technology (IITs) are key stakeholders in DOM.[6]
Within this set of agencies, ISRO, DRDO, and IITs have engaged India Inc. in space reforms, private-sector-led defence manufacturing, and incubating technology start-ups. However, the MoES has not yet announced efforts to engage the prominent public and private sector, especially companies like Larsen & Toubro and Mazagon Dock Shipbuilders, which have construction and technology capabilities and are already bidding for navy submarine contracts, to participate in such projects.
The MoES, formed in 2006, is one of India's newest ministries and was established by combining the Department of Ocean Development (DOD) (established in 1982) and the Indian Meteorology Department (established in 1944).[7] One of the DOD's earliest achievements was in 1987 when the United Nations enabled India to explore and utilize polymetallic nodules in the Central Indian Ocean. In 2016, the MoES received similar permits to explore polymetallic sulfides in the same oceanic region.[9] The Samudrayaan project, a culmination of MoES' three-decade-long effort, is vital for exploring and from the deep oceanic crust starting with the Central Indian Ocean Basin.
The MoES has also identified other key components of the Deep Ocean Mission[10]:
i. Development of ocean climate change advisory services
ii. Technological innovations for exploration and conservation of deep-sea biodiversity;
iii. Deep ocean survey and exploration;
iv. Energy and freshwater from oceans; and
v. Advanced marine station for ocean biology.
There is opportunity to engage ocean-technology start-ups, high-technology industries, not-for-profit research institutions, and universities through ocean innovation clusters to further the aforementioned objectives.  Examples of such national ocean and marine innovation clusters exist in Canada, the United States, Iceland, Norway, the United Kingdom, as well as Japan.
India can create new ocean innovation clusters – consisting of ocean-technology startups, MSMEs, conglomerates with turnkey engineering arms, technology universities – around existing MoES research .  Funds from the Indian government's allocation of nearly US$ 305 million to MoES under a research grant scheme known as can also enable the development of such clusters.[11] Although O-SMART funds will be disbursed exclusively to research institutions functioning under the MoES, the Ministry must consider incubating ocean-technology innovation startups and ocean-data services innovation startups in cooperation with local academia.
The Draft Policy Framework for India's Blue Economy, prepared by the Economic Advisory Council to the Prime Minister in September 2020, discusses the establishment maritime clusters for industries, ports, and coastal communities.[12] In June 2021, the Gujarat Maritime Board announced GIFT City as the first maritime cluster in India.[13] But neither the draft nor any other government documents have focused on the development of ocean innovation clusters through public-private partnerships.
The Indian government has been prioritizing efforts to become a leading blue economy globally. The Deep Ocean Mission and O-SMART funding are a start. To extract strategic returns from these investments, the MoES will need strong collaborations with India Inc. and Indian ocean-technology start-ups, which India currently lacks.
Chaitanya Giri is  former Fellow, Space and Ocean Studies, Gateway House.
This article was exclusively written for Gateway House: Indian Council on Global Relations. You can read more exclusive content here.
For interview requests with the author, or for permission to republish, please contact outreach@gatewayhouse.in.
© Copyright 2021 Gateway House: Indian Council on Global Relations. All rights reserved. Any unauthorized copying or reproduction is strictly prohibited.
References:
[1] Press Information Bureau, "Union Minister Dr Jitendra Singh launches India's first and unique Manned Ocean Mission Samudrayaan at Chennai" Ministry of Earth Science, 29 October 2021, https://pib.gov.in/PressReleasePage.aspx?PRID=1767579
[2] ibid
[3] Press Information Bureau, "Ministry of Earth Sciences to launch 'Deep Ocean Mission' by January 2018" Ministry of Earth Science, 30 May 2017, https://pib.gov.in/PressReleasePage.aspx?PRID=1491364
[4] Press Information Bureau, "National Research Foundation Outlay to be Rs 50,000 crore, over 5 years." Ministry of Finance, 1 February 2021, https://pib.gov.in/PressReleasePage.aspx?PRID=1693887
[5] Press Information Bureau, "Cabinet approves Deep Ocean Mission", Cabinet Committee on Economic Affairs, 16 June 2021, https://pib.gov.in/PressReleasePage.aspx?PRID=1727525
[6] Press Information Bureau, "Union Minister Dr Jitendra Singh launches India's first and unique Manned Ocean Mission Samudrayaan at Chennai." Ministry of Earth Science, 29 October 2021, https://pib.gov.in/PressReleasePage.aspx?PRID=1767579
[7] Retrieved from the Ministry of Earth Science website, https://moes.gov.in/
[8] Press Information Bureau, "Mineral Exploration by India", Ministry of Earth Science, 8 September 2011, https://pib.gov.in/newsite/PrintRelease.aspx?relid=75788
[9] Press Information Bureau, "India's Exclusive Rights to Explore Polymetallic Nodules from Central Indian Ocean Seabed Basin Extended by Five Years", Ministry of Earth Science, 21 August 2017, https://pib.gov.in/newsite/PrintRelease.aspx?relid=170138
[10] Press Information Bureau, "Cabinet approves Deep Ocean Mission", Cabinet Committee on Economic Affairs, 16 June 2021, https://pib.gov.in/PressReleasePage.aspx?PRID=1727525
[11] Press Information Bureau, "Cabinet approves continuation of the umbrella scheme "Ocean Services, Modelling, Application, Resources and Technology (OSMART)" The umbrella scheme to cost of Rs. 2177 crore", Ministry of Earth Science, 24 November 2021, https://moes.gov.in/sites/default/files/pib-1774581.pdf
[12] "India's Blue Economy – A Draft Policy Framework", INCOIS – Ministry of Earth Science, September 2020, https://incois.gov.in/documents/Blue_Economy_policy.pdf
[13] Retrieved from the Gujarat Maritime Cluster website, https://maritimecluster.org/