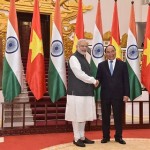 The recently held Delhi Dialogue, the annual flagship conversation between India and ASEAN, had present Vietnam's highest ranking foreign dignitary, the deputy prime minister, who is also the foreign minister of Vietnam. It's clear that it is Vietnam–from the ASEAN side—that continues to play the valuable role of coordinator for relations with India.
New Delhi views Vietnam as "a strong pillar"[1] of its Act East Policy (AEP), whereas Vietnam supports the policy, but wants India to play a more active role in the region's affairs. Observers point out that maintaining a satisfactory power balance in the region is difficult until the U.S. makes up its mind about its overall policy on East Asia. The initial months of the Trump presidency had Washington accord more attention to North Korea's firing of ballistic missiles than the South China Sea (SCS) dispute. It was unusually conciliatory towards China and also withdrew from the Trans Pacific Partnership (TPP).
These developments are having a generally adverse impact on the solidarity and morale of ASEAN member-states. The unspoken question remains whether the U.S. will adjust itself to the incredible rise of China in Asia, or be engaged, sooner or later, in strategic contestation with it.
Of all the ASEAN member states, it is Vietnam that has been most concerned about China's clear tendency to assert ownership in the South China Sea in defiance of international law – and this anxiety has a bearing on Vietnam's relations with India. China plays a paradoxical role in the strengthening of India-Vietnam relations. On the one hand, the China factor deepens the two countries' proximity; on the other, it limits the contours of their strategic partnership.
Vietnam has the highest level of bilateral relationship – or 'Comprehensive Strategic Partnership' – with three countries, namely, China, Russia and India. Its relations with the first two have been turbulent over the years, whereas with India, it has been a mix of mutual empathy and strategic trust,[2] the tenor of this being furthered also by two visits by Indian VVIPs in the past three years – President Pranab Mukherjee (September 2014) and Prime Minister Narendra Modi (September 2016) – and one by Pham Bin Minh, the deputy prime minister and foreign minister of Vietnam, earlier this month.
In foreign affairs, Vietnam prefers a policy of seeking balance of power in the region. Vietnamese scholars point out that their nation's foreign policy is anchored in "Three Nos": no alliance, no military bases, and no armed confrontation.[3] This strategy matches well with the (AEP) in all its various facets – strategic, political, economic and socio-cultural – but what it implies is that there is convergence, not complete identity, of interests between Vietnam and India.
In the meantime, policy makers in Vietnam and India have two major pursuits: strengthen ASEAN and deepen India-Vietnam relations. Both Hanoi and Delhi believe that the regional grouping should stay united on economic, political and strategic issues (including SCS), and that others should respect ASEAN's "centrality", which helped develop ASEAN-led institutions of regional cooperation so far. The two capitals are likely to coordinate closely in the coming months as ASEAN finalises its Code of Conduct (COC) framework agreement with China and as preparations enter the final phase for the India-ASEAN commemorative summit in January 2018.
On bilateral relations, the Vietnamese side has expressed satisfaction over the burgeoning defence and security cooperation, but it is far from happy with the trends in trade and economic relations. The Vietnamese economy has performed very well in the past decade. Yet, Indian investments remain quite low; they are below $1 billion at present. Bilateral trade, hovering around $7 billion, needs a strong push as the target that the two countries hope to achieve is $15 billion by 2020.
The Vietnamese ambassador in Delhi made a strong case for active trade promotion and tourism boosting measures at a conference recently. Launching a direct flight between Hanoi and Delhi in September 2017 is likely to be helpful while the areas that have potential for greater economic cooperation are: energy, mineral exploration, agro-processing, healthcare, IT and education.[4] Experts point also to science and technology, cyber security, biotechnology, space and nuclear energy, oceanography and the Blue Economy. For capacity building, Vietnam remains a major recipient of India's assistance as part of New Delhi's special focus on CLMV countries.
India's multi-dimensional relations with Vietnam, which are traceable to ancient times, have grown richer today because of the endeavours of several generations of leaders of both countries. The need now is to strengthen people-to-people ties in a changed environment of cooperation. The two nations' shared history and strategic perspective will remain a constant amidst the change.[5]
Rajiv Bhatia is Distinguished Fellow, Foreign Policy Studies Programme, Gateway House. He is a former ambassador to Myanmar and a regular commentator on East Asian affairs.
This article was exclusively written for Gateway House: Indian Council on Global Relations. You can read more exclusive content here.
For interview requests with the author, or for permission to republish, please contact outreach@gatewayhouse.in.
© Copyright 2017 Gateway House: Indian Council on Global Relations. All rights reserved. Any unauthorized copying or reproduction is strictly prohibited
References
[1] Vietnamese scholar Vo Xuan Vinh states: "… Vietnam and India have played important roles in each other's strategic calculations …" Abstract of International Conference on "Emerging Horizons in India-Vietnam Relations", 3-4 July 2016.
[2] The phrase is from PM's speech delivered at Hanoi on 3 September 2016. He observed: " I believe that a strong India-Vietnam partnership would lead to prosperity, development, peace and stability for our people, and in the wider region." http://www.mea.gov.in/Speeches-Statements.htm?dtl/27364/Banquet_Speech_by_Prime_Minister_during_his_visit_to_Vietnam_September_03_2016
[3] For example, Nguyen Phu Tan Huong presented this concept during her intervention at the above-cited conference.
[4] Ly Quoc Hung suggested improvement in the legal framework for economic and trade activity and enhancing of cooperation through agreements on finance and banking as well as other measures. Please see "Vietnam-India Economic and Trade Cooperation" in India-Vietnam Agenda for Strengthening Partnership, ICWA, p. 55.
[5] Dang Dinh Quy, President, Diplomatic Academy of Vietnam, wrote in 2013: There remain untapped potentials in the relationship between the two countries." The assessment remains valid even today. In India-Vietnam Agenda for Strengthening Partnership, ICWA, p. xi.