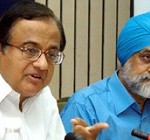 Re-selling the India growth story to foreign investors in the face of obvious policy disarray is not easy. The question is what combination of tactics and strategy would work to calm angry American business magnates and skeptical policy makers.
To simply say "it ain't so" – even if the words come from India's top ministers – fools no one. So New Delhi is trying a combination of truth telling, obfuscation and promises in the hope, it will stop the flight of FDI and encourage U.S. companies to take a second look at India. And restore some of the sheen back into "Shining India."
India sent three top ministers last week to Washington to assuage American corporates, the U.S. Congress and officials of Obama administration all of whom have been seething over a host of recent Indian policy moves and court decisions.
Finance Minister P. Chidambaram, Commerce and Industries Minister Anand Sharma and Deputy Chairman of the Planning Commission, Montek Singh Ahluwalia came in a desperate bid to stem the damage to brand India. They were only moderately successful, if that.
The essence of their combined messaging was this: India is not alone in suffering a slowdown, its medium and long-term growth prospects are still very good and it is taking measures to address specific U.S. concerns on preferential market access by putting the policy on hold.
Ahluwalia tried telling it as it is to the "sold-out" anniversary summit of the U.S.-India Business Council, the premier organisation of Indian and U.S. companies with stakes in each other's countries. The air was thick with anticipation and black suits.
In a somewhat breezy style, he called the U.S. demand of more economic reforms a "knee-jerk reaction." Of course, India needs more reforms for growth but it is the last year before elections and things cannot move easily. "We are marking time." Instead, the government is fixing the real problems of implementation, environmental difficulties and decision-making.
He went on to explain that the government would rather use its political capital for solving specific problems through executive action – something it is already doing – than go for measures that require parliamentary approval. Fair enough, but UPA has had only nine years to have got things done.
His plea to the audience "not to be depressed" about India's slowing growth rate and sliding rupee raised eyebrows and rolled some eyes.
Sharma addressed the summit in the evening with a plea to "have trust" in India and to "come work with us." He basically said the recent revolt against India on Capitol Hill where 170 Congressmen signed a letter severely criticising India's intellectual property regime and PMA policy was a problem of "perception."
It appears that both sides dropped the ball on maintenance of the relationship and corporate resentment built without redressal. In the few months left before general elections, for ministers to insist they can fix at least some of the problems does not raise confidence.
U.S. observers note the absence of interest in multi-brand retail in India, which is yet to receive any applications since it was rolled out nine months ago. The regulations are onerous on how a company must source its products, build its infrastructure and even design its façade. It is micro-managed confusion, which the ministers tried to talk down.
India's final salvo was Chidambaram who reminded the audience how far India and the United States had come and how Prime Minister Manmohan Singh had risked his government for the civil nuclear deal. "So what did the U.S. get out of it?" countered a former U.S. official.
Chidambaram, trying to strike the right combination of sagacity, offence and defence, refuted charges that India's intellectual property regime was slack and unfavorable to U.S. companies.
The reality was that Indian companies had grown up and become rivals in a few cases, especially in the pharma sector. But business rivalry should not become political rivalry, he said.
India is still a massively poor country, he pleaded and the U.S. should be a partner in ending poverty. He then subtly reminded the executives that "we are not a predator" – a veiled reference to China and its business practices. "We are not even a competitor in a true sense."
The message back from U.S. Commerce Secretary Penny Pritzker and U.S. Trade Representative Michael Froman was hard and harder. Froman, who is believed to share the current anti-India sentiment in Washington, basically wants India to stop favoring its own industry. He does not like that India requires "in-country testing for IT equipment and gives preferential treatment to its own innovators "at the expense of foreign firms and workers."
A "read-out" issued by Froman's office after a two-hour meeting with Sharma essentially says that India should stop growing its indigenous capability if it rubs against U.S. companies. Not quite done, he also asked India to adopt a "constructive" approach for the upcoming WTO ministerial in Bali, Indonesia, in December. His tone was reminiscent of the 90s when USTR routinely put India on various black lists, threatening action.
The question is: If India were "shining" and if the UPA in its nine years had not made a mess of things, would the trio of ministers take this naked advocacy and bullying quietly? But they did. Between New York and Washington, they got an earful from every CEO, Congressman and senator.
In the end, corporate America remained skeptical about how much can be achieved by executive action. Former U.S. ambassador to India, Frank Wisner, who now is an advisor to Patton Boggs, a lobbying firm said: "The proof of the pudding is in the eating." India still has "very, very big problems of policy" which affect profits. In his view, going for legislation in insurance and pension reforms is one way to bring in capital that India needs.
But it is clear there is no will or political energy for such initiatives.
Seema Sirohi is a Washington-based analyst and a frequent contributor to Gateway House: Indian Council on Global Relations. Seema is also on Twitter, and her handle is @seemasirohi
This article was exclusively written for Gateway House: Indian Council on Global Relations. You can read more exclusive content here.
For interview requests with the author, or for permission to republish, please contact outreach@gatewayhouse.in.
© Copyright 2013 Gateway House: Indian Council on Global Relations. All rights reserved. Any unauthorized copying or reproduction is strictly prohibited.