Prime Minister Narendra Modi has time and again stressed on giving India's neighbourhood priority. In his address to the nation on India's Independence Day, Modi called upon the SAARC countries to join the battle against problems that go beyond borders – the challenge of poverty and development.
"India's foreign policy has many facets," said Modi, "But I want to focus on our relations with our neighbours in my speech," he told the audience at the Red Fort that included more than 140 diplomats who were provided a live translation of the speech over headphones for the first time.
Modi said the SAARC region had a common history relating to the freedom movement. "Our common forefathers fought for freedom together. If without weapons or resources we could defeat a powerful sultanate (British rule), can't we win against poverty together?"  Though Modi did not elaborate on how he planned to take his vision forward, but the change of content in his speech marked a new beginning in India's relations with its neighbours.
Choosing to visit Bhutan in June on his first official foreign trip since becoming Prime Minister, Modi has exemplified his government's focus on revitalising India's foreign policy objectives and approach towards its near neighbourhood. Modi also visited Nepal and became the first Indian Prime Minister to visit Kathmandu, in 17 years for a bilateral meet. His speech to Nepal's Parliament was largely appreciated.
Foreign minister Sushma Swaraj chose Bangladesh as the destination for her first official standalone visit, accompanied Modi to Bhutan, and has also been to Nepal and Myanmar.
Preceding the foreign visits was the decision by the Narendra Modi to invite leaders of all SAARC (South Asian Association for Regional Cooperation) nations along with Mauritius to attend his swearing-in ceremony — a first of its kind initiative.
However, the cancellation of the foreign secretary-level talks with Pakistan is a blow to peace prospects three months after Pakistani Prime Minister Nawaz Sharif attended Modi's inauguration, raising hopes of improving ties between the South Asian rivals.
Gateway House brings you a series of special reports and analyses on India's dynamic relationship with her neighbours.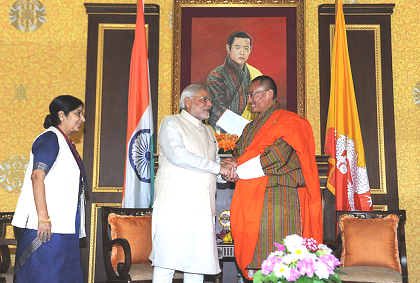 Karma Ura, President of the Centre for Bhutan Studies, examines how closely Bhutan's economy is linked to that of India's, and despite pressures from powerful countries, Bhutan has always kept Indian interests paramount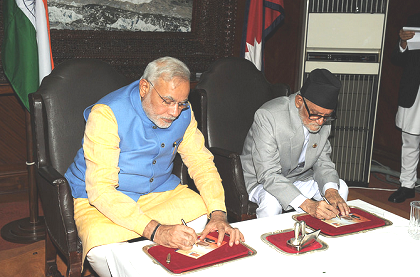 India-Nepal: a Himalayan opportunity
Amit Bhandari, Energy & Enviornment Studies Fellow, underlines how Modi's announcement of hydropower being a key area of synergy in the India-Nepal bilateral will help India solve its electricity shortage
Raising the bar on India-Myanmar ties
With a 1600-kilometre-long shared border, and a maritime boundary in the North East, Myanmar is critical to India's Look East policy. Wasbir Hussain, executive director of the Centre for Development and Peace Studies, highlights how India has to look beyond the China bogey in order to find ways to truly consolidate ties with Myanmar
Cancellation of India-Pakistan Foreign Secretary Talks
Neelam Deo, director at Gateway House and former diplomat, comments on the cancellation of foreign secretary-level talks between India and Pakistan.
RESEARCH PAPERS
In the past few years, the SAARC region has seen promising engagements in mutual cooperation between nations. For these developments to hold, new ideas must be discussed
This report of Gateway House's Policy Trip to Myanmar recommends how India can participate in Myanmar's emerging market and enhance India's trade and strategic interests in Asia