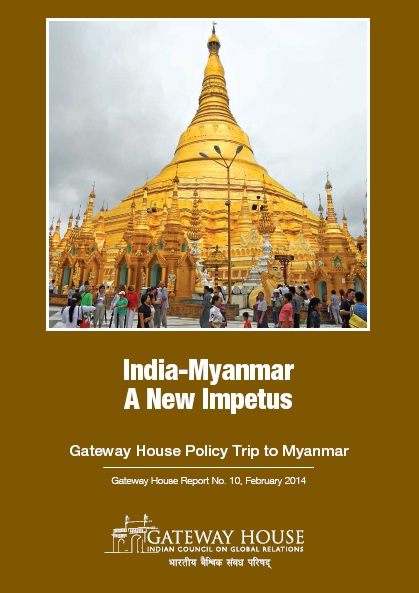 India-Myanmar: A New Impetus
This foreword is part of a larger report titled 'India-Myanmar: A New Impetus,'  based on Gateway House's Policy Trip to Myanmar from October 1-5, 2012.
You can download the full report, here.
Foreword:
The opening up of Myanmar is one of the most dramatic and unexpected events in modern Asian history. In contrast to the concurrent political upheavals of the Arab world, Myanmar is stepping into the optimism of the ongoing Asian century. Its geographical position between two giant nations, India and China, is significant. It makes Myanmar the economic gateway to ASEAN for India, and the gateway to South and West Asia for China. It also makes Myanmar a test case for a new development model and a new global politics.
Multilateral agencies preach equitable development, but the world has rarely seen it: in Myanmar, both the ruling military majority and the minority opposition are aware of the development failures of the past and are keen to avoid the same mistakes. Politically, by inching its way into democracy, Myanmar leaves behind North Korea and China as the only remaining autocracies in Asia. With careful attention to social and political equity, Myanmar can diminish the unresolved Buddhist-Muslim and ethnic clashes within its borders, setting an example for its Asian neighbours.
For India, Myanmar is more than just an economic opportunity and geostrategic buffer – it is also a chance to set right the neglect of our own northeast by linking it infrastructurally, commercially and spiritually with Myanmar; to revive our eastern ports and commercial activity in the Bay of Bengal; and to reignite our Buddhist heritage. It is also a chance for India's developmental and democratic model to find resonance and replication. Myanmar's path will not be linear, pointing again to the relevance of the Indian experience – not necessarily success – in addressing many of the same issues.
Still, this is a unique moment for India – our extended neighbour Myanmar offers us the opportunity to robustly reactivate our old ties to the East, while Afghanistan reconnects us comprehensively to our West. The policies we follow for these two nations, then, hold the key to India's future in Asia.
With this in mind, Gateway House invited a select group of its members on a week-long policy trip to Myanmar. The group included those among our members with a genuine interest in India-Myanmar relations, and whose businesses at home include education, manufacturing, agriculture, aviation, tourism, real estate, and culture and the arts – all areas where Myanmar needs intellectual and commercial inputs.
In Myanmar, we met diplomats, businessmen, government officials, ministers, opposition activists, non-governmental organisations, media persons, environmentalists, artisans, monks, and descendants of the last king of Burma, all while absorbing the matchless beauty and unique faith of Myanmar and its people.
The report of this group and its policy recommendations are encased in this publication.
Related reading:
1. India-Myanmar: A balance of interests
Gateway House published this Op-Ed, by Manjeet Kripalani, on 29 March 2013. She argues that as a neighbour, India has legitimate interests in Myanmar, especially for peace and progress in its North East.
2. Myanmar in the ASEAN Matrix: An opportunity for India?
Gateway House published this Op-Ed, by Jesudas Bell, on 18 May 2012. He argues that the democratisation in Myanmar presents India an opportunity to increase its access to South East Asian countries as well, especially with members of ASEAN.
3. Sanctions on Myanmar: Have they worked?
Gateway House published this Op-Ed, by Neelam Deo, on 1 May 2012. She argues that although the West is quick to claim that their sanctions against Myanmar have forced the government to implement political and economic reforms in the country, such bans do not usually achieve their stated purpose.
You can download the PDF version of this paper, here.
This paper was exclusively written for Gateway House: Indian Council on Global Relations. You can read more exclusive content here.
For interview requests with the author, or for permission to republish, please contact outreach@gatewayhouse.in.
© Copyright 2014 Gateway House: Indian Council on Global Relations. All rights reserved. Any unauthorized copying or reproduction is strictly prohibited.