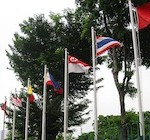 The desire of Myanmar's leaders to open the country to the outside world has led to considerable euphoria in India – which sees its policy of engagement with the once-isolated nation paying off.  There's also speculation that lifting economic sanctions could create a stimulus that might facilitate India's access to other ASEAN countries and be especially beneficial to India's underdeveloped northeastern states.
This burst of optimism, however, must be tempered by the fact that India's 'Look East' policy with Asian nations has been more wishful thinking rather than economic development. The long-awaited road and rail connections between India and countries to its east, remains a vision.
India has been handicapped by the fact that while its relations with certain countries have been more assiduously cultivated – such as Singapore, Indonesia, Thailand and Malaysia – there has been less attention to Cambodia, Laos, Brunei and the Philippines. Even Vietnam which enjoys a 'strategic partnership' with India has only merited attention in a desultory fashion.  This is a loss given the long cultural, historical and political ties of India with many of these countries.  Not to be forgotten that a generation or two of Indian leaders and diplomats grew up honing their foreign policy skills in the political minefields of Indochina!
Such selective relationship building is also disadvantageous when dealing with an association of countries where the chair rotates every year and where, in decision-making by consensus, every member country is as powerful as the next. This has often led to a situation where India's interests have been supported by certain members within ASEAN, only to be vehemently opposed by others.
To be fair, South Block, assisted by businesses, academics and think tanks, have tried to provide continuity and engagement with all ASEAN countries including the smaller ones.  However, without engagement at a political level in India this is not an easy task.
Would the rapid emergence of Myanmar as an economic powerhouse on India's doorstep change all that? There is the advantage that being next door to India makes Myanmar accessible. However, it would take a concerted and unsparing effort on India's part to keep relations with Myanmar on an even keel and focus on their special relationship as neighbors.
It is likely that Myanmar is going to see itself as much more aligned with ASEAN and East Asia – rather than where economic, political and commercial policies are concerned. This would be particularly so if, as commonly believed, one of the main reasons for the current opening of Myanmar to the outside world is that its leaders wish to emulate the economic successes of Thailand, Vietnam and Indonesia.
The Myanmar strategy for India should therefore be two-pronged.  On the one hand continue to strengthen ties based on commonly shared objectives: of developing the largely underdeveloped areas on both sides of the common border as well as attending to other needs as neighboring countries.  On the other hand, India should use Myanmar's increasing weight in ASEAN – starting from its chairmanship of the bloc in 2014 – to build stronger ties with the association and, in particular with the members which still have catching up to do – the so-called CLMV countries, Cambodia, Laos, Myanmar and Vietnam.
 Words need to be translated into action to ensure that assistance promised at high-level meetings is implemented quickly. India's engagement with ASEAN has been seen as lacking clarity of purpose and drive in the past. If Myanmar's new openness serves to reinforce ties not only between India and that country but also with the whole of the ASEAN bloc, this would indeed be a great step forward.
D. Jesudas Bell is President and CEO of Futurelinks International, a business consultancy company based in Singapore, with its primary focus on advising Indian companies interested in projects and other business in Southeast Asia.
This article was exclusively written for Gateway House: Indian Council on Global Relations. You can read more exclusive content here.
For interview requests with the author, or for permission to republish, please contact outreach@gatewayhouse.in.
© Copyright 2012 Gateway House: Indian Council on Global Relations. All rights reserved. Any unauthorized copying or reproduction is strictly prohibited.