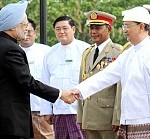 The unrest in Myanmar's border states is in the news, but going unnoticed by the headlines are the visits by Myanmarese business to India in search of investment. In early March, a group of ministers and businessmen from Mandalay visited Mumbai, scouting for investments in their industrial, agri-business and transport sectors. These are small and medium enterprises and traders, natural agents of co-operation between India and Myanmar.
It is significant that the private sectors of India and Myanmar are looking at each others' potential for the first time in 25 years. The opportunity is great. Myanmar is India's gateway to ASEAN, a strategic buffer against China, and the catalyst that will unlock the potential of India's own rich but neglected North East, with which Myanmar has so much in common.
On a recent policy trip to Myanmar organised by Gateway House for its members, that country's ministers and entrepreneurs emphasised to the visitors the importance of India's presence in their country. They are looking to imbibe democratic values from India, build their human capital with education, use their fertile land to the best agricultural advantage and learn how to start and run private businesses both big and small. Certainly, India's experience is easier to replicate than that of more developed countries like Japan or the United States.
Indian business would do well to respond robustly. Myanmar is close by, it is familiar. Its consumer market is almost the same size as Gujarat, but here are 60 million people who need almost everything from hair oil to scooters to business schools and airlines. Indian products are already hugely popular, from pharmaceuticals to cotton vests, with a reputation for being affordable and reliable. These are currently mostly bought from the border towns of the North East, but establishing a formal distribution – and later manufacturing – system has huge business potential. India-Myanmar trade is a miniscule $400 million, far behind China ($14 billion), Thailand and Singapore, which are Myanmar's top three trading partners (India is No. 11). V. Seshadri, India's Ambassador to Myanmar, says bilateral trade can easily reach $5 billion in the next three years.
Myanmar is receptive. The opening up and the current transformation of the country is being led by the former general and now reformer President Thein Sein and an inner circle of 14 advisors called the National Economic & Social Advisory Council. It is a small cabal comprising of various ministers of the railways, industry and agriculture who transcend their portfolios, as also special advisors like author Thant Myint-U. This group is working overtime to transform Myanmar; but analysts say the next year is a critical time for this government to make progress in crossing over to the beneficial side of development, before the 2015 elections.
So Myanmar is in a hurry. A senior official at the powerful Investment Commission in Naypyidaw told the Gateway House policy group, "We can't always go to the monastery for peace and tranquillity. Sometimes there is a time to be aggressive."
What is needed now for Myanmar is to:
a) create a new business model for development by building Myanmar's creative and artisanal skills,
b) modernise the agriculture of the largely rural society, and
c) build administrative and democratic capacity.
Here, India is an ideal partner. As a neighbour, we have legitimate interests in Myanmar's natural resources, and have hard investments in the gas pipelines and roads of Myanmar. And surely the Myanmarese need power and cell phones which we can provide. But while the West, China and South East Asia can build Myanmar's infrastructure, India can help build its society, its systems and its soft skills to create a judicious balance between what is extracted from the country and what is created at the grassroots. From India, the Myanmarese want to learn about regulations, banking systems, commodities exchanges, media councils, software and telecom skills.
Most important, India can help Myanmar build its creative economy by replicating the social enterprises and new retail models like Fabindia which use the artisanal skills of talented but poor, rural, illiterate craftsmen and transfer them into the modern retail market. This is vital for newly developing countries like Myanmar – and in Africa too – which can take up to two decades to develop a formal education systembut whose rich traditional proficiencies can meanwhile be directed into the marketplace, helping with job and income generation.
India can also help Myanmar build its formal education and healthcare systems. Our low cost pharmaceutical companies can establish distribution systems in the country. Our affordable high quality hospital systems such as Apollo Hospitals and smaller maternity care centres like Life Spring can be set up in Myanmar's towns.
Myanmar's formal education system has been neglected for decades, and government schools are poor and under-funded. In its place exist a large number of community-supported, mostly monastic schools. A starting point is upgrading the systems and processes of the monastery schools, leading them away from rote learning to more modern curricula accessible to a largely rural public. Attached to the schools can also be vocational training centres, so that Myanmarese youth can be equipped with skills that help to bring in income. Indian education NGOs like Pratham, with vast experience in low-income and state schooling improvement and learning intervention, can be involved.
Of course there will be China to deal with as a competitor. It is everywhere: China built the airport in Naypyidaw; it imports Myanmar's jade, gold and timber; its cheap two-wheel vehicles ply the roads of Mandalay. It values Myanmar's natural habitat, using its flora for medicinal cures. The champa flower, for instance, is a proven cure for ear aches. Chinese brokers can be seen picking up the flowers from Myanmar's villages to take them back, illegally, to China for medicinal purposes.
India will also face major competition from the West. The Germans are already building the transportation systems, the Danes and Norwegians are pouring in funding, the Japanese are helping with urban planning, and the Singaporeans are building roads and ports. The latter are of especial importance as a comprehensive port system in Myanmar will shorten global shipping routes and reduce costs.
These are opportunities for India, and they must be seized at the earliest. Investing in Myanmar is also sound domestic policy for India: it is key for peace in our North East, which is once again simmering with discontent. Having open borders between Myanmar and our North East, for instance, will ensure robust cross-border tradeand the development of long-overdue transport routes, which can connect India affordably with ASEAN. The build-out of the Dawei deep sea port on Myanmar's west coast will cut shipping time and costs from Chennai by a dramatic 90% to just four days, bypassing our eternal dependence on Singapore. It is also of strategic importance for India, given the increased Chinese naval activity around the Bay of Bengal.
India already has considerable stature in Myanmar. In a quiet upscale lane in Yangon is India House, our ambassadorial residence and one of the most beautiful buildings in the city. The white colonial structure with tall columns and large, manicured grounds is reminiscent of Lutyen's Delhi. It was lovingly restored during Shyam Saran's tenure as India's ambassador to Myanmar in 2001. Locals call it the White House of South East Asia.
The Myanmarese expect India to live up to the stature of its embassy. India will be wise to do so. The time is ripe – and urgent.
Manjeet Kripalani is the Co-founder and Executive Director of Gateway House: Indian Council on Global Relations.
This article was exclusively written for Gateway House: Indian Council on Global Relations. You can read more exclusive content here.
For interview requests with the author, or for permission to republish, please contact outreach@gatewayhouse.in.
© Copyright 2013 Gateway House: Indian Council on Global Relations. All rights reserved. Any unauthorized copying or reproduction is strictly prohibited.