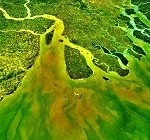 Sitting on the sensitive border between India and Bangladesh is the Sundarbans, one of the most wondrous and also most endangered eco-systems in the world. It is a precious mangrove forest of 10,000 square km, sixty percent of which is in Bangladesh and the rest in India. The region is a diplomatic thorn between the two countries: its environmental troubles are caused by neglect and climate change, resulting in the creation of refugees due to loss of livelihood and water-sharing problems.
The Sundarbans' issues can advance the relationship between the two neighbors – or send them into retreat.
On September 6, Prime Minister Manmohan Singh will visit Bangladesh for a highly anticipated round of talks. This is the moment for both sides to look afresh at the Sundarbans and make it the creative spur for our bilateral prosperity.
Luckily he has something solid to build on. There has been a sincere effort from policymakers on both sides to break the logjam creatively. One of the most innovative initiatives has been the use of environmental diplomacy, championed by India's former Minister for Environment and Forests, Jairam Ramesh. In January last year, Ramesh suggested that India and Bangladesh join hands to protect the Sundarbans from environmental degradation by the formation of an Indo-Bangladesh Sundarbans Eco-System Forum. It will require the participation of non-governmental organizations, civil society groups and local communities from both countries, and joint coordination in afforestation, management of mangroves and conservation of the Bengal tiger. The Forum will be functional later this year.
The timing of Ramesh's initiative could not have been more propitious. India and Bangladesh's fractious relationship has been on the mend over the past two years. Bangladeshi Prime Minister Sheikh Hasina has made several overtures of friendship toward India, most notably by cracking down on Indian separatist groups from the North-East, which have long had safe havens in Bangladesh. In July, Bangladesh honored former Indian Prime Minister Indira Gandhi for her contribution to the liberation war of 1971 – a significant acknowledgment of India's role in Bangladesh's history.
What needs resolution are the issues created by the construction of the Farakka Barrage in 1975, and the attendant allocation of the Ganges water. The barrage diverted the Ganges waters up-stream, adversely impacting the Sundarbans. Most parts of the wetlands have now surpassed their water-salinity thresholds, degrading the fragile ecosystem and resulting in loss of livelihood. Worse, as a low-lying deltaic region, Bangladesh faces the dire possibility of being partially submerged if sea levels continue to rise as a consequence of climate change. This could displace an estimated 10 million to 30 million inhabitants of Bangladesh's southern coast alone, turning them into "climate refugees" – a migration headache for both countries. Already thousands have moved into the slums of Kolkata and Dhaka. In short, the Sundarbans is at the epicenter of both our bilateral diplomatic challenges and of the most intense global battles against climate change.
There is hope. For all its predicaments, the Sundarbans is a place where adapting to climate change actually seems possible, thanks largely to the one commodity that both India and Bangladesh have in abundance: human resilience. This must not be wasted. The economic and environmental element must be enjoined for maximum impact. When Prime Minister Singh heads to Dhaka next week, he must formalise Jairam Ramesh's Forum through a specific Indo-Bangladesh Bilateral Environmental Treaty for the Sundarbans. The treaty will facilitate implementation of the programmes under the Forum, and mandate inclusive and coordinated reform between the two nations at state, district and grassroots levels. This will help tackle the problems of sensitive eco-systems as a whole rather than in the separate and piecemeal form currently the norm in both countries.
Several existing and worthy proposals can be included in the treaty for joint and simultaneous execution by both India and Bangladesh. Funds exist: Last year New Delhi allocated Rs. 300 crores of the Rs.1,156 crore Integrated Coastal Zone Management project to be spent in West Bengal, most of it on the Indian Sundarbans. The funds are for prevention of erosion of the islands, building of storm shelters, promotion of eco-tourism and livelihood improvement. In addition is a Rs. 450 crore central grant for strengthening embankments at critical areas in the Indian Sundarbans. Bangladesh has similar allocations – Rs. 700 crores for its Sundarbans.
The Treaty should mandate effective cross-border management in both countries at national, state and local levels. Community-driven projects to reduce unsustainable livelihood practices that cause environmental degradation are an imperative. Another is establishing institutional linkages to facilitate sharing of knowledge, information and capacity-building programs. Harun Rashid, the former Bangladesh ambassador to the UN, suggests establishing a joint committee of climate and biodiversity experts from Bangladesh and India to harness local knowledge on innovative cropping methods in inter-tidal areas and real-time changes in climate. A joint relocation and emergency evacuation programme can be started for sudden climate disasters such as cyclones or flooding. Both nations can use their strong grassroots institutions to ensure policies are practically implemented and effective. Micro-credit programs like micro-loans for livelihoods and micro-insurance for environmental disasters are examples.
It is necessary to involve, directly, the governments of bordering states in this effort. Indeed, in a strategic move, the chief ministers of Bengal, Assam, Mizoram, Tripura and Meghalaya will accompany Prime Minister Singh to Dhaka, and participate in the signing of several bilateral pacts, including a 15-year interim water-sharing agreement for the Teesta River.
With immediate collaboration and strict implementation of such recommendations, the further retreat of the Sundarbans can be halted. Instead of being on the diplomatic backburner, it can be a model for regional cooperation.
Shloka Nath is a Researcher at Gateway House: Indian Council for Global Relations. This article is a précis of her larger paper, 'Environmental diplomacy: Saving the Sunderbans and restoring Indo-Bangladesh friendship.'
This article was exclusively written for Gateway House: Indian Council on Global Relations. You can read more exclusive content here.
For interview requests with the author, or for permission to republish, please contact outreach@gatewayhouse.in.
© Copyright 2011 Gateway House: Indian Council on Global Relations. All rights reserved. Any unauthorized copying or reproduction is strictly prohibited.