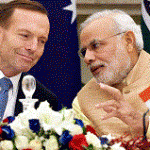 Narendra Modi and Tony Abbott will meet for the second time in 3 months at the India-Australia bilateral summit from 17-18 November 2014. Increasing economic exchanges and maritime security cooperation will be the focus of discussion. Neelam Deo, director at Gateway House, comments on the India-Australia bilateral and the expected outcomes from Prime Minister Modi's visit.
Statement:
"Modi will be the first Indian prime minister to visit Australia since 1986. His visit to Australia follows a landmark nuclear cooperation agreement signed in New Delhi during Tony Abbott's visit in September 2014, and marks a strengthening bilateral relationship.
At $17 billion, bilateral trade between India and Australia is below potential. There are opportunities to increase cooperation in areas like infrastructure, power sector, information technology, education and tourism. Import of natural resources, especially coal, is a key element of bilateral trade. It is essential to expedite negotiations on the Comprehensive Economic Cooperation Agreement (CECA), which would reduce non-tariff barriers and encourage investments.
Modi's foreign visits have been marked by strong outreach to the diaspora and business communities with the intention of restoring faith in India's growth story and inviting investment in the government's key initiatives like Make in India, Digital India, and Clean India. In Australia, Modi will reach out to business leaders and the nearly 300,000 strong Indian diaspora, who have made commendable contributions as teachers, doctors, engineers and professionals in Australia. Modi's outreach strategy has generated great interest among the Indian origin communities in all the countries he has visited.
India and Australia are the leading maritime powers among the Indian Ocean states – the two countries increasingly engage in maritime exercises together, which have expanded to include the U.S. and could further incorporate maritime neighbours like Singapore, Malaysia and Indonesia.  The India-Australia equation must continue to evolve into a robust strategic partnership that lives up to the economic potential of both countries as well as their importance as maritime powers in the Indian Ocean region."
For more information or interview requests, please contact Reetika Joshi at joshi.reetika@gatewayhouse.in.
Related:
India-Australia nuclear deal: a pivot point
India-Australia security arrangement: challenges and opportunities (research paper)
India-Australia security arrangement: challenges and opportunities (policy perspective)
A strategic partner in-the-making