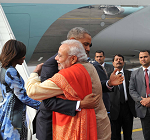 U.S. President Barack Obama's visit to India as the chief guest for the Republic Day celebration was rich in history and pageantry, and produced a wider array of serious agreements than many observers had expected. Perhaps its biggest accomplishment, however, was to take a big step forward in the degree of comfort both countries feel about this complicated relationship. Now the hard work begins.
One can date the transformation of U.S.-India ties from President Clinton's visit to India in 2000. It builds on three big factors: the changing global environment, with the end of the Cold War; India's expanding economy, now widely seen as a critical source of Indian power and position in the world; and the resulting convergence of the two countries' interests, especially in the Indian Ocean and the Asia-Pacific region. The first two of these are now commonly accepted as parts of the policy landscape.
Shared interests have already become a critical building block for U.S.-India ties. Obama's visit put some of the shared interests, especially in the security field, into public view. The two leaders agreed on the basic text of a new ten-year framework for defence cooperation, now awaiting signature by the two ministers. This, and the announcement of four new "pathfinder" projects for co-development and co-production under the Defense Trade and Technology Initiative (DTTI), highlighted defense as the most active sector for government-to-government collaboration.
The two leaders chose to release a Joint Strategic Vision for the Asia-Pacific and Indian Ocean Region. Indian and U.S. officials concerned with East Asia and the Indian Ocean have been meeting regularly for some four years, quietly comparing notes and discovering the strong similarity in their perspectives on the region and the role of a rising China. For even longer, the Indian and U.S. navies have had a similar perspective on maritime security in the Indian Ocean and to the east. The leaders have now publicly acknowledged these areas of convergence.
What has been missing until now, however, has been a mutual comfort level. This cannot be achieved like turning a switch on or off. The two leaders' impromptu visit to the Martin Luther King Memorial in Washington last September set a tone of personal friendship. Prime Minister Modi's Republic Day invitation and his American-style reception of Obama with big bear hugs and first names deepened this. The personal connection was a surprise: the two men bring very different political and cultural baggage with them. Obama is famously cerebral in his approach to policy and has not had an easy time expanding his small group of close advisors. Modi would have had every reason to resent the nine-year visa ban imposed by the United States.
Besides the evident personal warmth, the more tangible results of this visit included some "leaps of faith" that one country or the other was willing to make with the other. A case in point is the notional agreement on how to deal with India's nuclear liability law. Whether it actually solves the problem American companies have had with India's liability regime remains to be seen but at this point it is significant that the two governments are trying to go together into uncharted territory in dealing with a knotty issue.
Was Obama's Republic Day visit transformational? Not yet. Side by side with the common interests are some unfinished business, and some differences. The U.S.-India commercial agenda is long and stubborn. Both want to move forward, but philosophical disagreements (e.g. intellectual property) and legal differences (such as on social security payments) stand in the way. India is even less willing than the United States to pay the short term costs of mitigating climate change. The two countries approach the WTO's troubled Doha Round very differently, and the future of global trade is tremendously important for Washington.  And while the Joint Statement pledged to work together on anti-terrorism, India still has profound reservations about U.S. ties with Pakistan and about how the United States deals with Iran.
More fundamentally, transformation is a process, not a sudden accomplishment. India and the United States have moved along the curve. But they come to the table with different visions of the role they should play in the world, and different concepts of partnership. For the United States, it all starts with leadership. Becoming "India's best partner," in Obama's words, will involve a lot of listening as well as the experience of working together. For India, the watchword is "strategic autonomy." Many of the procedures the U.S. is required to follow, for example, in the defense field do not easily fit in with India's prickly view of sovereignty. Finding a mutually satisfactory partnership model will involve India trying out new ways of working with other countries – including other big powers – and making mutual accommodations to their global ambitions. Both in policy terms and in the comfort level, there will be ups and downs.
Both countries, and both leaders, should be pleased with what they achieved during the past few days. There's plenty of work ahead. The India-U.S. relationship probably will not be an easy one in their lifetime, but it is starting to be important and strategic.
Teresita C. Schaffer is a non-resident senior fellow at Brookings Institution and a Senior Advisor at McLarty Associates, a Washington strategic advising firm. During her 30 year career in the U.S. diplomatic service, she served in Islamabad, Delhi and Dhaka, and as U.S. ambassador to Sri Lanka.
This article was exclusively written for Gateway House: Indian Council on Global Relations. You can read more exclusive content here.
For interview requests with the author, or for permission to republish, please contact outreach@gatewayhouse.in.
© Copyright 2015 Gateway House: Indian Council on Global Relations. All rights reserved. Any unauthorized copying or reproduction is strictly prohibited