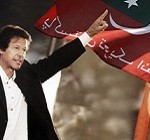 In urban living rooms and media houses from Karachi to New Delhi, Imran Khan's moniker "Taliban Khan"' is picking up fast, and with good reason – Khan's consistent pandering to hardliners can no longer be ruled out while predicting his policies.
Khan has sought a renewed and reformed relationship based on mutual trust with India, a country where he says he received immense love and friendship during his cricket tours; a new relationship where ''there will be no double games" as he said in an interview to an Indian television channel in September 2012. This, however, may only be rhetoric.
For India to have a trustworthy negotiating partner across the border, it is crucial that the future government of Pakistan is free from the machinations of the Inter-Services Intelligence (ISI) and the army. Khan has proclaimed that he will control the military and the ISI if he becomes prime minister, and that he will not let Pakistan's policy on India be dictated by them. But such a claim is hard to believe. The former ISI chief Lt. Gen. Ahmed Shuja Pasha has allegedly been misusing the political cell of the ISI to persuade several politicians to join Khan's Pakistan Tehreek-e-Insaaf (PTI) party, while he channels huge government funds into Khan's massive election campaign. Khan vehemently denies these charges.
Khan's position on Kashmir has been unclear, almost confusing at times. A year ago he declared that for India-Pakistan ties to improve, the issue should be put on the back burner for a while, and other "confidence-building measures" should be initiated. He then contradicted himself in January 2012 at Davos, when he said, "You can't put Kashmir on the backburner and talk about trade ties." He became even more vociferous after he met Yasin Malik, the former chief of the Jammu Kashmir Liberation Front (JKLF), a few months later in Islamabad. Khan later said in an interview that he no longer considers Kashmir as a territorial dispute; it is, in his view, now a human rights issue.
Khan condemned the 26 November 2008 terror attacks in Mumbai, but he also said that the incident should not become a baseline for deciding India-Pakistan relations. At the same time, he said we should focus on resolving Kashmir first to prevent Mumbai-like incidents in the future. This conflicts with the order of priorities set by India: terrorism needs to be addressed first, followed by an equal emphasis on other areas recognised in the composite dialogue process.
However unstable his commitment to the Kashmir issue may be, Khan has lately been particularly consistent about denouncing the methods of the Indian army in the valley, while saying that he is ready to guarantee that no militancy is initiated from across the border provided India demilitarises Kashmir. Also noteworthy in this regard is his clear opinion that any military pull-out out of Siachen cannot be unilateral – both India and Pakistan would need to pull-out simultaneously. This is a much more stringent stance than that of his rival Nawaz Sharif, who has maintained that Pakistan should take the lead in pulling out of the glacial battlefield.
When asked in an interview on an Indian television channel in November 2011 if he can promise Indians that no terror attacks will be launched against India from Pakistani if he became Prime Minister, Khan remained conditional. He said, "In that case Indians should also guarantee us that we should have no problems, either in Balochistan or the areas where Indian agencies are blamed."
This is unsettling, considering that Khan has not even accepted evidence against Hafiz Saeed's involvement in 26/11. At rallies which condemned Bin Laden's killing, leaders of the PTI party have publicly shared the stage with the likes of Jamaat-ud-Dawa and groups in the Difa-e-Pakistan Council, which rejected the Pakistan People's Party (PPP) government's decision to grant India "most-favoured nation" status.
Khan has also said that he would not object to any form of India-Afghan strategic ties as long as the ties are not perceived as hostile by the Pakistani army, and as long as the India-Pakistan relationship evolves positively. This indicates that his approach will have a military filter.
Khan's apparent alignment with the Army's various positions might be coincidental, but it still raises questions. For a long time it was presumed that as a new leader in Pakistan's political arena, Khan was free from the army's pressure. But he reportedly has close links with General Parvez Kayani, Chief of Army Staff of the Pakistan Army.
In contrast, Sharif comes across as more upright, he has been consistent and clear about coming down hard on the Army-ISI nexus ever since he was ousted by them in the 1999 coup. Sharif's comparatively less strident anti-U.S. attitude also makes him Washington's best bet at the moment. For India, this might strengthen the case for a U.S.-brokered deal on Kashmir.
Sharif's has supported President Asif Ali Zardari's liberal visa regimes, even recommending visa-on-arrival for Indians, amid criticism from sections of the mainstream media in Pakistan.
India also has to be cautious about Imran Khan's position on the nuclear issue. One of the top leaders of the PTI, Shah Mehmood Qureshi, a former foreign minister of the PPP government who defected to the PTI, has insisted that a nuclear deal between the U.S. and India severely undermines Pakistan. In December 2011, he criticised Zardari for not opposing the Indo-U.S. civil nuclear partnership agreement. Most worryingly, he has not ruled out the use of nuclear weapons, claiming that if Pakistan signs a "no first strike" agreement with India, its nuclear assets will be wasted.
For now, any comments that Imran Khan makes about India seem to be directed at the Pakistani voter, balanced to appease both liberals and extremists. His equivocation is not useful for India, and Khan, if elected, must take clear, consistent policy positions on bilateral issues, which account for India's concerns and work towards resolving long- persisting issues.
Yasin Choudhary is a Research Intern at Gateway House: Indian Council on Global Relations.
This article was exclusively written for Gateway House: Indian Council on Global Relations. You can read more exclusive content here.
For interview requests with the author, or for permission to republish, please contact outreach@gatewayhouse.in.
© Copyright 2012 Gateway House: Indian Council on Global Relations. All rights reserved. Any unauthorized copying or reproduction is strictly prohibited.