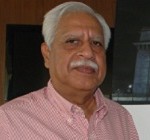 This October, the new leadership echelons of the Communist Party of China (CCP), as well as that of the People's Liberation Army (PLA), will be approved at the 18th Party Congress, in Beijing. These changes coincide with the rising domestic discontent, intra-Party rivalries and increased turbulence in China's neighbourhood. 
Jayadeva Ranade, former additional secretary in the Cabinet Secretariat, Government of India, shares his insights with Gateway House's Spike Nowak, on the significance of leadership transition in China, and its implications for India and the world. 
Q. What is the significance of the leadership transition in China for India, and the world?
It's a major transformation that's going to take place. There are a large number of top posts that are going to see new appointments. It's going to change the way business will be done in China. The previous leaders were mainly educated in the former Soviet Union, the new leaders that are going to be appointed have higher educational degrees in subjects like business administration, political science, history, economics, and law and have all been educated in China. But it doesn't mean they're insulated from what's happening outside, because many of them have relatives and children living abroad, and quite a few of them have been to Europe and the U.S. on scholarships or fellowships for a year or more.
I would call them the 'Cultural Revolution generation.' They have all been through the Cultural Revolution. Most of them suffered during the upheaval, yet they've joined the Chinese Communist Party (CCP). This indicates resoluteness and an unwavering commitment to the Party.
Since this is the first time that a large number of 'Princelings' will be getting promoted, they will bring with them a commitment towards the People's Republic of China – the country their families fought to establish. There is a commitment in them towards China to make sure that it becomes a great nation, and this indicates a more nationalistic mindset. This also means less flexibility on issues of sovereignty and territorial integrity.
Q. If Chinese leaders are going to be more nationalistic, and tougher, how do you see this playing out on border issues between India and China?
You can already see it in play in the context of the South China Sea. Neither the Hu Jintao leadership, nor the incoming leaders have shown signs of yielding ground as far as the territorial claims are concerned. While one can argue that this is Hu Jintao's leadership that we are seeing in action, the fact is that he has to take his successors, Xi Jinping and Li Keqiang along with him in his decisions. I don't see any change in policy in the near future.
As far as India is concerned, Xi Jinping has signaled his attitude towards the Sino-Indian border issue by visiting Bagyi, in Nyingchi prefecture. His visit to Nyingchi (which includes India's Arunachal Pradesh as part of the county), to celebrate the 60th anniversary of Tibet's 'peaceful liberation,' confirms his view on Arunachal Pradesh being claimed as part of China. I don't see them being willing to give ground in negotiations on border issues between China and India.
Q. You mentioned in one of your articles that the upcoming Chinese Military Commission will have more PLA Navy and Air Force representation than before. Is this something India should be concerned about?
Well not only India. It is a matter of concern for all. This development indicates a progress in the Integrated Joint Operations (IJO) – a concept that has been emphasized by Hu Jintao ever since he became the Chairman of the Military Commission, in 2004. IJO spells more involvement of the navy and the air force, along with the ground forces, and is the reason we have been witnessing larger exercises involving all three services, and multi-Military Region exercises that traverse longer distances with different kinds of equipment.
The second aspect is that they're going to have a new Second Artillery Corps Commander, which is a strategic force, and all the four principle departments of the PLA will have new directors. All except a couple of the leaders are going to be professional soldiers with an operational background.
This will happen throughout the Military Commission for the first time, and will certainly bring about a change in the attitude of the top leadership of the Chinese military.
Q. Do you think India should partner with the United States as a military and strategic ally to counter China's increasing influence in Asia?
I think the term U.S.-India strategic partnership denotes something else. There is no alliance here; it's a partnership, that's it. I don't think the objective of the partnership is to contain China, or to prevent China's rise; at least that's not New Delhi's intention. It doesn't make any sense for India to partner like this with the U.S. for two reasons: Firstly, we share an extensive border with the Chinese, and in case of an escalation in tensions, India and China will have to grapple with the problem together while the U.S. will be a distant witness. Secondly, the U.S. and China are both major powers. There exists a political – in terms of cooperation on international and regional issues – and economic interdependence between the two.
I don't know whether India would be comfortable in a situation where it can't foresee the long-term relationship between the U.S. and China.   Everyone is going to keep a watch on Sino-U.S. relations, and India will determine its own policies towards China, depending on how it sees Sino-U.S. relations moving ahead.
Q. Do you see any major changes in foreign policy that India should be concerned about with this leadership transition?
I think we'll see a general continuation of the present policy, but with increased assertiveness. I don't anticipate the new leadership spoiling for a fight. I don't think they will want to jeopardize their own modernization programs and their development, by picking a fight in the region. But they're certainly going to barrel ahead with their own developmental programs, and will probably become more strident if they perceive others as interfering in their internal affairs. Whether the others are actually doing it or not is another matter; it's Beijing's perception that will trigger the reaction.
Jayadeva Ranade is a former Additional Secretary, Cabinet Secretariat, Government of India. He is a seasoned China analyst, and a security and intelligence expert with over 25 years experience in the field.
This interview was exclusively conducted for Gateway House: Indian Council on Global Relations. You can read more exclusive content here.
For interview requests with the author, or for permission to republish, please contact outreach@gatewayhouse.in.
© Copyright 2012 Gateway House: Indian Council on Global Relations. All rights reserved. Any unauthorized copying or reproduction is strictly prohibited.