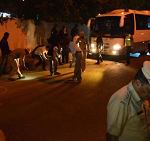 On the night of 28 December 2014, an IED exploded outside a restaurant in Bengaluru that killed one person and injured another. Sameer Patil, associate fellow for national security, ethnic conflict and terrorism at Gateway House, comments on the attack.
Statement:
"No terrorist group has claimed responsibility for the attack in Bengaluru as yet. However, it is likely that a module of the Students' Islamic Movement of India – Indian Mujahedeen – is behind the blast. 
The Indian Mujahedeen carried out their first series of blasts in 2008 in key cities across India. However, the group fell into disarray after key operatives were arrested in early 2014. Since then, the group has been reduced to carrying out low intensity IED blasts in an attempt to showcase their relevance and to test the resolve of the Indian security establishment.
Bengaluru has also been in the news recently for the arrest of Twitter jihadi suspect, Mehdi Biswas, for running a pro-Islamic State account. 
Both these developments highlight the need to closely monitor home-grown radicals and their support network. A key requirement for this is the local informers network (human intelligence), which Indian law enforcement agencies have not been able to develop fully."
For more information or interview requests, please contact Reetika Joshi at joshi.reetika@gatewayhouse.in.