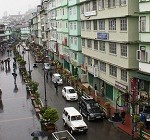 On the ground however, Sikkim's development is now a model not only for India's north-eastern states, but for the whole country and its Himalayan neighbors. For example, the average Sikkimese is more than twice as rich as her counterpart in Nepal, where politicians often cite Sikkim's example derisively to raise the bogey of India's Himalayan hegemony.
The key to Sikkim's success has been the political stability and lack of ethnic strife that has afflicted its neighboring states of Assam, Manipur and even Nepal. All communities in the state – the majority Nepalese, the formerly dominant Tibetans and immigrant Bengalis, Biharis and Marwaris – have benefited from the state's growth.
Chief Minister Pawan Kumar Chamling and his Sikkim Democratic Party government have now been in power for 18 years. Political continuity has meant that the bureaucracy has functioned efficiently, with innovative use of central government funds and schemes, especially in the rural areas of the state. This has helped shrink the percentage of Sikkimese below the poverty line from 31% in 2004-05, to 13% currently – half the national average. In five years, the state hopes to be poverty-free and have 100% concrete housing, says Chamling.
The Chief Minister of Sikkim, Pawan Kumar Chamling, holding Gateway House's Research Paper, 'A winning strategy for the North-East.'
Chamling's success lies in striking that difficult balance between using and preserving the state's rich natural resources. Protecting the biodiversity has been essential in boosting tourism, which has picked up again since an earthquake devastated parts of the state in September 2011. Chamling attributes his specialty Gangtok-style growth to being innovative with natural resources, eco-tourism and encouraging clean industries like hydropower, floriculture and organic farming.
A major achievement has been protecting the environment in what is a Himalayan bio-diversity hotspot – 14% of Sikkim's land is inhabitable and the rest is taken up by Himalayan glaciers and jungles grazing. Chamling has strictly enforced his laws: deforestation and pesticides have been banned and organic cultivation is encouraged; the state hopes to become fully organic in two years. Every time a tree is cut for a development project, 20 saplings are planted elsewhere. Laws against smoking in public places are strictly followed.
Through grassroots negotiations with rural communities over using land and other resources for development, Chamling's administration has been able to get over one of the big development hurdles that other Indian states face – the refusal of rural communities to give up their land or traditional means of livelihood. This is very different from neighbouring West Bengal which has suffered from political parties hijacking development initiatives to the detriment of the public.
Driving from the Bagdogra airport in northern Bengal to the capital Gangtok (Sikkim's own airport is under construction), the development gap with Sikkim's larger neighbor becomes quite evident. The unlit, unsafe roads of north Bengal give way to bright, tarred roads once across the border at Rangpo town. Sikkim Tourism Development Corporation has also started helicopter taxis on the Gangtok-Bagdogra route. They are becoming increasingly popular for time-conscious local businessmen and tourists alike in this upwardly mobile state.
Trade with China's Tibet Autonomous Region through the Nathu La pass resumed in 2006 and has had mixed results. Currently 29 items are exportable and 14 items are importable through the snow-clad peaks on the border. Chief minister Chamling would like to see trade expand and even host a smooth tourist border-crossing.
Somewhere, India intercepts – here it is on the road to Nathu La, which has been affected by frequent landslides on the Indian side. There is some disenchantment with the Indian army's Border Roads Organization, as many believe they could have done a better job at building and maintaining this important strategic route. On the Chinese side, as expected, the road is much better maintained.
Investment in human resources has been key: Sikkim now has four private universities apart from the state university for its young population, a majority of who are below the age of 25. The universities are trying to bridge the gap between job requirements and current skill sets of the population. The Sikkim Manipal University was set up as a public-private venture in 1995 – its engineering college is now ranked among the best in India and the distance learning program has benefited over 400,000 students from across the country.
It is clear: Rather than deriding Sikkim's model, China's leadership can see how well a vital a part of India works, and Nepal's politicians will do well to learn from their Himalayan neighbor's rapid progress.
Sambuddha Mitra Mustafi is a Senior Researcher at Gateway House: Indian Council on Global Relations.
This article was exclusively written for Gateway House: Indian Council on Global Relations. You can read more exclusive content here.
For interview requests with the author, or for permission to republish, please contact outreach@gatewayhouse.in.
© Copyright 2013 Gateway House: Indian Council on Global Relations. All rights reserved. Any unauthorized copying or reproduction is strictly prohibited