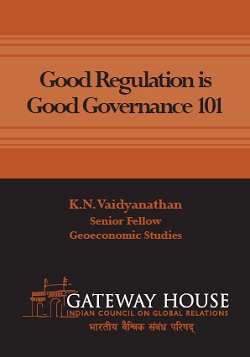 In 1925, at the time that Britain reverted to the gold standard, Winston Churchill, then Chancellor, said that he would like to see 'finance less proud and industry more secure.' The move was criticized by economists for overvaluation of the British Pound; but the quote was prescient and is especially relevant today, when the hubris of the financial markets has fractured the global economy so excessively.
Course correction so far has relied on bailouts. Instead what is immediately needed is the observance of good governance in regulation and in the long term, a restructuring of the regulatory architecture. Key to this is the recovery of ground lost by the regulator in ensuring market integrity, reinforcement of the currency of financial markets viz., trust, and deliverance of market stability which will help the underlying economy and the society at large. In sum: ensuring good regulation through good governance. This is the challenge before regulators today.
The impact and import of the global financial crisis can be judged by two simple numbers: global market capitalization and GDP growth. (Source – the World Federation of Exchanges www.world-exchanges.org data.worldbank.org), They grew from $17.1 trillion and $27.5 trillion in 1990 to $ 64.5 trillion and $ 63.2 trillion, in 2007 respectively. A year later, market capitalization had almost halved to $ 33.5 trillion while GDP growth fell from over 5% to 3% in 2008 and -0.5% in 2009.
The crisis that surfaced in 2007 has already peaked twice, in 2008 and 2011, and is far from over. In every analysis, financial market regulators have been accused of sleeping at their desks, held captive by the industry, remaining benign as the party went on and even abetting the excesses both wittingly and unwittingly.
You can download the PDF version of this essay, here.
K.N. Vaidyanathan is Senior Fellow, Geoeconomics Studies, Gateway House.
This essay was exclusively written for Gateway House: Indian Council on Global Relations. You can read more exclusive content here.
For interview requests with the author, or for permission to republish, please contact outreach@gatewayhouse.in.
©Copyright 2012 Gateway House: Indian Council on Global Relations. All rights reserved. Any unauthorized copying or reproduction is strictly prohibited.