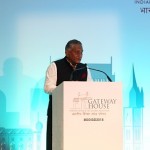 Honourable Minister Urve Palo, Minister of Entrepreneurship and Information Technology, Republic of Estonia; distinguished speakers who are here from various parts of the world; decision influencers and decision matrix developers present; all the members of the diplomatic corps, ladies and gentlemen, it's a pleasure to be here in Mumbai for the third edition of the Gateway of India Geoeconomic Dialogue. I was  present at the previous two as well, and have seen it growing and contributing in a major way to an understanding of various geoeconomic issues.
The subjects placed on the agenda are not only comprehensive, but they also make people think. I am quite sure that at the end of it, we will have some concrete outcomes. It's difficult to put timelines to such issues: to do so is to make it all too cut-and-dried. But I think we should be able to put timelines for some of the issues we will be discussing here. I was told that you have already had very fruitful discussions today.
Today, both in India and the world, fundamental and far-reaching economic and political changes are taking place. Each impacts the other because the world is flat. We're connected, we're dependent on each other, we source from each other, and therefore, the roundness has probably gone. We need to ensure that there is a greater synergy in what each nation does and benefits from.
There are small countries that contribute certain things that are used worldwide: everybody sources from them. And similarly, expertise of different kinds has developed in different parts of the world. At the same time, we also face the challenges of protectionism, which we need to examine, debate and find ways out of so that  everybody benefits.
Speaking of the global economy, the global GDP grew to around 3.6% in 2017; it is marginally up from 3.2% in 2016. I think the forecast for 2018 is an upgraded version of 0.2%. I always tell myself that statistics are figures that have been tortured enough to yield desired results. The results, in economic terms, can only be seen when things happen on the ground. This 0.2% increase needs to be seen in terms of how it is going to affect the various facets of the economy worldwide. Then, yes, the statistics are right.
Where India is concerned, we have been tagged the fastest growing major economy: the estimates are 7% to 7.5%. If we follow the digital route, we might increase it, but 7% to 7.5% in today's system is very good. This augurs well for the way the Indian economy is growing and how various sectors of the economy are on the rise. We heard Minister Suresh Prabhu speaking of what a $5-trillion economy may look like. My own fervent wish is that the manufacturing sector grows.
It is the manufacturing sector in any country that contributes to actual GDP. The services sector does too, but this varies: it can plummet or shoot up, in a very short time. And therefore, it's the manufacturing sector that's the solid base. There are industry captains sitting here, who, I am sure, are watching how they can ensure that this sector takes off, considering the type of demands that the growth in the economy will raise. From the point of view of global recovery, I think the situation remains fragile; it is also affected by the clamour for protectionism.
We need to look seriously at how protectionism is going to affect each member of the global community–because that will certainly put brakes on the type of growth that we're looking at. Our Prime Minister too, during the World Economic Forum in Davos, said that protectionism is one of the major challenges the world faces. We have faced it before, but now, when we're more and more interconnected, this challenge is much bigger.
If there are trade wars, and we protect our own turf, in an interconnected world, the situation is going to be bad for everybody. There will be no winners. Solace lies in ensuring that it is always a win-win situation: if one wins it is possible for the other also to do so. But if only one person wants to win, the so-called losers will get together and ensure that this winner also goes down. So we need to be ensuring that all our policies are such that we can protect ourselves from the protectionism that seems to be raising its head.
Looking at our own domestic economic front, we have made several commitments to maintain a multilateral, rule-based trading order. We have liberalised the FDI regime, reaching sectors, which were regarded sacrosanct, taboo, where nobody entered. Today, FDI has gone everywhere, allowing for greater growth. Every investor wants to come to India. As you know, India has been one of the favoured investor destinations in the world, we have attracted more and more FDI, and today, not only has the content gone up, but the number of sectors in which FDI has entered has also increased.
Where business is concerned, the insolvency and bankruptcy code, as well as the financial resolution and deposit insurance bill have been brought in to make things better. We have introduced several laws to enforce the contract regime. The Arbitration and Conciliation Act has also been made better so that it ensures that businessmen have confidence in the safety of their investment.
The Goods and Services Tax (GST) has been in the news for many reasons: it was in the offing for almost a decade before being introduced. And like with all things newly introduced, you will have problems.
We're at a stage where this is becoming firmer and better, and will be of benefit to everybody. There were issues needing to be looked at: no issue can be solved solely by one agency. Everybody has to pitch in. GST, then, is going to yield better results, both for the type of revenue that can be garnered and for how matters can be simplified for the rest of the community, which trades, manufactures or deals in services.
The World Bank's ranking on Ease of Business has raised us by 30 points. But I look at it differently. Rwanda serves as an example. It's a small country, but many of you present here will know that today, Rwanda is attracting many foreign investors by only one simple measure: ease of doing business. It takes six hours there–which is not as quick as it is in Estonia—to be ready to set yourself up.  Therefore, in a globally connected world, people  are looking for places to which they  can go, start manufacturing, and reap the benefit. It helps, then, to encounter a facilitatory tax and trade regime. It helps, not only the businessman, but  also  the country because tax-paying is also transparent. This is the kind of ease of doing business that we need. There  are heads much wiser than mine, who are working on making the system  in India better.
An open economy, with an environment that facilitates ease of doing business, is only one factor. The other is improved connectivity. How do we connect by air, sea, road? If not, trade will not take place. Several initiatives have been taken in this regard– and all this must come with a rule-based transparent system. If you don't have that then nobody will develop the confidence.
There has to be transparency: the person should be able to see what is happening and so also the authorities. When legitimate taxes are paid and there is no siphoning off, there is a greater amount of confidence–in the manufacturers, in the people putting up their businesses, in the fact that things are transparent, and they know what they are giving (to the government) and what they are saving.
As part of connectivity in India, there is the Sagar Mala project for the coastal trade that we want to enhance. It's much easier to transport things by ship or boat, and therefore, many small ports are being developed all over the country—that is why it is called Sagar Mala. Sagar is 'ocean' and Mala is 'necklace'. Similarly, we also have the Bharat Mala project to improve land connectivity. Four-lane roads are being turned into eight-lane ones with better routes. With the GST regime in place, one cuts down the amount of time that a logistic unit will take, travelling from one end of the country to another as there are no tolls to be paid en route.
Similarly, Project Udaan was conceived to boost regional air connectivity, and under its aegis, small airports are being developed, which will make it easier for people to reach inaccessible areas and send out their goods. It will help in the creation of hubs, from which to reach a bigger air hub and go anywhere internationally.
Where our external connectivity is concerned, I would like to mention Chabahar port. It is operational: the first shipment of 15,000 metric tonnes of wheat from India went to Afghanistan by this route. It will make India's connectivity with Afghanistan and Central Asia easier.
This  ensures that there is better reach for both  sides, they can  cooperate with each other where business and trade are concerned. India has also been admitted to the Ashgabat Agreement. We have simplified the border management procedures and new transparency measures have been put in place so that transaction costs can be reduced.
Our connectivity has improved on our eastern end with ASEAN. Work on the trilateral highway is progressing, except  for the bridges, because of difficult terrain. We have the Bangladesh-Bhutan-India-Nepal (BBIN) Motor Vehicles Agreement (MVA) between Bangladesh, India and Nepal, which will ensure better trading between the three nations without vehicles being stopped or delayed.
This dialogue achieves many things. It not only brings together excellent people, who talk and discuss, but it also generates a great amount of curiosity in the ideas  thrown up. With Minister Urve Palo giving you a glimpse of what E-Estonia is, we ought to be   look at where we are. What can we do to make things better, and how can we plug into a digitised economy to reap the benefits of the progress that has been made? Similarly, various ideas that will come from the best practices being followed in the countries that speakers have come from will allow us to concretise the type of measures that we need to take. We can make use of the kind of regimes that exist in terms of trade and other aspects in those countries, which will improve matters for them and us.
Today, there is a great demand for various things, depending on quality assurance and ease of doing business. Quality assurance, which remains the cornerstone, took a leap in the aftermath of the Second World War. It's the Japanese who understood the actual purport of quality. In 10 years' time, they ensured that the ground glass lenses from Germany became outdated and replaced them with polished glass lenses from Japan, which thereafter ruled the roost. That is where quality counts.
With emphasis on quality,  on a rule-based, transparent business regime, and with better connectivity and better dialogue, the entire  world economy can benefit from a corner of the world, where probably the economy is booming. That is what we're looking at.
I wish this dialogue great success and eagerly look forward to the outcome. I am sure you will not mind putting some timelines to it. Thank you very much. Jai Hind.
Gen. (Dr.) V.K. Singh is Minister for State for External Affairs, Government of India.
This speech was delivered as the Keynote Address at The Gateway of India Geoeconomic Dialogue 2018, held in Mumbai on the 12-13th of March 2018. Click here to view his speech.
You can read exclusive content from Gateway House: Indian Council on Global Relations, here.
For interview requests with the author, or for permission to republish, please contact outreach@gatewayhouse.in.
© Copyright 2018 Gateway House: Indian Council on Global Relations. All rights reserved. Any unauthorized copying or reproduction is strictly prohibited