Since early this year, a wave of civil protests have broken out across the globe. Leaderless and driven by the youth, these demonstrations have surprised by their intensity and persistence. Governments have been at a loss to draft satisfactory responses.
These are the third set of protests in this decade; beginning with the Arab Uprising in 2011, which spread across West Asia, to the Occupy movement in developed countries. The common factor is discontent with government.
The spark for the current protests is also similar: corruption, peaks in unemployment, the disputed outcome of elections, regressive constitutional changes, corruption and laws passed that penalise women, the young and the marginalised. While the protests have largely been led by youth, working members of older generations are also key participants.
And one movement sparks another. France's Yellow Vest protests spurred social movements in Chile, Ecuador and Lebanon where taxes implemented and funding cuts made the cost of living unaffordable, increasing inequality. In Santiago, the rise of metro ticket prices added to the Chileans' discontent after years of wage stagnation, pension reduction and limited investment in healthcare, a pattern that is found in its Latin American neighbours, but also in Lebanon, Hong Kong, Sudan and Iraq among others.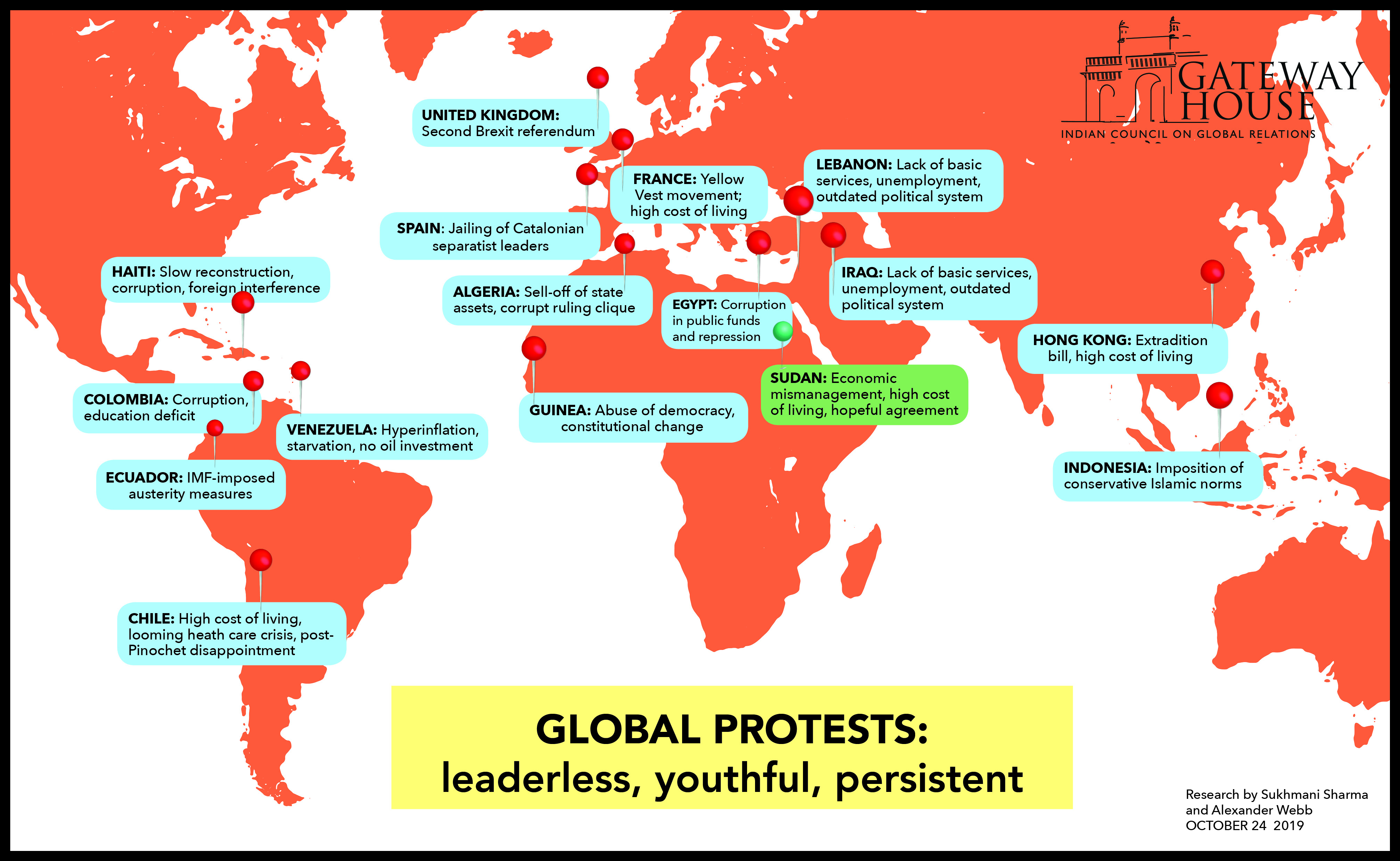 The successes of globalisation and technological innovation have come at a cost for the most marginalised who have seen their conditions deteriorate. The rapid development of social media has made global inequalities more visible than ever, thus exacerbating worldwide feelings of unhappiness and anger. However, the protesters have made the most of these tools as Catalans have replicated the Hong Kongers' usage of messaging application, Telegram, to coordinate, unite and optimise their protests through their 'Be Water' tactics of adaptation, fluidity and unpredictability.
These protests have also shown how the actions of leaders are incompatible with the requirements of their youthful populations. In Iraq, Algeria and Lebanon, outdated political systems, ruling cliques and long-standing dynastic leaderships have alienated the youth from politics and decision-making. The outcry is a yearning for modernity, progressivism and a determination by the younger generations to turn a page in the history of their countries along with a sign that autocracies and oligarchies have run their course.
Sukhmani Sharma is Website Associate at Gateway House.
Alexander Webb is an Intern at Gateway House.
Designed by Daniella Singh.
This infographic was exclusively created for Gateway House: Indian Council on Global Relations. You can read more exclusive content here.
For interview requests with the author, or for permission to republish, please contact outreach@gatewayhouse.in.
© Copyright 2019 Gateway House: Indian Council on Global Relations. All rights reserved. Any unauthorized copying or reproduction is strictly prohibited.