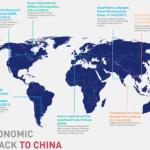 India's Cabinet Committee on Economic Affairs, the highest decision-making body on foreign investments, may have blocked the $1.3 billion acquisition of Gland Pharma by China's Shanghai Fosun Pharmaceuticals, news reports indicate.[1] Pharmaceuticals is one of the few sectors where Indian companies have an advantage over the Chinese.
This is not the first time that an acquisition by a Chinese group has caused concern. China's model of state-backed capitalism, the opacity of Chinese companies on their shareholding/financing, and the lack of protection for intellectual property, together with the scale of Chinese acquisitions worldwide – worth an estimated $2.27 trillion between 2012 and 2016[2] – have created fears of unfair competition, threats to national security and domestic sovereignty in many countries.
A case in point is Huawei, the telecom equipment maker, which was founded by a former officer of the People's Liberation Army (PLA). The company's ownership structure is unclear – it claims to be owned by over 80,000 employees and denies links to the PLA.[3] That has been enough to thwart Huawei's attempts to acquire technology companies in the U.S. and Europe which make critical equipment that complement Huawei's own. In 2008, for instance, the United States' Committee on Foreign Investment frustrated Huawei's plans to acquire a 16.5% stake and board representation in 3Com, an American firm that makes anti-hacking software for the U.S. military.[4] Analysts said fears of sabotage and espionage by the Chinese military was the reason for preventing the acquisition offer.[5]
Fears about Chinese takeovers are becoming more public. Earlier this year, reports of a 99-year lease of the Hambantota Port in Sri Lanka to a Chinese company sparked public protests in southern Sri Lanka due to fears of displacement, dispossession, cultural erosion and demographic change. Despite strong opposition from trade unions and local residents, the deal, as per which Sri Lanka ceded 70% stake in the Hambantota Port to China Merchant Ports Holding Company for $1.12 billion, was finalised on July 29 this year.[6]
Public outcry, driven by similar sentiments, has occurred in other South Asian countries where Chinese money has a big presence. In Februrary 2017, 1 person died and 12 were injured in Bangladesh when a protest against a $2.4 billion Chinese-backed power plant turned violent.[7] Protests by the Free Balochistan Movement (FBM) against the China-Pakistan Economic Corridor (CPEC), the flagship project of the Belt and Road Initiative, have also erupted in Balochistan and the Chinese Embassy in London.[8]
Amit Bhandari is Fellow, Energy & Environment Studies, Gateway House.
Chandni Jindal is Researcher, Gateway House.
This infographic was exclusively created for Gateway House: Indian Council on Global Relations. You can read more exclusive content here.
For interview requests with the author, or for permission to republish, please contact outreach@gatewayhouse.in or 022 22023371.
© Copyright 2017 Gateway House: Indian Council on Global Relations. All rights reserved. Any unauthorized copying or reproduction is strictly prohibited.
References
[1] Singh, Siddhartha and George Smith Alexander, 'India is Said to Block Fosun's $1.3 Billion Gland Pharma Acquisition', Livemint, 31 July 2017, <http://www.livemint.com/Companies/eIF5Z9qRQejN4rxZGk63hJ/India-is-said-to-block-Fosuns-13-billion-Gland-Pharma-acq.html>
[2] PwC, 'M&A 2016 Review and 2017 Outlook', 2017. <https://www.pwccn.com/en/mergers-and-acquisitions/ma-press-briefing-jan2017.pdf.>
[3] Sevastopulo, Demetri, 'Huawei Pulls Back the Curtain on Ownership Details' , Financial Times, 27 February 2014. <https://www.ft.com/content/469bde20-9eaf-11e3-8663-00144feab7de>
[4] Waters, Richard,"Huawei-3Com Deal Finally Collapses." Financial Times. 21 March 2008, <https://www.ft.com/content/c2091814-f6b5-11dc-bda1-000077b07658>
[5] Moran, Theodore H. Three Threats: An Analytical Framework for the CFIUS Process (Policy analyses in international economics ; 89). Peterson Institute for International Economics, 2009.
[6] Al Jazeera News Agencies, 'Sri Lanka Signs Hambantota Port Deal with China', Al Jazeera, 29 July 2017, <http://www.aljazeera.com/news/2017/07/sri-lanka-signs-hambantota-port-deal-china-170729073859204.html>
[7] Quadir, Sehajul, 'One Killed in Bangladesh Protest Against Chinese-backed Power Plant', Reuters, 2 February 2017, <http://www.reuters.com/article/us-bangladesh-power-protest-idUSKBN15H0L3>
[8] TNN & Agencies, 'Free Balochistan Movement Protest: Baloch Activists Protest Against 'China's Financial and Military Support to Pakistan' in London', The Times of India, 1 November 2016, <http://timesofindia.indiatimes.com/world/pakistan/Baloch-activists-protest-against-Chinas-financial-and-military-support-to-Pakistan-in-London/articleshow/55155273.cms>