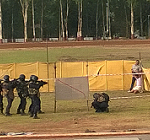 I spent the last weekend at the Maharashtra Police Academy in Nashik giving lectures on terrorism and its impact on the nation and the state. It was a rare opportunity to interact closely with the junior rung of police machinery which has hands on experience dealing with the issues that we as researchers talk about in seminars and conferences.
During those sessions I heard many accounts which brought home the challenges the police encounter in the course of doing their job. For instance, when I mentioned David Headley's role in the terror attack on Hotel Taj in Mumbai in 2008, a young lady sub-inspector who was among the officials who had cleared Headley's entry into India pointed out that his passport gave no indication of his suspicious record. How then, she asked, was she expected to reconcile to the fact that it was Headley who had played a key role in a major terrorist act on Indian soil. It was indeed a valid query.
Similarly when I talked about how India's vulnerable borders make it easy for terrorists to infiltrate, a deputy sub-inspector talked about the intense political pressure he came under while probing a case in which a group of illegal immigrants were involved in suspicious activities in his district.
In another interaction, when I spoke about India's counter-terrorism efforts, a cop questioned why India is referred to as a 'soft state' when his unit was making every effort to address the problem of sleeper cells in his sensitive beat.
The key issue that emerged was that the lack of political willingness and blatant political interference is acting as an impediment in fighting terrorism. One of the officials spoke honestly about the demoralizing impact it has had on the police force.
Responses like these brought forth concerns that we sometimes tend to gloss over in our analyses because there are no satisfactory answers. However the rank and file of the force has to deal with them on a daily basis. Admittedly they are doing a much better job than the scholarly community gives them the credit for.
P.S. – I also had the chance to witness an excellent drill by the Force One, Mumbai's very own commando unit set up in the aftermath of the 2008 attacks. A rare opportunity, indeed!
Sameer Patil is Associate Fellow, National Security, Ethnic Conflict and Terrorism, at Gateway House.
This blog was exclusively written for Gateway House: Indian Council on Global Relations. You can read more exclusive content here.
For interview requests with the author, or for permission to republish, please contact outreach@gatewayhouse.in.
© Copyright 2014 Gateway House: Indian Council on Global Relations. All rights reserved. Any unauthorized copying or reproduction is strictly prohibited