---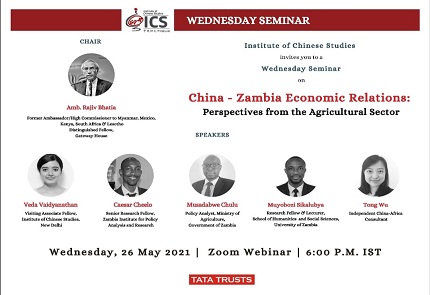 ---
On 26 May 2021, Ambassador Rajiv Bhatia, Distinguished Fellow, Foreign Policy Studies Programme, chaired an event by the Institute of Chinese Studies. The event, part of the Wednesday Seminar series, was titled, "China-Zambia Relations: Perspectives from the Agricultural Sector." The event was held to release a study of the same name. The speakers at this event were Veda Vaidyanathan, Caesar Cheelo, Musadabwe Chulu, Muyobozi Sikalubya and Tong Wu.
In this discussion, the principal authors of this monograph shared key findings from their chapters written after extensive fieldwork. From providing an overview of China-Zambia economic relations, speakers highlighted the diversity in China-Zambia agricultural cooperation, dynamics of skills transfer in agriculture, a case study of a Chinese firm using Artificial Intelligence in agriculture while also discussing larger China-Zambia socio-political challenges including the issue of mounting debt, growing negative perception of the Chinese, a growing Chinese diaspora in Zambia among others.
Watch the discussion here.