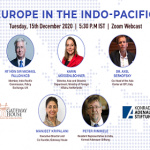 On December 15, 2020, Gateway House co-hosted a webinar with Konrad-Adenauer-Stiftung on Europe in the Indo-Pacific.
The panel included: Rt. Hon Sir Michael Fallon KCB, Member, Indo-Pacific Commission, Policy Exchange, UK, Former Secretary of State of Defence, UK; Karin Mössenlechner Director, Asia and Oceania Department, Ministry of Foreign Affairs, Netherlands; Dr. Axel Berkofsky, Co-Head of the Asia Center at Istituto per gli studi di politica internazionale (ISPI), Italy and Peter Max Rimmele, Resident Representative to India, Konrad-Adenauer-Stiftung.
In the Webinar, which was recorded earlier this week (December 15), the speakers highlight three main points:
a) Europe has finally stepped into the Indo-Pacific waters. France, Germany and the Netherlands have published policy documents, and the EU's policy on the region is expected in 2021. The EU's overt focus will be on prosperity and human rights, but subliminally also on security.    
b) The U.K., in the throes of Brexit, will soon turn its attention to the Indo-Pacific. While the UK policy will rest on the three pillars of prosperity, security, and shared values, it is likely that India will be at the centre of this document.    
c) The Indo Pacific is a region of prime importance, however the institutional frameworks in the region are weak, and at times contradictory.  In the absence of NATO or EU equivalent in the Indo-Pacific, Europe must engage through multilateral forums such as the Quad, the Five Power Defence Agreement (FDPA), the Commonwealth to counter Chinese aggression in the region.
For interview requests with the author, or for permission to republish, please contact outreach@gatewayhouse.in
© Copyright 2020 Gateway House: Indian Council on Global Relations. All rights reserved. Any unauthorised copying or reproduction is strictly prohibited.